Best Motorcycle Lock to Lower Insurance | Top 4 to Save Money
Every motorcycle owner wants to keep their bike safe and their insurance cost low. For these reasons, you might be thinking, what is the best lock for the job? I have chosen the Kryptonite New York Chain and Disc Lock as my 'Best Overall' option for its incredible durability and safety features which will help reduce your insurance.
Related post: 10 Tips for How to Get Cheaper Motorcycle Insurance
Best Motorcycle Lock to Lower Your Insurance
Best Overall – Kryptonite New York Chain and Disc Lock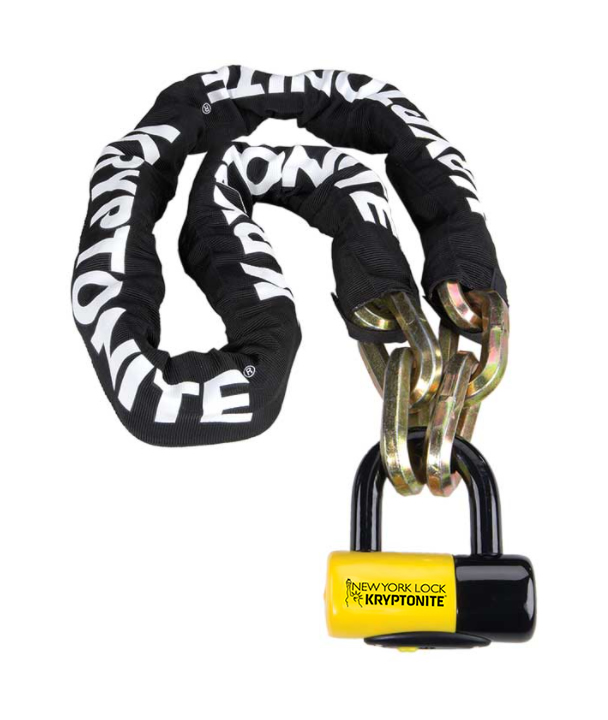 Kryptonite Chain and Disc Lock
Durable reinforced manganese steel chain and disc lock system.
The Kryptonite New York Chain and Disc Lock is about as robust and rugged as its name suggests. This lock is for the most hardcore motorcycle security fanatics who really want the safest option to reduce their insurance quote.
Kryptonite is one of the leading motorcycle lock manufacturers in the USA with over 45 years of experience in the industry. They pride themselves on creating some of the strongest locks available on the market, one of which is the New York Lock Kryptonite which sits proudly at the top of their 'Security Rating' system.
The chain offers a 150cm long, 14mm wide manganese steel chain to provide maximum strength. It also has a hardened double deadbolt design to secure the chain in place and prevent the lock from being removed. 
Aside from the lock's impressive specifications, Kryptonite also offers a 'Key Safe' program. This means that if you lose your keys, they will send you a new pair, which is a nice little security option to have!
Finally, Kryptonite is so confident in their product that they offer ATPO (Anti-Theft Protection Offer) with their top of the range of products. You simply need to register on their website, fill out some information about your motorcycle, and you will receive an independent insurance plan in which they will cover a certain amount of money if your motorcycle is stolen!
Best GPS Tracking System – Monimoto 7 GPS Tracker
Monimoto 7 Smart GPS Tracker
Motorcycle GPS tracking system with mobile application and monthly subscription cost.
The Monimoto 7 GPS Tracker is a state-of-the-art motorcycle GPS tracking system that should be used alongside a physical lock to offer additional security and lower the price of your motorcycle insurance further.
The latest GPS tracking system from Monimoto, the Monimoto 7 consists of a tracking device, key fob and an app for your smartphone. You simply need to conceal the Monimoto tracking device on your motorcycle in a spot where it would be difficult to find. The tracker is paired with the key fob, such that whenever you leave the vicinity of your motorcycle, the tracker arms itself and its motion sensor.
If the Monimoto tracker detects movement while you and the key fob are not nearby, it enters Alarm Mode. It will then call your phone and then start sending GPS coordinates to the Monimoto app installed on your smartphone.
The GPS itself is very affordable for the peace of mind that it offers. However, there is an additional $49 annual fee for the GSM connectivity.
Overall the Monimoto 7 Smart GPS Tracker is a great option for those looking to reduce their insurance and add that extra peace of mind.   
Best Budget Option – Tchipie 110db Motorcycle Alarm Disc Lock
Bright, loud, and strong! These are the words to best describe the Tchipie 110db Motorcycle Alarm Lock, an excellent option for those looking for premium security on a budget. This is a durable disc brake lock that's combined with a sensor alarm to deter would-be thieves.
Nowadays, disc locks are a very popular and affordable option for many motorcycle owners. The Tschipie disc lock is made from a tough aluminum alloy and is painted a noticeably bright color, which in my book, is a huge positive that provides a visual deterrent to anyone up to some mischief!
Let's not forget the fact the Tchipie lock has an incredibly loud 110db alarm system to help alert nearby people and scare off anyone who decides to tamper with your bike. 
Best Anchor Lock System – Kryptonite Stronghold Anchor Bike Lock 
Kryptonite Stronghold Anchor Bike Lock
Strong anchor lock to secure your motorcycle.
As seen in our article on the best motorcycle security systems, the Kryptonite Stronghold Anchor wins my best 'Anchor Lock System' to reduce your insurance. Anchor lock systems are incredibly useful for riders who don't have the luxury of a garage or secure parking. 
Need to park your bike outside? No problem! The Kryptonite Stronghold Anchor Lock is fixed to concrete and boasts a 16mm hardened carbon alloy steel shackle to provide maximum strength and security!
What to Consider When Buying a Motorcycle Lock to Lower Insurance
The Style of Lock
We have looked at a few different options to keep your precious motorcycle safe and sound, but the style of security system you use can make a big difference to your insurance quote. For example, I doubt that simply having a GPS tracking system without any additional security will be enough to satisfy and convince the insurance company to give a substantial reduction in price. However, combined with a physical lock, it could help reduce your insurance even further! 
If you only want to invest in one locking system to reduce your insurance, then a chain and disc lock or anchor lock system will be your best bet. They're strong, durable, and a nightmare for thieves to try and break! 
Frequently Asked Questions
Is it worth investing in an expensive lock?
Depending on a few different factors, it might cost you more money to invest in a top-quality lock than the money you will save on your insurance. However, having a good motorcycle security system will significantly reduce the chance of having to make a claim for theft, and we all know that it can be a lengthy process.  
How can I find cheaper motorcycle insurance?
The best way to find the most suitable insurance plan for you is to use a comparison website. There are many sites that offer this service if you search "compare motorcycle insurance". You can submit your motorcycle information and state what lock system you use, and it will present you with an array of insurance providers and different options of cover.