Best Motorcycle Security System | Top 5 to Beat the Thief [currentyear]
Several factors may limit the use of specific security systems on your bike, but a lock and chain are pretty universal. For this reason, I chose the Abus Granit Extreme lock and chain combo as my 'Best Overall' for its rock-solid performance and ease of use. It's not the only way to deter thieves from stealing your ride, though; and it's up to you to decide upon the best motorcycle security system to suit your needs.
IMAGE
PRODUCT
DETAILS 

Best overall

ABUS Granit Extreme Plus 59 Chain and Lock

Rock solid lock and chain combination with high-quality features.

Best Motorcycle GPS Tracker

MoniMoto 7 GPS Tracker

GPS tracking system
Detects absence of key fob
Senses movement; sends alert to app with GPS coordinate updates

Best Secure Anchor Solution

Kryptonite Stronghold Bike Lock

Substantial but unobtrusive lock for motorcycles.

Budget Option

Dowco Guardian Cover Alarm

Small, loud and inexpensive alarm for motorcycles.
Related post: Best Motorcycle Disc Locks
Best Motorcycle Security System
Best Overall – ABUS Granit Extreme Plus 59/12HKS170 Lock and Chain Combo
ABUS Granit Extreme Plus 59 Chain and Lock
A durable padlock-chain combination for motorcycles.
Big solid and German engineering at its best, the ABUS Granit Extreme Plus 59 Chain and Lock is packed full of features and hefty enough to know your pride and joy in safe hands.
ABUS is the biggest name in high-end locks in Europe, and the Granit Extreme is the company's top-shelf motorcycle lock and chain combo. As part of their quality assurance procedure, ABUS takes pride in the fact that they source every stage of the design, production, and materials in-house.
What does this mean to you and me? By keeping everything under one roof, ABUS can guarantee the quality, which means a lot when it comes down to the security of your motorcycle.
The chain is a monster and uses 13-mm hexagonal links of heat-treated/hardened steel. An anti-corrosion coating means it won't ever look gnarly even when putting in a winter-time shift. A heavy-duty textile sleeve covers the chain, protecting your bike's paint and framework.
Let's move on to the motorcycle lock where just one look, will tell you a lot is going on beneath the surface. To begin with, and in keeping with the chain, the rectangular lock is massive. One end is fixed, and the moveable link or 'power link' resembles an elongated horseshoe, so the locking mechanism slides into place on both sides.
The locking cylinder is anti-drill and pull, and with 1.4 million combinations from the laser cut key, you can forget about it being picked. The lock features a temperature range of minus 80, so it will resist freeze and smash attempts.
Well Thought Out
You get two keys, one of which comes fitted with a blue dot light. The purpose of the light is to help you find the keyhole easily. Unfortunately, it's simply not bright enough.
ABUS, if you're reading this, replace it with white light. Blue doesn't work, and this is my only criticism of the whole rig.
Something that draws no complaints whatsoever though is the lock's 'comfort plus' feature. This feature operates by retaining the chain in the lock when you open it with the key. It means you have to pull the chain out of the lock to free it.
Have you ever opened your bike lock, and one end of the chain immediately drops and smacks into your paintwork? If that's a yes, you'll know that this is a really well thought out feature, especially combined with such a hefty chain.
And hefty it is, the hexagonal links are huge and have a total length of 59-ins. Add to this monster lock, and the whole deal comes in over 10-lbs. Carrying it around on your motorcycle will result in a strong and well-secured bag.
As mentioned before, the lock comes with two keys, and in case you mislay them, a code card unique to your set of keys. The ABUS lock and chain combo have a security rating of 20 (the highest)!
Best Motorcycle GPS Tracker – MoniMoto 7 Smart GPS Tracker
MoniMoto 7 Motorcycle GPS Tracker
If your first line of security is overcome, track them back to their rats nest with this GPS tracker.
No single item of motorcycle security is foolproof on its own. With the speed and accuracy of the MoniMoto 7 Smart Motorcycle GPS Tracker though, owners have the best chance of tracking down the location of their bike should it be moved.
Some riders dismiss the usefulness of a tracking device. They claim that if it has to come into play, it means their motorcycle has already been stolen. It's a fair comment, but consider this, how many bike thieves ever get caught red-handed?
Not many, and with a tracking device hidden away on your motorcycle, there's not only the chance of nabbing the robbers but also rescuing your bike before it's in a million pieces.
The MoniMoto gets my vote as the best motorcycle tracker for a slew of reasons. One of which is its compact footprint and the bonus that it doesn't need to be hard-wired. The tracker has a rock bottom annual subscription plan too, but more on that subject later.
The dust and waterproof MoniMoto tracking device is even smaller than their previous models. It's a flat rectangular shape that is just 94mm (3.7″) by 61mm (2.4″), so it id easy enough to stash under a seat, behind a side panel, fairing or luggage. MoniMoto's motorcycle tracker is a stand-alone unit that doesn't require any hard wiring. It does require two x lithium AA batteries. The key fob also requires a small CR2450 lithium cell battery.
Easy Fitment
This feature is great as not only does it save on fitment time and cost, but it also won't drain the battery in the event of your bike being laid up in the garage for a while. The pluses don't end there. Hardwire a motorcycle alarm into your new bike's electrical system, and it may void the manufacturer's warranty.
Best of all, sell your bike and the MoniMoto stays with you instead of being an early Christmas gift for the new owner.
The only thing you need to do before the device is ready to rock is to download the free app. It should take no more than 10 minutes to sync to your android or IOS Smartphone and with the sim card and batteries already installed, you are good to go.
For tech-dinosaurs like me, the MoniMoto's simplicity is a significant bonus. Once synced to your phone and stashed on your bike, you can attach the supplied key fob to your ignition key, walk away, and the system is self arming. There are no buttons to push or fobs to activate, and best of all, no geofences to set up.
If the motion sensor is activated, the tracker senses if the paired key fob is within reach, and if not, in less than one minute, a call is placed to your phone. This call feature is excellent because a text or push message is a lot easier to miss.
Sensing your motorcycle is on the move, and you're not the one moving it; location details are sent to the app every five minutes, which also creates an event log. Choose 'Live Tracking' mode, and the GPS location is updated every minute. No GPS signal? No problem. The tracker is still located via 3G!
The included eSIM currently only covers the US, however I think they will probably expand coverage soon. Thanks to MoniMoto's onboard software, you will also pick up the two strongest GSM service providers in whichever area you're in at the time.
Talking of service providers, we finally come to the elephant in the room when it comes to trackers – the SIM card. All trackers need one for mobile coverage, and it is here that some sellers try to hide the monthly fee. Credit goes to MoniMoto for being up-front and very reasonable with this. The first two months are free. Beyond that, it is a simple $49 per year flat-fee to maintain GSM service. The fee is not compulsory, however, I can't imagine why you would buy a GPS tracker like this and not pay the small annual fee to maintain the functionality!
Overall, I think the MoniMoto 7 GPS Tracker is an excellent investment for any motorcycle owner, providing additional security, peace of mind and the potential to quickly recover your precious ride if it is stolen.
Best Secure Anchor Solution – Kryptonite Stronghold Anchor Bike Lock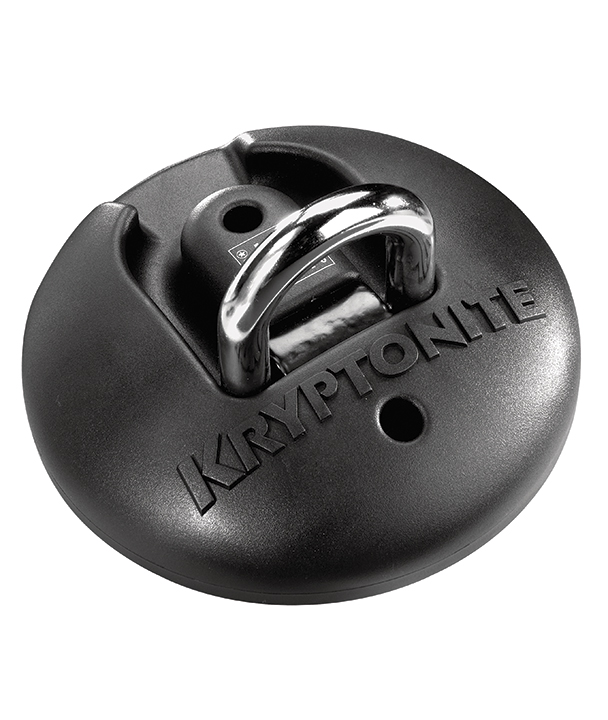 Kryptonite Stronghold Anchor Bike Lock
A solid anchor base to secure your motorcycle.
If you have no permanent secure fixing to lock your bike to, a ground anchor is the perfect solution. The Kryptonite 16mm Stronghold Anchor Bike Lock will give you a super solid base to attach to and it's easy on your toes.
Chances are, your motorcycle is going to spend most of its time locked up outside your home. If you're lucky, you may have a garage. If not, your two-wheeled best bud will live in front or at the side of your building.
Either way, if you don't have something fixed strongly in position to secure it to, you're making it a whole lot easier for a criminal to relieve you of your bike. A ground anchor is the answer and having researched a host of different types, the Kryptonite Stronghold looks like it would give Superman a workout.
On the subject of superheroes, back in 1971, company founder Michael Zane traveled around the US wearing a Kryptonite Man outfit. Zane did this to promote his new invention, the first U-bolt bike lock. Anyway, enough of the history, let's take a look at what makes the Stronghold so good.
To start with, the Kryptonite is reassuringly big at 7.5-ins in diameter and almost 1.75-ins deep. The anchor is a lot larger and more substantial than its photos suggest. Unpacking it reveals everything you need for installation, including all the fixings and two masonry bits. These include one for the pilot hole and a larger drill for the plug.
The base of the anchor is forge-hardened steel and keeps the 16-mm carbon alloy steel shackle in place. The shackle moves freely in a 90-degree arc, allowing it to either sit upright to thread your chain through or lie flat in the mounting plate.
Three anchor plugs and metal fixing bolts secure the plate, which is tightened by the supplied hex key. Once the plate is bolted firmly to the ground, you've got the option of hammering in the supplied steel balls into the hex heads. By carrying out this procedure, you're deforming the hex heads, which means the plate is going to be seriously challenging to remove.
Get Creative
You can get a bit creative with the anchor's placement, attaching it to a wall or even a truck bed. Make sure whatever it's attached to is stable enough. 
A composite dome shell fits over the whole setup and has two chrome plugs that attach the dome to the base. Once in place, the shackle lies flush in the domed cover. Apart from the bulletproof build of the plate and shackle, the innovative dome is why the Kryptonite gets my vote.
Some other ground anchors offer similar grade steel or comparable design strength. Yet they spoil it all by using a fixed position eye bolt sticking almost 2-ins out the ground. If you've ever accidentally kicked or tried to roll your bike over one, you'll know it's a real pain in the butt.
With the stronghold anchor, its domed footprint makes it easy to see, and your wheel will just roll on over. Add to this the manufacturer's lifetime warranty, and it's a pretty hard-to-beat deal.  
Best Budget Alarm – Dowco Integrated Motorcycle Cover Security Alarm
Dowco Motorcycle Cover Security Alarm
A tiny motorcycle alarm system that can emit 130 decibel warning if someone tampers with your cover.
The tiny motorcycle alarm system is more versatile and powerful than it looks. And with 130 decibels of squawking sound, it's going to give bike thieves a real wake up call.
As the product description says, the Dowco Guardian Integrated Motorcycle Cover Security Alarm System is designed explicitly for yup, you guessed it, Dowco motorcycle covers. However, this little unit is so versatile, it's the best budget option hands down.
Used in conjunction with a Dowco cover, the Guardian fits inside one of the covers inside pockets. When triggered, the alarm kicks off a 130-decibel caterwaul, and that's definitely worth having. But what if you don't own this specific make of cover?
Many decent bike covers have integral pockets to take such devices. If yours doesn't, it isn't rocket science to duct tape on a square of nylon and make your own internal pocket.
Is it worth the bother? Most definitely, and here's why. If someone is up to no good and lifts your motorcycle cover up to check what's underneath, the action triggers the Guardian with a 130-decibel alarm. If you're wondering how loud that is, stand next to a police siren then add another 10 decibels!
Simple to Use
The alarm is triggered when the pin is pulled from the alarm body. It's as simple as that: no installation or additional wiring and zero tools. A lanyard attaches to the pin and is fitted with a spring-loaded clasp. Fix the end of the lanyard to your bike, alarm box to your cover, and the moment the cover is lifted – BAM. The pin is pulled, and it's hasta la vista bike bandit.
Such is the simplicity of this device; it's possible to use it without a cover. Secure the lanyard and use a zip tie through the belt loop on the back of the alarm box to fix it somewhere that isn't easily visible. Think fork leg, side stand, or wheel; just remember where you've installed it. If it goes off, you'll want to get that pin back in double time.
The alarm box measures 3-ins high, has an alarm test switch, operates from a single 9v battery, and has a two-year defect warranty.
Best Portable Solution – Xena Disc Lock Alarm
Xena Disc Lock Alarm
A motorcycle alarm that is light, highly portable, can be stashed under your seat, and offers a great practical deterrent.
Disc locks are light, highly portable, and you can stash them under your seat. They also offer a great practical deterrent and especially when they include an alarm as part of the deal.
Apart from the technical and security aspects of the Xena XX10-Y Disc Lock Alarm, the lock also comes in bright yellow, which is a huge plus in my book. Satin finish disc locks are fine, but against a steel brake disc, they can merge to the point of invisibility.
As motorcycle locks go, the Xena lock is tough. It's made from a high grade 304 stainless steel and machined from a solid block, which gives the construction added strength. The lock, being stainless steel, is weighty without being cumbersome, weighing in at just over one pound.
The disc lock features a 10-mm carbide reinforced locking pin as part of the company's High-Security range. The key and barrel guarantee maximum security with a double locking system, and the whole deal is corrosion and freeze spray resistant.
At 3.4-ins long by 2.5-ins high, the lock will fit in the palm of your hand, making it easy to maneuver and compact enough to live under the seat or in a pocket.
As a disc lock, the Xena XX10 has plenty going for it, but we haven't even got to the best part yet. As you know, intelligent motorcycle security is all about combinations. Having multiple motorcycle security systems in place gives you the best chance of keeping it safe. The XX10 combines two thief-busters in one product.
Thieves hate noise, and Xena's built-in motorcycle alarm system has noise in bucketfuls. Twist the key, and the cylinder pops up, ready to fit the lock snugly over your disc. Lock in place, and a single warning chirp tells you the alarm is automatically armed.
Warning Chirp
Fitted with a shock and motion sensor, once armed, anyone attempting to move your pride and joy is in for a shock. Five warning chirps may lull the thief into a false sense of security before 120 decibels of ear-piercing mayhem kicks off.
You can turn off the alarm by opening the lock with the key, but it will also re-arm in 15 seconds. The auto re-arm is a practical feature as it saves the CR2 lithium battery from premature draining.
The Xena XX10 is available in two finishes, brushed steel, and canary yellow. I personally favor the yellow; when I fit a disc lock, I want people to notice it's there.
Disc locks, being so well designed and snug-fitting, can be all too easy to forget. So it's a good idea to spend a couple of extra bucks on a safety cable. The reminder cable is generally a coiled lanyard and loops through the lock before attaching to your handlebars. Purchase one; forgetting to remove the lock and riding off while it's still attached is not a good move.
One final accessory that is also worth a mention is the double lock adaptor. This horseshoe-shaped extended link is made from the same high-grade stainless steel as the lock and locates inside the secured disk lock.
Wrap your chain around a fixed post, place the end links over the double lock adaptor, then slide it into the XX10 disk lock. The result is a disc and chain lock in one!
Motorcycle Security is a State of Mind
We've looked very carefully at the best motorcycle security systems on the market and come up with some great products to help keep your two-wheeled pride and joy safe. Security is a state of mind, so being observant and parking your bike wisely is the first step.
Thieves love bikes outside apartment blocks as they figure that if they trip an alarm, they will have enough time to get away before anyone gets to the ground floor. Don't be tempted to park them around the back of the building unless it's lit 24/7, has CCTV and is gated.
If you have to park your bike out front, find a well-lit area, and secure it to some heavy-duty street furniture. Park outside your house and, at the very least, install a trip light or, even better, a dummy camera. In both circumstances, buy a cover that encloses your bike down to the floor. Remember, out of sight is out of mind.
It may sound obvious, but if you've got a steering lock, use it every time you park. It will provide yet another layer of security, and a lot of OEM locks are pretty good. Don't be tempted to leave a spare key or any paperwork relating to the bike 'hidden' in luggage. 
Despite what some manufacturers may claim, no single motorcycle safety system is infallible. The best chance of keeping your wheels safe is by taking notice of where you park and using a combination of security measures. The longer it takes a thief to overcome your security, the more chances there are of him walking away and finding an easier target.
The Pluses and Minuses of Each Security System Discussed
Lock and Chain
The lock and chain are a great combination and arguably the most versatile. Buy the best quality you can afford and investigate the security the lock and chain offer and the features they boast. A lock and chain are only as good as its owner, so follow some basic rules to maximize their usefulness.
Loop one end of the chain through the swingarm and the other to a street light or railings. Keep the chain as taut as possible or, at the very least, off the floor. Doing this stops the thief from giving your lock some ground and pound.
If you park in the same spot every day, don't be tempted to leave your combo locked to the fence or post. If someone has been casing your wheels, all they have to do is put glue in the lock, and the chances are you'll have to leave your bike unsecured.
Ground Anchor
Even with the best lock and chain in the world, if you have nothing to secure it to, you're reducing its effectiveness, and this is where the ground anchor comes into play. When possible, park your motorcycle close to a wall and fix the ground anchor under it to make it harder for someone to get a swing at it.  
Make sure the fittings are hardened steel, and the fixings look strong enough to hold it in position. A concrete floor is the best option to bolt it to, but if you have to use a wall, just make sure it's substantial enough for the job. In other words, no cinder block dividers.
Cover Alarm
This tiny gizmo is probably the best bang for the buck out there. Thieves hate noise as it attracts attention to their skulduggery, and the right cover alarm will hit their eardrums with more noise than they can cope with.
If you've got a cover with a pocket, great. If you haven't, make one. Such is the simplicity of these devices, even without a cover, it's possible to rig one up on your bike to make sure you get those important scumbag alerts.
Disc Lock
The disc lock is another excellent and versatile piece of kit that is highly portable as it can be stashed under a seat or pocketed. Disc locks, however, are best used as a second line of defense whenever possible.
If that's all you've got, put the bike's steering lock on and use the disc lock on the back disc brake rather than the front. Better yet, get an alarmed version. Remember, noise is your friend, and last but not least, never forget your reminder cable.
GPS Tracker
A GPS tracking device will not prevent your bike from being stolen, but it will alert you that it's being moved. If you can respond quickly enough, you may be in time to halt the proceedings.
Most stolen motorcycles aren't ever recovered, so if the knowledge that you may be able to follow a thief back to his HQ floats your boat, then a tracker is a good investment.
A tracker should not be used as your primary source of security, and as these devices require a monthly payment plan for the data connection, always read the small print.
The best form of motorcycle security is to adopt a multi-layered approach. Using at least two methods of securing your bike is a must, even if one is the OEM steering lock.
Keeping your Motorcycle Where it Belongs
Finding a big, fat, empty space where your pride and joy once stood is heartbreaking. There is only one thing worse than the stomach-churning sense of loss, and that is an all-consuming sense of anger.
Unless someone has specifically targeted your bike, most motorcycle thieves are simply opportunistic and will search for the path of least resistance. Don't make it easy for them to hit their mark. By using a combination of the following motorcycle security systems, you will significantly increase your bike's chances of still being where you parked-up on your return.
Frequently Asked Questions
Are disc locks effective?
Yes, they are, but if one is good, two are even better. This is especially so if you fit the locks either side of your caliper, preventing the bike from rolling forward or backward. Always use a reminder cable.
Are motorcycle alarms worth it?
Yes they are, thieves hate noise and the louder, the better. Hardwired alarm systems have to be fitted by an expert, and on a new bike may void your warranty. Thanks to lithium batteries and inertia sensors, wireless alarm systems are very effective and easy to use.
Why do I need to keep my lock and chain off the ground when I secure my motorcycle with it?
Motorcycle thieves are resourceful. This means if your lock is in contact with the ground, they'll likely use the floor like a workbench.
Is there one single item of motorcycle security that will stop my motorcycle from being stolen?
Realistically, no. There are great products specifically designed to help stop your bike from being stolen, but your best possible chance is to use a number of them in conjunction with one other. A great combination is one that offers a physical barrier, plus gives an audible warning.
I live in a friendly neighborhood, do I really need to secure my motorcycle?
I'm sorry to break this to you, but friendly neighborhoods are visited by not so nice people all the time. Lock it or lose it, it's that simple.