Best Motorcycle Disc Locks – 5 Unpickable Picks to Secure Your Ride [Updated 2023]
So you've got yourself a motorcycle security chain and a cover for your beauty. Should you also consider getting a motorcycle disc lock – and why yes?
Welcome to our comprehensive buying guide and rundown of the best motorcycle lock options we've found on the market!
Motorcycling as a hobby has really taken off over the last few years with just about every motorcycle manufacturer enjoying great sales numbers.
You've probably also noticed that they're now more expensive than ever which is sadly providing an opportunity for less honest members of our society (I'm trying to keep it polite) to relieve us of our hard-earned and much loved possessions.
Well, it doesn't have to be that way, as there are many forms of motorcycle theft protection.
Best Motorcycle Disc Locks Reviews 2023
Best Overall – Kryptonite New York Disc Lock
Kryptonite has done it again, this time with their miniature New York Disc Lock.
This type of motorcycle disc lock attaches to your disc brake through one of the large gaps in metal that most discs commonly feature. The shackle is a hefty 14mm, so it is as strong as those you would normally see paired with a larger security chain and features a double deadbolt to prevent it from being pulled apart.
We found the locking mechanism to be really smooth on this one, so you shouldn't have to spent too much time trying to get it on and off your bike. The motorcycle lock has a dust cover for added protection.
It also comes with a neon orange 'reminder cord' which you wrap around your handlebars or clip-on so you don't end up trying to ride off with the lock still attached! This one's quite important for newbies.
Weighing in at 2.25 lbs (1.02 kg) and achieving a Sold Secured Gold rating as well as being the highest-rated motorcycle disc brake lock that Kryptonite sells means that the New York should be at the top of your list.
And to top it all off, Kryptonite's Anti-Theft Protection Offer is applicable if some undesirable does manage to remove it.
Unpickable Brake Lock – Abus GRANIT Sledg 77
Solvit PupSTEP Plus XL Pet Stairs
A motorcycle disc lock with thick housing, formed with hardened steel, and wrapped in soft plastic cover to prevent accidental scratches or damages.
The design of the Sledg 77 is unusual with Abus deciding on a cartridge type housing instead of the usual hoop or locking pin design.
This isn't to say that it isn't up to the job as the heavy duty 13mm steel bolt has been recessed into the body of this lock in such a way that makes it very difficult to get a pair of bolt cutters anywhere near it.
The housing itself is thick and is formed with hardened steel and then wrapped in a soft plastic cover to prevent accidental damage to your wheels or brakes.
It features a luminous yellow reminder cord as standard and the lock weighs in at a total of 1.69 lbs (0.76 kg). No official security ratings have been obtained by the Sledge 77, possibly because it hasn't been submitted for testing. But we can say that it is of a Sold Secure standard.
Sure, it's a little bit pricey when you compare it to some other options. Apart from its overall quality, this disc brake lock also features a locking cylinder that makes it almost impossible to pick. Sure, picking locks is probably the rarest type of motorcycle theft. But why risk it?
Another nice touch is that it has a rubberized grip lock. Not essential, but it's still neat! These things are heavy, and you don't want your security lock to mar the bike's fine paint if you drop it by accident.
Best Budget Option – Kryptonite KryptoLok Series 2 Disc Lock
The most inexpensive disc lock on test is Kryptonite's entry-level KryptoLok Series 2.
And it's a living proof that inexpensive doesn't always mean cheap.
Very similar in design to the Series 4 but smaller still, this lock features a 13mm steel shackle, a rotating instead of sliding dust cover, and doesn't come with a reminder cord. So, make sure to set up a routine of removing it before you go for a ride.
From a security point of view, Series 2 is adequate for use in low-risk areas but the lack of features puts it at the bottom of our list. It is also the lightest here on test at 1.35 lbs (0.61 kg).
There is no official security rating applicable but Kryptonite has provided their Anti-Theft Protection Offer at the same value as their 10-S disk lock that you can find below.
Kryptonite Evolution Series 4 Disc Lock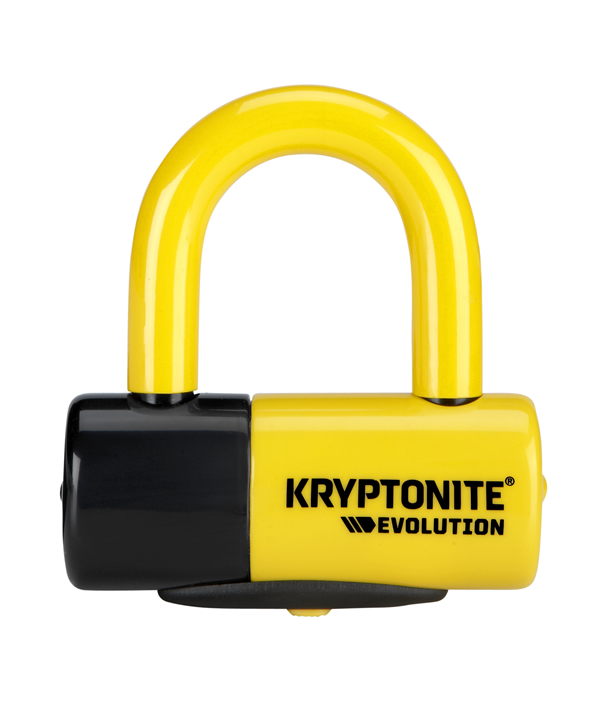 Kryptonite Evolution Series 4
Features a 14mm hardened steel shackle, designed to resist leverage and cutting attacks and the same anti-drill protection.
The Evolution Series 4 is slightly smaller and lighter than its big brother but manages to provide almost as much protection against theft.
It features a 14mm hardened steel shackle, designed to resist leverage and cutting attacks and the same anti-drill protection. It does forego the double deadbolt which is why it hasn't scored as highly as the New York.
Sadly, you also won't get the orange reminder cord, though you can buy it separately.
The weight comes in at 1.85 lbs (0.84 kg), which is nice and light and this lock will fit under most motorcycle seats. An ART rating of 4/5 has been achieved but the Anti-Theft Protection Offer on this one comes in a little lower in the event of theft.
For us, unless you must have your motorcycle accessories in matching colors (black, red, and orange are available), we would stick with New York.
Kryptonite KryptoLok 10-S Disc Lock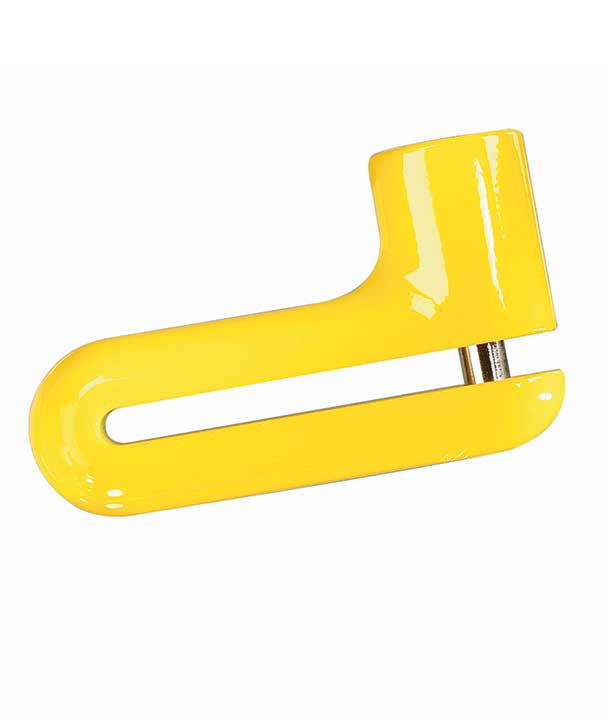 Kryptonite KryptoLok 10 S
A standard pinhole disc lock which can be attached to a motorcycle's brake disc.
The KryptoLok 10-S is your standard pinhole disc lock which attaches itself to your brake disc by feeding the locking bolt through one of the many holes drilled into the disc.
The bolt then engages in the mechanism on the other side of the lock, where it cannot be removed until you unlock it with one of the keys. That's a nifty design because the small diameter of the disc brake holes would make it impossible to insert a cutting tool through in an attempt to snip the bolt. The bolt is sized at 10mm and the housing is drop forged steel which resists cutting, sawing, freezing, and chisel attacks.
Due to its design, gaining leverage with bolt cutters and being able to make an effective cut into the lock would also be very difficult.
Couple this with its lightweight of 2.00 lbs (0.91 kg) and we see no reason why you would not carry this with you whenever you intend to leave your motorcycle unattended.
An orange reminder cord is standard and the lock itself comes in three different colors, polished chrome, yellow, and orange. Kryptonite's Anti-Theft Protection Offer is provided.
And there is our review and conclusion on the best motorcycle disc locks available on the market today. We also have a section on the best alarmed disc lock which you can find here. As always, feel free to send us a message with your experiences!
How to Choose the Best Motorcycle Lock – Buying Guide
Types of Locks
A disc lock is actually a wheel lock because it locks the wheel (therefore, the whole motorbike) into immobility.
But there are other types of locks. A handlebar lock works by locking in the brake lever and blocking the wheels.
Of course, a disc lock likes to be complemented with a heavy-duty chain. There are even some 2-in-1 solutions if you don't want to spend the extra buck.
(There's also the in-built steering lock that's also some form of protection, but an experienced thief can bypass it.)
Price
You're already paying for insurance. Now you need to splurge hundreds of bucks to beef up your ride's security?
Alas, you DO need to pay attention – if you don't, someone else will, and you don't want that to happen.
On the bright side though, a decent disc lock with a motorbike alarm doesn't have to cost a fortune.
In fact, let me tell you a well-kept secret. It's better to have three VERY CHEAP security devices in place than a single device that costs hundreds.
That's because every additional security layer spells out more work (hence more time it takes) for the thieves.
So, don't despair. The cheapest thing out there may suffice to keep your bike, well, yours.
How rugged is it?
Every single bike lock can be destroyed if you have an adequate tool. But the point is to make the job as harder as possible.
That means you should only use hardened steel locks. If you want to get a chain too, make sure it's a proper chain and not a cable. A cable lock would be easy to get rid of even without any power tools!
Frequently Asked Questions
Are motorcycle disc locks effective?
Let's get one thing absolutely clear.
A brake disc lock will NOT stop a group of scumbags from lifting your bike off the ground and into a van.
However, it will stop them from wheeling it away, especially if you use TWO disc locks: one on the front and another one on the rear. (If you can only afford one, make sure to install it on the rear.)
So, a disc brake lock is effective as much as it can be, but it's not a magic device that will prevent your ride from being stolen in 100% cases.
As with all other security devices, the most it can do is make your cycle less appealing (or more repelling) to thieves than the next one.
Is it easy to steal motorcycles?
Any bike thief could tell you that stealing motorbikes isn't easy. But the reality reminds us that it's still happening far too often. In most cases, the thieves manage to do their job in peace and flee before it's too late. (Unless Tom Hardy's around.)
So, let's see how a thief could deal with your disc brake lock.
They could either smash it with a hammer, pick the lock, or cut through the shackle with bolt croppers or an angle grinder.
Of course, cropping a motorcycle chain lock or disc lock would require three things: decent leverage, some physical strength, and enough time.
(They may or may not care about a motorcycle alarm. These days, nobody pays attention to alarms anyway.)
Luckily, most motorcycle thieves won't have ideal conditions for stealing. So, before they actually set out to nick a bike, they'll usually invest some time in scouting out the parking lots to figure out which bike seems least secure.
For the regular guys such as you and me, who can't afford to splurge thousands of bucks on motorcycle security, it all boils down to NOT making your bike the lowest hanging fruit.
What is the best way to secure a motorcycle?
There's not much philosophy to bike security. The gist is to NEVER use just one security device, however good it is.
So, even a rugged disc lock will be that much more effective if you pair it with a security chain and a ground anchor. If it's an alarm disc lock, all the better! That's one more deterrent.
You'd also be surprised how much a humble motorbike cover can help deter potential thieves.
Even if you get 2+ of the cheapest anti theft lock devices, you'll likely be a happy motorcycle owner for a while.
Last update on 2023-06-29 / Affiliate links / Images from Amazon Product Advertising API