Best Motorcycle Helmet Locks of 2022 (Reviews) – Keep Your Lid Secure
Apart from all motorcycle gear and safety gear that's supposed to keep your bike YOURS, there comes a moment in each biker's life when they realize they also need a motorcycle helmet lock.
Or do they?
That's right. If someone doesn't want to risk it and steal your bike, they may decide to take your fancy helmet as a consolation prize. A helmet lock is going to stop that from happening, unless you prefer to bring your helmet with you.
(What baffles me is that there are people who don't mind other people's hair, sweat mixed with dust, and other repugnant traces of our DNA nesting in our helmets. But that's just me!)
Motorcycle helmets are expensive so it makes sense that you do everything in your power to prevent them from being stolen when not in use.
Not so long ago, your only option would have been to take them with you when parking your bike up, but now you can securely attach your helmet to the frame or handlebars of your bike through the use of a simple portable helmet locking mechanism.
The options out there for motorcycle helmet theft prevention are pretty limited. So we scoured the market and did manage to find a few picks worth considering.
You will notice that we have included several cable locks which make a great choice for helmet security, simply because they are so light and compact and can be used in a variety of ways. But there are a couple of other options as well.
Welcome to our best motorcycle helmet lock round up and review!
IMAGE
PRODUCT
DETAILS 

Best overall

BigPantha Motorcycle Helmet Lock and Cable

Very compact and portable, it's potent enough to secure not one but two helmets. And a jacket.

Heavy Duty Option

OnGuard Pitbull DT

Much stronger and harder than integrated systems due to its design.

Budget Option

Bikers Choice Helmet Lock

A versatile and inexpensive motorcycle helmet lock with tamper-proof screws.
Best Motorcycle Helmet Locks 2022
1. Best Overall – BigPantha Motorcycle Helmet Lock & Cable
BigPantha Motorcycle Helmet Lock and Cable
Very compact and portable, it's potent enough to secure not one but two helmets. And a jacket.
I personally prefer the carabiner style lock with a PIN code because you don't have another set of keys to worry about. (You only have the combination lock code to worry about, but that's less of a hurdle for me.)
There are multiple reasons why BigPantha Helmet Lock & Cable is one of the most popular helmet locks on the market.
First off, you can use it to lock up not only a helmet (or two), but also your bad-ass jacket. That's because the coiled braided steel cable is 6 feet long.
There are also two types of locking mechanism, and you can use either or both. You can either lock the carabiner or the D-lock. Which is rubberized (and waterproof!) as are all other parts, so the lock won't harm your paint if you are not careful enough.
It will fit all models, sizes and types of motorbikes. You can even use it with a bicycle.
Note that the "braided steel" part doesn't mean nobody will be able to snap it. Like most other options from our list, this one isn't very sturdy either. While it's a well-built lock, it's not heavy-duty.
The point is, as with most other helmet lock, to deter an opportunistic scumbag. But if they're really determined to nick your helmet, they will be able to destroy this lock.
2. Heavy Duty Option – OnGuard Pitbull DT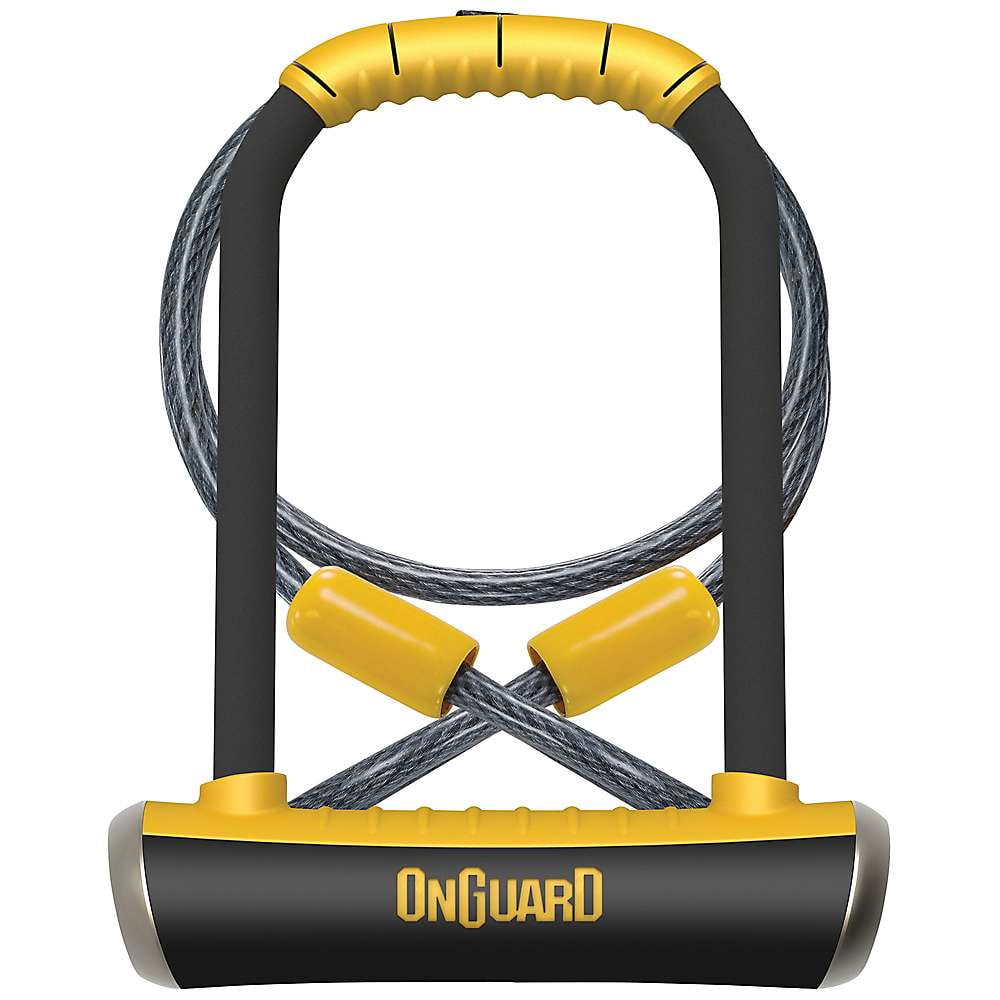 OnGuard Pitbull DT
Much stronger and harder than integrated systems due to its design.
Another option is a D Lock and Steel Cable Setup.
Note that this is NOT a dedicated motorcycle helmet lock. Instead, it's a cable and U-lock combination that you can also use to lock up just about anything, anywhere.
D locks are usually much stronger and harder to attack than integrated systems due to their design and this one features a beefy 14mm steel shackle.
The separate cable also means that you can position and locate your helmet anywhere you like. Unfortunately, the steel cables supplied with these systems is usually quite thin with 10mm being the average in diameter and 10mm is what you get here. The cable is 48″ (1220mm) in length and the D lock weighs in at 3.15 lbs (1.43 kg)
This setup is more than enough to defeat the casual opportunist with the D lock receiving a Sold Secure Gold rating with OnGuard offering their Anti-Theft Protection deal.
3. Best Budget Option – Bikers Choice Helmet Lock
Bikers Choice Helmet Lock
A versatile and inexpensive motorcycle helmet lock with tamper-proof screws.
Bikers Choice Motorcycle Helmet Lock is an inexpensive handlebar lock for your helmet, which is both good news and bad.
On the good side, it's versatile enough to sit well on many parts of most motorcycle models. A backrest for the passenger, guards tubes, the mirror, bike frame, a handlebar – anywhere will do.
However, before you actually mount it, make sure to really inspect your ride and figure out the perfect location. This is because the lock features 1-way tamper proof screws made of stainless steel.
That's great for security, but not so great for people who change their mind often. Once you screw them good, you can't unscrew them!
If you aren't sure that the location is perfect, it would be wise to use regular screws that you can undo if you don't like the positioning.
As for the not-so-good side, it could have used some kind of a rubber sleeve. Such as it is, it can easily scratch your handlebars if you're not extra careful.
4. Abus Steel-0-Flex 950
Abus Steel-0-Flex 950
A portable cable lock with an integrated key locking system.
For added security, we're moving on to portable cable locks. Abus' Steel-0-Flex consists of a whopping 25mm braided steel cable complete with an integrated key locking system.
A steel cable this thick is going to be impossible to cut with a knife and virtually impossible even with a pair of bolt cutters. Simply route the cable through your visor opening and then attach it to something solid like your front forks or the rear subframe of your bike.
Waterproof and lightweight at 4.07 lbs (1.85 kg) means you have no reason to leave this at home. We rate this product as one of the best helmet locks you can buy. Available in lengths of 39″ (850mm). Sold Secure Silver.
5. HelmetLok ll
This is your dedicated option which features a carabiner lock mechanism you can use to feed through your helmet's D-rings. If your helmet features a ratchet strap fastening system, you can use the metal T bar to clamp onto.
This carabiner helmet lock is a simple 4 digit combination lock, which means no key to worry about. However, that probably isn't great if you have a bad memory. Make sure to jot the code down somewhere! (Preferably NOT on your phone.)
The locking mechanism is made of a very strong zinc alloy, so it won't be easy to bust open.
The unit is sturdy enough but the weak point in this setup are your helmet's straps which can be cut with a simple pocket knife.
On the flip side, the HelmetLok ll is so small and compact that it'll easily fit underneath your seat or in your jacket pocket. We've given the HelmetLok ll an honorable mention for being one of the rare dedicated helmet anti-theft devices on the market today.
It's remarkably versatile. Attach it to just about ANY anchor point on your motorcycle and go about your business. Even though the straps are not difficult to cut through, it's not very likely that someone will bother taking a risk for a mere helmet.
6. Kuryakyn 4248 License Plate Helmet Lock
Kuryakyn 4248 License Plate Lock
If (and only if) you have flat license plate brackets, this model will be very neat.
Like its name suggests, Kuryakyn 4248 Licence Plate Helmet Lock won't fit any spot on your bike. It's a license plate helmet lock compatible with ALL motorbikes with flat license plate brackets.
So, if your bike has curved brackets, this bike helmet lock WON'T work.
The design and locking mechanism are very simple. It's basically a plate that you need to bolt lock to your bracket. The very easy installation is complemented by ease of use. You only need to insert the key when unlocking the device. To lock it, just press it and it will snap and lock automatically.
The screws are tamper-proof, which is another layer of security. We only managed to spot one potential downside. If your helmet is a bit bulkier, it may dangle low enough to touch the ground when you lock it up.
Of course, it will largely depend on the type and model of your cycle, so it doesn't have to be an issue for everyone.
7. Kryptonite Kryptoflex 1565 Combo Cable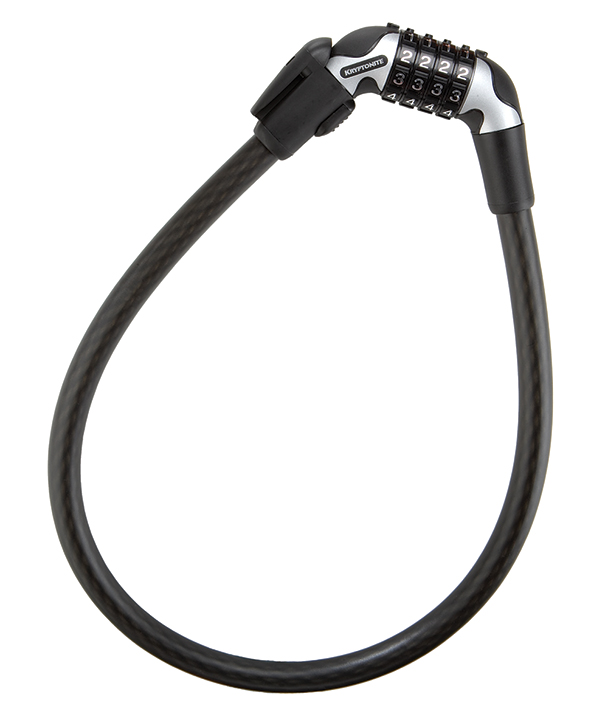 Kryptonite Kryptoflex 1565 Combo Cable
A 15mm in diameter steel braided cable that can provide a good level of security without the added weight.
The final option is another integrated cable and lock setup featuring a 4 digit combination lock.
The steel braided cable is 15mm in diameter providing a good level of security without the added weight, weighing a grand total of 1.35 lbs (0.61 kg).
It also only comes in a length of 25.5″ (650mm), so perfect for being able to attach your helmet to a solid part of your bike without leaving too much excess cable.
No official security rating has been obtained, but for the price, it provides a nice deterrent and will stand up to a lot of abuse before giving in. If you're looking for a cost-effective and versatile way to secure your motorcycle helmet, the Kryptonite Kryptoflex is definitely worth a look.
Choosing The Best Motorcycle Helmet Locks – Things to Consider
Type
Depending on the lock mechanism, you can get a motorcycle helmet lock with a pin lock or key lock. Which one is right for you? You'll just have to choose between memorizing yet another pin code and carrying yet another key.
As you can see above, most locks on the market are one cable lock or another. They are more versatile since you can use them to lock up two helmets (even a jacket) – and route them nearly anywhere on your bike. However, the cable also means they are easier to attack. All you have to do is get a pair of bolt cutters. Sometimes, even humble scissors will do!
As opposed to them, there are solid locks which allow you to secure your helmet by attaching it to the motorbike. They are much more robust and more difficult to destroy, but also less versatile.
A motorcycle helmet lock can also vary by design. It may be best to use as a handlebar helmet lock, but there are also options you can attach to your license plate bracket, saddlebag racks, or other places.
Is it portable?
What could be non-portable in a motorcycle helmet lock?
You'd be surprised. While all helmet locks are relatively lightweight and compact (at least when compared to chains!), some of them are simply not meant to be portable.
If it's a cable lock, carrying it around is easy enough. Most of them will fit in your pocket too. But solid locks are screwed into place so there's no need to remove and bring them with you.
Materials
Some locks come with a stainless steel cable, while others feature some kind of tough plastic.
While the material is important for safety, this aspect is not paramount. Even helmet locks with a steel construction would be relatively easy to attack with the right tools. We've said it before on this blog, and we'll say it again: EVERY motorcycle security system is vulnerable to certain tools and techniques. Still, every single system, no matter how vulnerable, will act as deterrent.
However, what's important is to choose rubberized materials or PVC coating, so the dangling parts (such as cable) don't end up damaging your bike's paint.
If your motorcycle helmet lock is made of steel, make sure it's rust-proof. Even if no thief ever comes near it, the elements may damage it.
Frequently Asked Questions
How do I secure my motorcycle helmet to my bike?
It all depends on the model of your lock. With some of them, all you need to do is route the cable underneath the helmet through the visor. Lock it with your PIN code (if that's how it works) or the key, and that's it.
Many motorbikes have an in-built mechanism to attach your helmet buckle or chin strap underneath your seat.
However, you shouldn't confuse this mechanism with dedicated helmet lock protection. There's a difference between a helmet being locked up and the one being attached. And thieves can tell the difference!
Should you leave your helmet on your motorcycle?
The best way to NOT let anyone steal your helmet is, of course, to bring it everywhere with you.
However, that's not always possible or practical. If you're stopping by a convenience store to buy a couple of trinkets, a bulky motorcycle helmet can be a pain to tag along. (Even if it costs $500.)
So, if you do decide to leave the helmet on your bike, it's best to lock it up properly.
Do helmet locks work?
They do, if you aren't expecting miracles.
In high crime areas, most locks probably won't work because there are many thieves, and because they are experienced, fast, and well-equipped.
Just like any other security device, a motorcycle helmet lock will work to deter potential thieves rather than stop them from stealing.
In other words, a very determined thief with some time on their hands would probably scoff at your helmet lock. However, most thieves are risk averse, don't have enough time, and will hunt for nice and relatively safe opportunities rather than YOUR particular helmet.
So your helmet lock will be just one more reason for the thief to move on and search for a trophy that's easier to obtain.
I don't know about you, but that's good enough for me!
Do motorcycle helmets get stolen?
"A whopping 210,000 motorcycle helmets are being stolen every year in U.S. alone." You won't hear such a stat anywhere on the news.
(A word of disclosure: we just came up with the number. Nobody knows the real number.)
However, the fact that people don't talk about it doesn't mean it's not happening. Motorcycle helmets do get stolen, but it's not sensational enough for reporters, police, or even the bikers themselves.
(In fact, mandatory wearing of helmets does seem to have a positive impact on motorcycle theft rate, but that's another story!)
And how can we know that helmets are being stolen? Because people who steal follow a simple logic: anything that is easy to steal will be stolen at one moment or another.
Helmets don't require any hassle. Most of the time, you don't need any special tools either. Bikers are naturally more concerned about the safety of their bikes than their helmets. So grabbing it in passing and walking away with it is a cinch if there isn't a helmet lock.
Wrap Up
And there you have it. Our review of what we feel are the best helmet locks currently available today. If you don't have a top box or any other form of storage attached to your bike, one of these products is the best way for you to secure your helmet and make sure it is still there when you return to your bike.
As always, feel free to send us a message with your experiences.