8 Best Motorcycle Tires of 2022 – Read BEFORE Buying!
The only thing between you and catastrophe are two tiny contact patches of rubber. For Advice You'll Never Tire Of, discover the 8 Best Motorcycle Tires of 2021.
Skins, slicks, donuts, hoops, call them what you will; the humble tire is not only laden with high tech but also plays a vital role in keeping you safe.
High performance motorcycle tires are even more critical than brakes as they are under load for the entire duration of a journey. This fact is ironic as far too many riders take their motorcycle tires for granted.
Correct and regular maintenance of your motorcycle tires is absolutely necessary. It ensures you will get the most bang for your buck when it comes to wear.
And it brings me to the purpose of this article. Here, we will look at the most popular riding categories and search the market for the best motorcycle tire in each category.
To keep the playing field even, we will consider the most popular tire brands AND those with global distribution. There's nothing more frustrating than finding your perfect tire only to discover it's not available in your neck of the woods.
So with all this in mind, let's burn some rubber!
8 Top Motorcycle Tire Reviews – Rated by Experts
IMAGE
PRODUCT
DETAILS 

Best overall

Continental Road Attack 3

High mileage
Wet grip
No scub in

Best Sport Touring Tire

Metzeler Roadtec 01 SE

Great feedback
Lighter steering

Best Cruiser Tire

Michelin Commander III Cruiser/Touring

High Mileage
Excellent wet weather performance

Best Sport Tire

Metzeler Sportec M9 RR

Cornering on rails
Good mileage

Best Dual Sport Tire

Dunlop Trailmax Mission

Good performance on and off road
Excellent size range

Best Best Off-Road ADV Tire

Bridgestone Battlax Adventurecross AX41

Round the world tire
Not too noisy

Best Budget Tire

Dunlop D404

Excellent mileage
Good grip

Best Track Day Tire

Pirelli Diablo Supercorsa TD-SC3

Made for the track
Legal for the road
Mega grip
#1 Best Motorcycle Tires for Grip: Continental Road Attack III
Continental Road Attack 3
A true heavy-duty tire, it's a perfect mix of great grip and high mileage. Superb technology at work.
Perhaps the TOUGHEST category in our lineup, this tire has to tick a lot of boxes, which is why the Continental Road Attack III clinches the title.
Not the cheapest by a long way!
However, Conti's RA III's have such a lot of technology squeezed into those rubber hoops, and they're ready to hit the road running in any number of circumstances.
This is a great sports touring tyre, also amazing for big-inch naked's, retros, and dual sports bikes that prefer to stay on the pavement. You'll give you plenty of mileage (a 10% increase on the RA II) as well as incredible stability and feedback in the rain.
Better grip and higher mileage don't often go hand in hand. Yet, Conti claims that temperature-controlled curing allows for a seamless transition from the harder center to the softer outer shoulders. 
The innovative motorcycle tyre technology doesn't end there.
Ever wondered why you need to scrub new tires in? It's mainly down to a releasing agent used on the tire to release it from the mold during manufacture. It is this that gives them a kind of waxy finish. 
Continental's 'Traction Skin' finish eliminates the need for a releasing agent, meaning no waxy surface to scrub off. This ability to hit the road running is one of many reasons why the Continental Road Attack III is a tremendous overall tire. 
#2 Best Sport Touring Tire  – Metzeler Roadtec 01 SE
Metzeler Roadtec 01
Allows for amazing cornering and precise handling even with a heavy beast of a bike.
Let's face it: with heavyweight horizon shrinking powerhouses like the BMW K1600 and Kawasaki GTR1400, the days of plodding along the highway are long gone.
With bikes in this group packing plenty of weight and tire torturing power, this is one harsh category. Not only does your tire need to have a tough compound to offer good mileage, but it also needs to provide excellent cornering ability and feedback.
All the top contenders offer great tires in this category but as good as the Continental Road Attack III is, the Metzeler Roadtec 01 SE nudges ahead. Fit a pair of these tires on your bike, and you're going to feel the difference right away! The best way to describe the handling characteristics is on the sporty side.
With a motorcycle like the two mentioned above weighing in at 319kg and 304kg, respectively, a tire that gives such precise steering feedback is most welcome. You will also notice the difference at paddling speed when navigating through traffic or a parking lot.
The Metzeler Roadtec offers great feedback even from cold.
However, it tends to give a slightly harsher ride quality due to the extra strength built into the side walls. The solid as a rock feel is a good pay off though, as it doesn't EVER leave the tires feeling overwhelmed by the bike's weight.
The new 01 SE's have a slightly redesigned tread pattern from their predecessor. That's exactly what gives more confidence at steeper lean angles and dissipates water faster.
#3 Best Cruiser Tire – Michelin Commander III
MICHELIN Commander III Cruiser
Tread compound is optimized for incredible performance in wet weather. A durable beast of a tire!
The Commander II was always a hard tire to beat in the cruiser category, but thankfully it's now updated by the even better Commander III.
So what's the difference, I hear you ask? For starters, the Commander III has upped its game in the wet weather department.
According to Michelin, the tread pattern on the updated version has a more rounded profile, which offers a larger footprint when rolling into the corners. The altered tread also disperses water a lot faster.
But the big difference is seen in the tread compound, which now uses a 100% silica-reinforced rubber mix. Once again, this takes wet weather performance in the handling and braking departments to a whole new level. 
The bonus of the new compound is the added longevity. According to Harley forums, hogs booted in Commander III Michelin tire are getting as much as 20,000+ miles out of a tire.
Due to the popularity of this category, you can find cruisers in a wide range of shapes, sizes, and weights. These tires, to cope with this disparity, come in two groups depending on weight. They are the Commander III Cruiser and Commander III Touring.
The former covers bikes from the Yamaha Star Bolt right up to Harley Softails. In comparison, the beefed-up latter model can handle full-on tourers such as the Electra Glide series and Gold Wing.
If you're a fan of Michelin, here's an article on where they make their tires.
#4 Best Sport Tire – Metzeler Sportec M9 RR
Metzeler Sportec M9 RR
Stability and very good grip in a variety of weather and road conditions make it a very reliable pick.
Most tires, regardless of the bike, take a hammering.
Yet, when it comes to sports bikes, tire manufacturers have their hands full. Tires need extra grip and excellent wet weather ability, and with sports bikes all fitted with electronic rider aids, the bar is considerably raised.
This category is yet another win for Metzeler with the Sportec M9 RR. It shouldn't come as any surprise, though, Metzeler is the only European company specializing in motorcycle tires, meaning their R&D is exceptional. 
The development of the M9 RR took place at the Isle of Man TT, and the result (a win for Metzeler at the 2019 Senior TT) is a phenomenal road tire. The improved compound (the mixing of which is a dark art) offers 5% more footprint when cranked over, faster warm-up times, and improved wet grip.
According to Metzeler, this additional performance is achieved by increasing the silica content on the shoulders of both front and rear tires. The new softer shoulder compound blends seamlessly with the harder more rigid center section and stiffer carcass.
The result is a track-worthy tire for the road without sacrificing its longevity.
The M9 RR provides a 10% mileage increase over its M7 RR predecessor. This tire is specifically developed to work with the increased demands of traction control and ABS. Can it get any better?
#5 Best Dual Sport Tire – Dunlop Trailmax Mission
DUNLOP Trailmax Mission
If you like to hit the dirt but also need a pair of tires for the paved roads, this one offers an excellent compromise.
The popularity of ADV motorcycles has gone off the chart.  And when you see the likes of Harley-Davidson introducing models such as the Pan American, you better believe the market is STRONG.
Although most big buck ADV's never see so much as a fire road, the Trailmax Mission is a tire for those who like to get off the beaten track. This Dunlop tire gives the best of both worlds. 
Although classed as a 50/50 tire and featuring what appears to be quite a blocky tread, in reality, it's more road-biased. Dunlop has recently upped the spec on this tire and added some great features. 
The new compound gives a brilliant combination of road grip and trail toughness. At the same time, the tread's chunky wrap-around edge lugs add protection to the sidewall and guide water away from the tire.
A nice feature of the tubeless Trailmax tire is, if your spoked rims need a tube, it's designed to take one. 
Any decent dual sport tire is going to be a compromise. While you won't be kicking up rooster tails in the dunes, the Trailmax will give you high road mileage, wet road stability, and good traction on the loose stuff.     
The Trailmax also comes in a wide range of sizes covering everything from the svelte KTM 790 right up to BMW's heavyweight trail hippo, GS 1250.
#6 Best Off-Road Adventure Tire – Bridgestone Battlax Adventurecross AX41
Bridgestone Battlax Adventurecross AX41
Brief product description here, highlighting the key selling points and main benefits of the product.
Talking the talk is one thing, but if you're going to walk the walk with your ADV, you're going to need a pair of tires up to the job.
Coming up with a hoop capable of ticking so many boxes must be the stuff of nightmares, but the Bridgestone Battlax Adventurecross AX41 manages to do just that.
This tire is classed as a 60/40, meaning it is intended to see most of its service off-road.
Even so, it gives more than acceptable on-road grip in both wet and dry conditions. And although the tread is competitively aggressive, road noise is pretty low. This point is important as if you've ever run full-on knobbly tires, road noise is excessive, as is cornering vagueness when you can almost feel the tread blocks bending. 
Neither of these factors is apparent on the AX41 as the tread block is up by 30% from its predecessor. The tread pattern is slightly staggered too, which means it's less likely to get clogged when the going gets sticky.
The only downside with the Bridgestone is its shelf life. Mileage from the rear tire is around 3-4k, depending on usage.
Although typical for this tire type (the Pirelli Scorpion Rally give the same mileage), it can shock anyone used to road-orientated tires.
Sizes are wide-ranging and cover a number of motorcycles up to the KTM 1290 Super Adventure bike. If you're heading out into the wild blue yonder and need a tire capable of taking the rough with the smooth, look no further than the Bridgestone Battlax AX41. 
#7 Best Budget Tire – Dunlop D404 Motorcycle Tire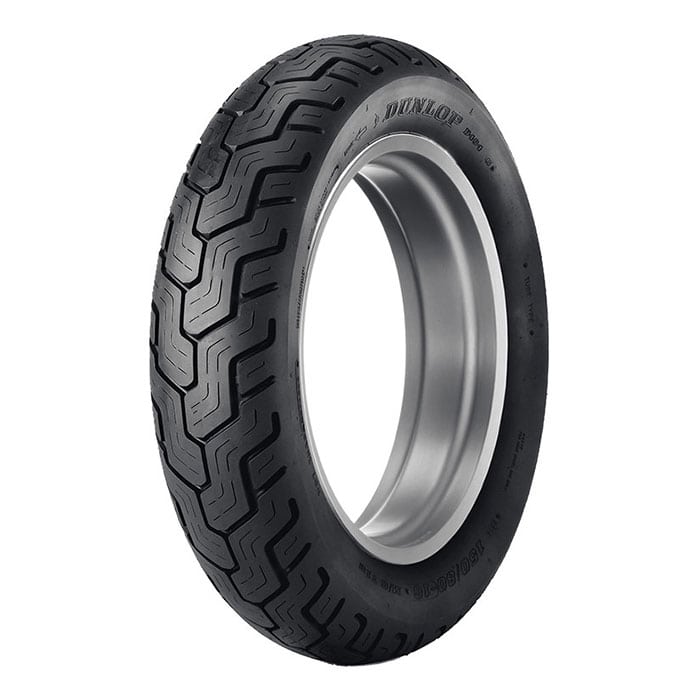 Dunlop D404 Motorcycle Tire
Not the cheapest there is, but it has amazing all-around functionality for a reasonable price.
The best budget tire is a tough category to tie down.
If going on price alone, we would undoubtedly be looking at either Indian or Chinese cheap motorcycle tires. In the past, both countries have suffered bad press when it comes to quality, but today, China is a hi-tech industrial powerhouse.  Just ask Michelin, Bridgestone, Goodyear, and Pirelli, who all have multiple plants in China.
Our winner, though, is designed and made in the USA. Regarding wear, handling characteristics, availability, and price, the Dunlop D404 nosed ahead of some stiff competition.
The D404 is a great all round tire and offering mileages of up to 10k; you can see why it's a winner. Handling-wise, the bias-ply construction is not the most technical. Yet, the tire manages to balance the mileage X grip calculation, well. 
Another consideration is the range of sizes available. Here, you can see that Dunlop has aimed more for the cruiser, street bike, and vintage sector. Front hoops start at 80/90-21, increasing to 150/80-16, while rear tires range from 120/90-18 to 170/80-15.
You may be aware that forums all over the web scream NOT to put these tires on a Harley-Davidson motorcycle.
This advice has nothing to do with quality but refers load rating. For over 20 years, H-D has used Dunlop D401/02 and 05's as OEM equipment, but while the DT404 is great for metric cruisers, the latest heavyweight H-D Big Twins need one of the other D40's.   
#8 Best Track Day Sports Tire – Pirelli Diablo Supercorsa TD-SC3
Pirelli Diablo Supercorsa TD-SC3
Best grip on our list! Quick warm-up and excellent stability due to wide contact area.
Track days are great fun and significantly increase riding skills. Best of all, you get the opportunity to give your bike a good handful without having to worry about speed limits and dozy drivers.
To take full advantage of time on the circuit, you'll want the right tire that's going to grip the tarmac like a barnacle on a rock. And for this, you need the Pirelli Diablo Supercorsa TD-SC3.
These tires are hot off the press and a track day specific offshoot of the legendary Diablo Supercorsa family.
The new TD, which, if you haven't guessed, stands for track day, features a multi-compound mix that offers the best grip this side of a MotoGP bike.
In conjunction with the new rubber compound, the profile has also come in for some tweaking. This combination ensures greater straight-line stability and 24% more contact area where you need it most, cranked over. 
Pirelli also revisited the carcass design to give better structural integrity under heavy braking. As well as the extra grip and improved stability, Pirelli has also managed to increase the mileage capability.  The tires also warm up quickly, alleviating the need to go flip-flopping down the first straight.
 It would come as no surprise if the new Supercorsa TD's came with a 'track only' recommendation. However, they comply with DOT regulations meaning they're street legal.
What Are the Best Motorcycle Tires – FAQs
Can I have Different Tires Front and Back?
In reality, this happens a lot, but in a perfect world and as recommended by any tire manufacturer, front and back tires should match.
This recommendation ensures that profiles, tread patterns, compounds, and wet/dry weather and braking performance match. That's what provides the best and safest performance.
Do I Need to Change the Front and Back Tires at the Same Time?
No, front and back tires wear out at different rates, so you can replace them as required.
Your wallet will appreciate this too!
Why does the Rear Tire Wear out so Quickly?
The power output of your engine is delivered via the drive to the rear wheel. The additional traction due to acceleration, heavy-footed braking, and luggage/passenger-carrying increases the wear rate of a back tire considerably.  
Should you get your Wheel Balanced after Fitting a New Tire?
Yes, 100%. A balanced wheel is critical to maintaining good handling.
Having a wheel re-balanced after fitting a new tire will also help get the most mileage and prevent uneven wear patterns. 
How to Know what Tires to Choose?
If in doubt, the first point of reference should be the motorcycle owner's manual. This document will tell you the size and make of tire recommended for your motorcycle.
If you want to branch out and go with a tire other than the OEM, check out owner's forums for specific motorcycles. There is always lots of feedback regarding different makes of tires and their varying attributes. 
Or better still, read Advice You'll Never Tire Of, discover the 8 Best Motorcycle Tires of 2021.
Do New Motorcycle Tires Need to Be Broken in?
Yes, new tires should be broken in for a period of time before riding aggressively on them. It is important to follow the manufacturer's instructions to avoid a dangerous situation since it can take a period of gentler riding to wear in the tires to their maximum grip.