Best Motorcycle Ground Anchors – 5 Monster Picks [Updated 2023]
The procedure of securing our motorbikes is pretty standard for most of us.
Lock it up, set up an alarm, and/or cover it.
In other words, set it and forget it. These safety measures will make the thieves' job more difficult though not impossible. They may just decide to lift it up and get it into their van. But life's full of risks, ain't it?
There is something better than the combo of these actions: a motorcycle ground anchor. If it's sturdy enough, there's no way to bust that baby!
That's why ground anchors are becoming increasingly popular as another deterrent to any aspiring motorcycle thieves who are looking for an easy ride.
You can either bolt an anchor down or set it into concrete to be as secure as possible. So, if your garage floor is a concrete slab or you're lucky enough to have a designated parking lot at work AND nobody minds you cutting out a square of tarmac and putting some concrete down, a ground anchor just might be your best option.
(Especially if you live in California.)
If a concrete anchor is impossible to set up for whatever reason, you can opt for a wall anchor. It's less reliable but still beats chaining your motorcycle to a lamp post. It might help get your motorbike closer to the tools in your garage storage system.
We never stop repeating that no security device is 100% reliable. An industrial-grade angle grinder can gnaw through almost any security chain or lock. But that would take time, and time is exactly what they lack.
IMAGE
PRODUCT
DETAILS 

Best overall

Kryptonite Stronghold Ground Anchor

Complete with the masonry bits required to drill the bolt holes as well as hardened security balls and circular cover discs.

Best for X

Abus Anchor GRANIT WBA 100

With four expanding steel anchor bolts are supplied to fix this into the ground.

Budget Option

Oxford Brute Force Ground Anchor

A conventional two-bolt design with ball bearings.
Best Motorcycle Ground Anchors Review 2023
Best Overall – Kryptonite Stronghold Ground Anchor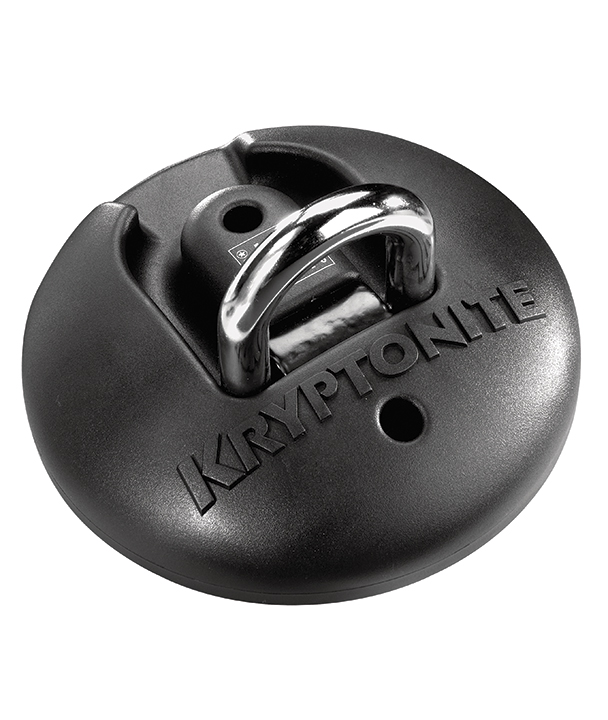 Kryptonite Stronghold Ground Anchor
Complete with the masonry bits required to drill the bolt holes as well as hardened security balls and circular cover discs.
Kryptonite's Stronghold is an all-in-one solution, complete with the masonry bits required to drill bolt holes.
To make your life easier, there are also hardened security balls and circular cover discs to stop the 5/8″ bolts from being unscrewed or attacked once installed.
The shackle is 16mm of hardened carbon alloy steel and lays flat when not in use. The plastic cover that fits over the entire assembly also has rounded edges and is dome-shaped so that you can safely drive your bike over.
Once you fit this anchor, it's impossible to slide anything underneath it to try and prise it out of the ground.
The reasonable price might have you thinking that this ground anchor isn't up to much.
But the fact that it achieved Sold Secure Gold, Thatcham Category 3 and an ART rating of 4/5 should tell you that this is one serious piece of kit, which is why it takes our top spot. It's a great value for the money!
Finally, it's equally suitable as a wall or floor anchor.
Best for Multiple Chains – Abus Anchor GRANIT WBA 100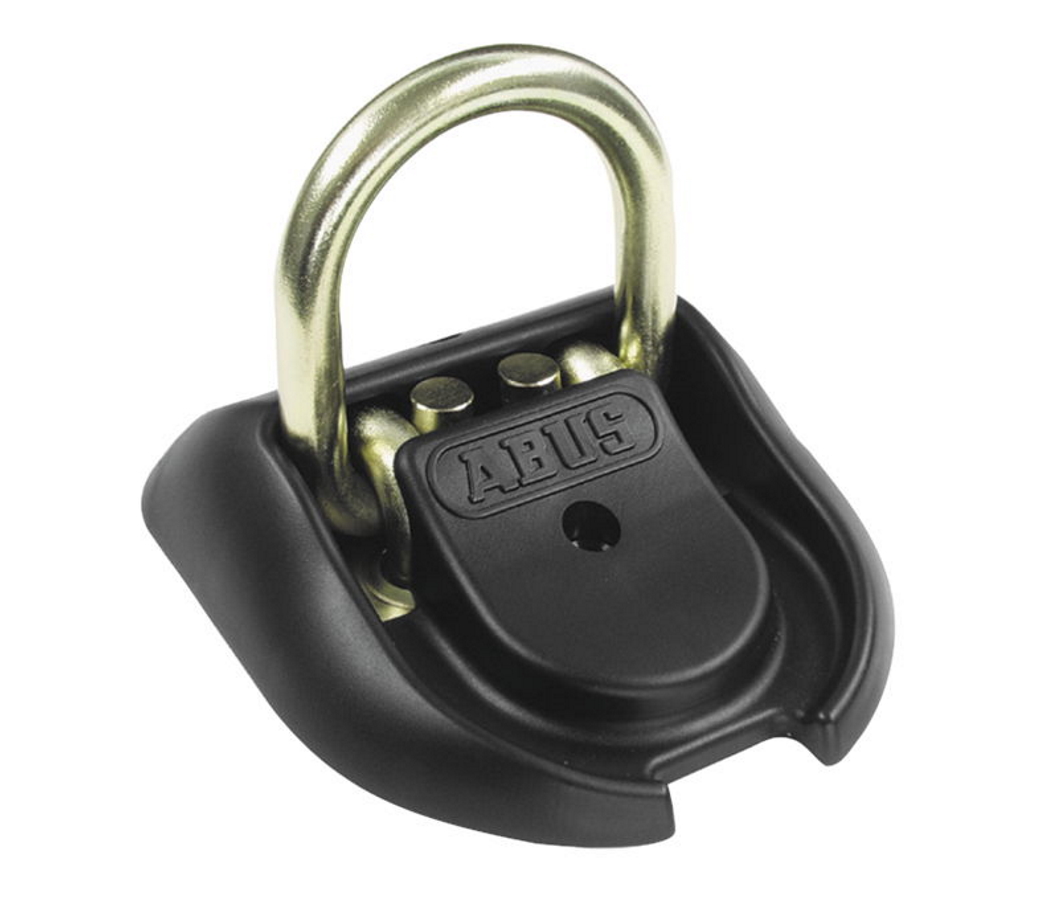 Abus Anchor GRANIT
With four expanding steel anchor bolts are supplied to fix this into the ground.
Next up is the Anchor GRANIT, which uses a similar design to the Stronghold but is lacking in a few features.
There's a 16mm hardened steel shackle, which again folds flat when not in use.
You'll get four expanding steel anchor bolts to fix this into the ground, but Abus does not supply drill bits, so you'll have to find these yourself.
There is a cover which does integrate quite well, but does not protect the shackle, as well as the above Kryptonite, does.
The shackle is also wider, which is great if you're using multiple chains and locks. But if you only use a single chain, there is a little more space available to insert a set of bolt croppers.
Abus have managed to secure Sold Secure Gold, Thatcham Category 3, and a 4/5 ART rating making this motorcycle ground anchor a worthy contender. Abus also suggest that you can mount this anchor to a wall outside or inside, in your garage, carport, or any other place.
Best Budget Option – Oxford Brute Force Ground Anchor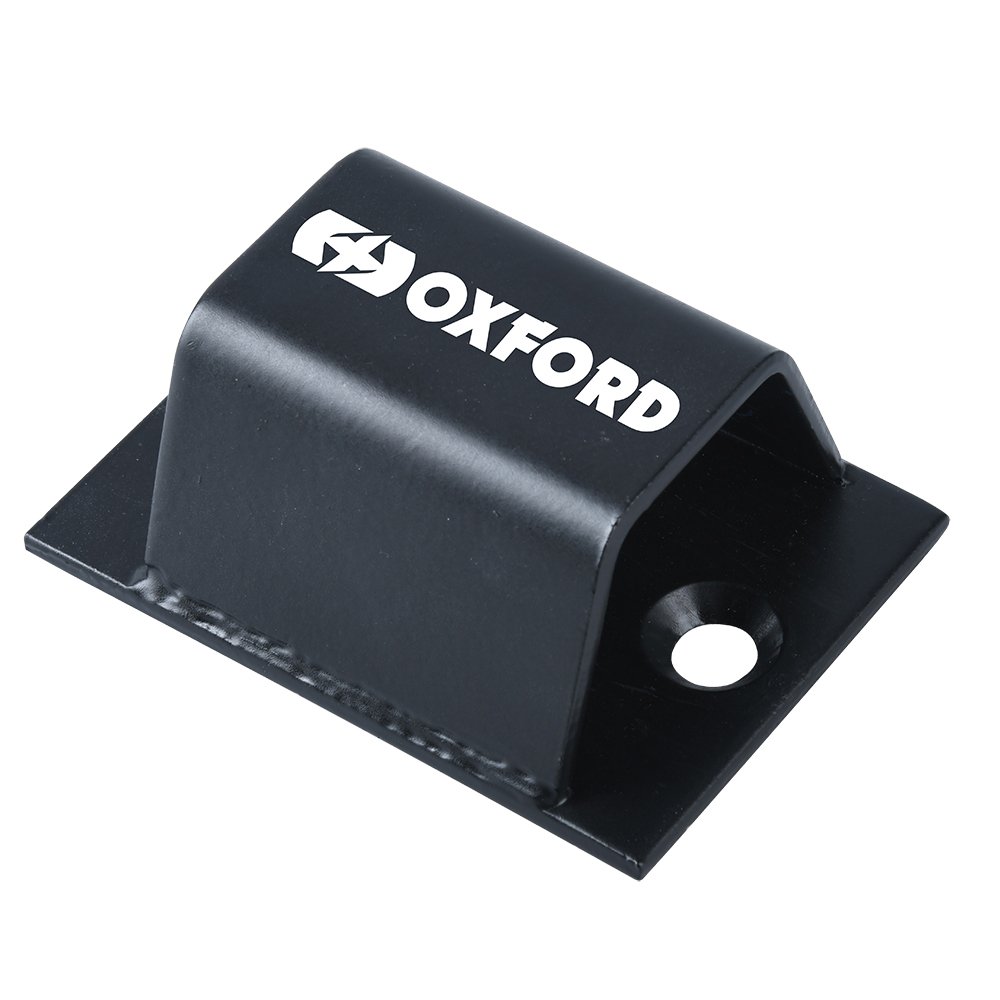 Brute Force Ground Anchor
A conventional two-bolt design with ball bearings.
Bringing up the rear is the entry-level offering from Oxford. A conventional design with two bolts and ball bearings which you can hammer into the heads to prevent removal.
The shackle section isn't as thick as the Anchor Force, making do with just one layer of steel instead of two.
For those on a budget who are willing to compromise on features a little, the Brute Force might be the option for you. Sold Secured Silver.
Even though this motorbike anchor is very inexpensive, when you pair it with a nice and sturdy security chain, it will do a hell of a job.
The only downside is that installation can be a bit tricky until you figure out the type of drill you need. Users have different opinions and experiences. From what we've seen though, a 5/8-inch drill bit will do the best job.
Oxford Anchor Force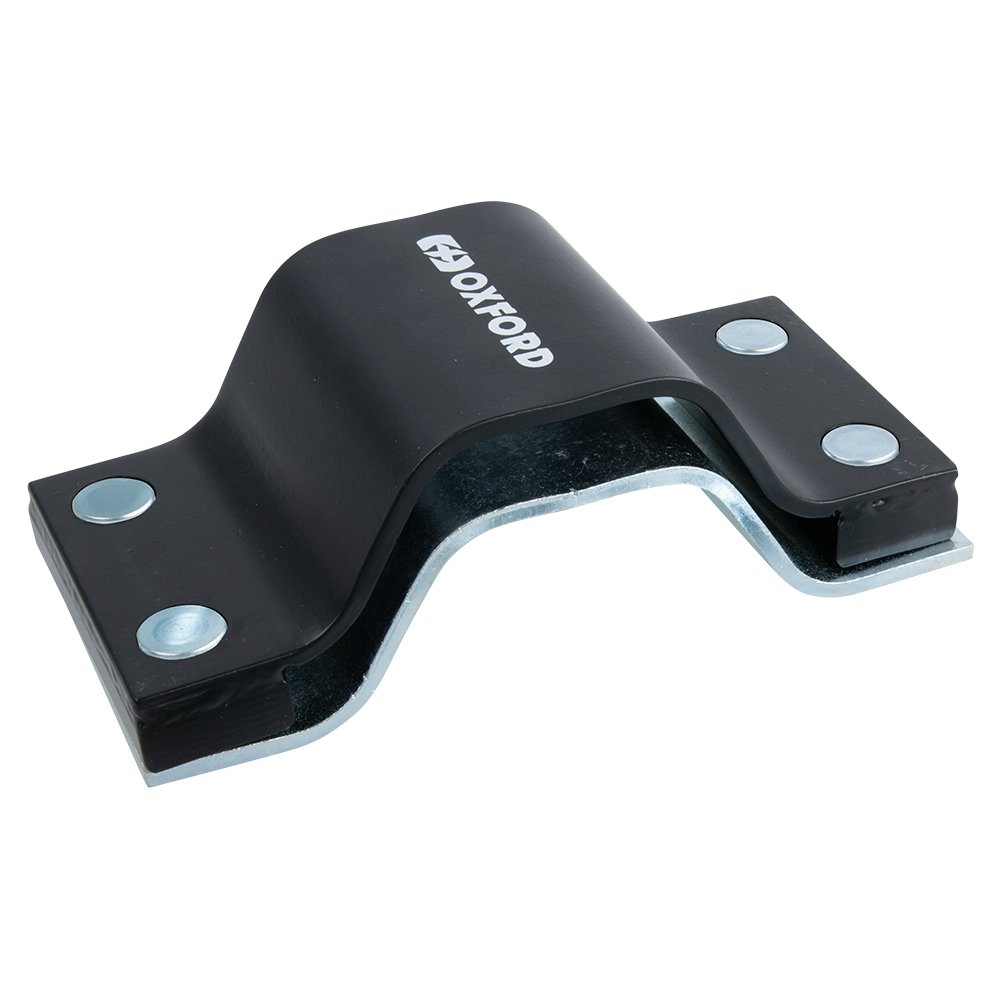 Oxford Anchor Force
Two hardened steel plates are provided which are bolted into the ground.
Oxford is well known within the motorcycle security industry, and their Anchor Force does not disappoint.
A different design approach is at work here, with no conventional shackle hoop acting as the locking point. Instead, there are TWO hardened steel plates, which are bolted into the ground where you can then pass your chains underneath and through the anchor.
Four expanding bolts are supplied but again no drill bits. So, get ready to order a 5/16″ and 5/8″.
Hardened security caps and balls are present, but we have heard reports of these loosening the anchor bolts once hammered on top. We had no such issues, but make sure to follow the instructions so that everything runs smoothly.
The Anchor Force motorbike ground anchor is definitely tough and should at least be considered with its Sold Secure Gold rating.
Xena XGA Ground Anchor
Xena has updated its XGA model making it better than ever. It still features a single-bolt installation as well as its unique sealed steal face design with no access to the mounting point.
Its 21mm steel shackle, which is one of the largest we've seen, is able to swivel 360 degrees. You can fold it flat and drive over it to your heart's content.
Wall or floor mountable, we do like the XGA but aren't quite sure how it would stand up to being pulled out of its mounting hole. The single bolt fixing could maybe take a toll!
Still, it has obtained the Sold Secure Gold standard which means that it is able to withstand most conventional attacks. No drill bits supplied.
And that concludes our review and round-up of the best motorcycle ground anchors available. We hope it was useful and as always feel free to send us a message with your experiences.
What to Consider When Getting a Ground Anchor?
Type
A bolt-down ground anchor is simple to install – a little bit of drilling is all it takes. There may be a single anchor bolt, but in most cases, there are two for greater reliability.
On the other hand, an embedded concrete anchor requires some underground work. If there's concrete already, you may even need a sledge hammer to smash a piece of it so you could reach the ground, bury the internal construction in it. Once it sets, you'll get a MONSTER of an anchor that's impossible to destroy or get rid of.
Of course, you can't really install a concrete-in anchor in front of your office. But it's the go-to option for your garage or shed, where you can tinker, drill and dig all you want.
Ground or Wall?
This is an important concern for two reasons: your own convenience and your bike's security.
Ground anchors are usually pretty easy to trip over unless the shackle is domed so you can easily step on it or drive over it.
That might be a good enough reason to install your anchor on a wall.
But even more importantly, wall anchors make it that much more tricky to crop a chain. A thief just wouldn't have enough leverage when they have to raise the croppers and keep them at weird angles while huffing and puffing to gnaw through a thick chain.
If you have a concrete floor, an earth anchor might be the best and most reliable option. However, if it's gravel, it would be difficult to install and very easy to pull out of the dirt. In that case, a wall or post anchor would be a logical choice.
Installation
You'll want to know what your anchor kit includes, and how easy it is to set up. Of course, you'll need a drill in most cases, as well as drill bits in an adequate size. The bits may or may not be included in the package, so make sure to take that into account BEFORE you hit the "order" button.
Most of the options we've covered in this guide are relatively easy to install though.
You REALLY need a heavy duty ground anchor
Ground anchors are probably the most effective prevention method against motorcycle theft. But they only work if they are sturdy enough. And that doesn't pertain just to the shackle, but also to every fastener, screw, anchor point, bolt head. A plastic anchor just won't cut it.
In other words, there are different ground anchors types. But even the best type will be in vain if it's easy to smash. The thief would then only need to lift your bike into a van and drive it away so that they can deal with the chain in peace.
The chain and disc lock (if you use one) also need to be heavy duty so that they aren't easy to crop or whack. But the ground anchor is most important since that's what keeps your bike fixated to YOUR place.
Frequently Asked Questions
How do you fit an anchor for a motorcycle ground?
The fitting kit will always include a masonry drill with 5/8-inch drill bits. You'll need to drill holes through the floor for the bolts.
Now, the firmer the floor, the better. If it's made of wood or some other feeble material, the thieves can just easily cut through the floor itself.
Therefore, it's best to do it in concrete and drill about 4 inches to max out your anchor's stability.
How strong are ground anchors?
Ground anchors are strong enough to hold an entire building against hurricanes. They are also good enough to secure a beastly truck.
However, even a high-quality anchor made of hardened steel may not perform very well if you don't install it on a concrete floor or wall.
That's because the anchor itself is only half the job. The ground itself is equally important, as well as the installation.
How do you remove an anchor from a motorcycle ground?
Getting rid of a ground anchor is notoriously difficult for a reason. After all, if it were easy to remove, it would beat the purpose!
The problem is, there just isn't an elegant way to do it without damaging the floor. If you want to restore the floor to its previous state, it's probably best to cut out a square of concrete to remove the anchor completely.
Another way is to use an angle grinder on the heads of the bolts and leave the rest inside the concrete.
Some manufacturers are well aware of how difficult it is to remove ground anchors once you no longer need them. So they make domed anchors that you can easily drive over. It's probably wise to get one of these since it won't get in your way once you no longer need it for your bike.
How does a ground anchor work?
Motorcycle security chains are only worth it if you have a firm, immovable object that will hold your bike so that nobody can carry it away.
When there's no such object, a ground anchor will do the job. That's why having one in your garage is a must if you don't want to be part of motorcycle theft statistics!