7+ Best Alarmed Disc Locks of 2022 – Blare to Scare Away!
Is there anything more reasonable than getting a disk lock so that a thief can't just ride your bike away?
Yes, there is: getting an alarm disc lock.
It's not that an alarm will be any form of protection in its own right. It won't stop thieves from lifting up your bike into their van.
Many would argue that alarms don't even draw that much attention, especially in busy city areas.
Still, it's another potential deterrent since it's highly unlikely that a thief would just keep doing what they're doing in peace.
You might have already seen our standard motorcycle disc lock review. Today, it's time to introduce you to another level of product on the market – the alarmed disc lock. Similar in use to their non-motion detection cousins, these products are a great way to add an additional level of theft protection to your arsenal.
These start with your top of the line, large-diameter bolt setups featuring a siren rating of up to 120 decibels before slowly reducing in price point and specification.
The cheaper disc lock alarms on test are still worth considering. However, due to their smaller bolt sizes, they just can't stand up to the same level of abuse as their bulkier and pricier counterparts.
If you're just looking for a buyer's guide, scroll down to read all you need to know about this type of security device.
IMAGE
PRODUCT
DETAILS 

Best overall

Xena XX14 Motorcycle Alarm Lock

Has a stainless steel metal body, housing an alarm capable of delivering up to 120 decibels of pure volume.

Heavy Duty Option

Abus GRANIT Detecto X Plus 8008

With a hardened steel body that features a nearly indestructible 16mm locking bolt.

Budget Option

MYSBIKER Brake Disc Lock Alarm

A neat alarm lock with a reminder cable, suitable for any motorcycle with rotor holes larger than 6mm.
Best Alarmed Disc Locks
1. Best Overall – Xena XX14 Motorcycle Alarm Lock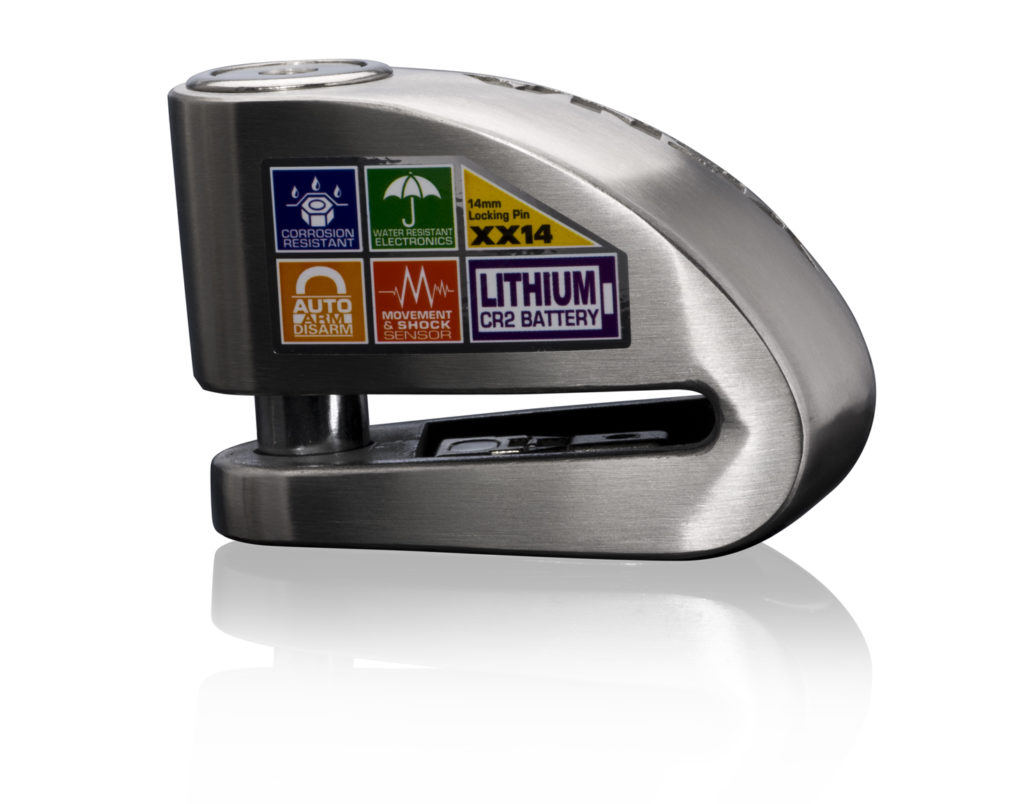 Xena XX14 Motorcycle Alarm Lock
Has a stainless steel metal body, housing an alarm capable of delivering up to 120 decibels of pure volume.
Xena Disc Lock XX14 just misses the top heavy-duty spot due to a slightly small bolt diameter of 14mm.
Otherwise, the feature set is very similar to the above Abus. You have a stainless steel metal body, housing a potent system capable of delivering up to 120db alarm.
That level of noise is not just unpleasant to hear. It can cause immediate harm, so the thief will HAVE to flee the scene immediately. The idea is that being in the immediate vicinity while this is going off is going to be very painful to the person trying to steal your bike.
It will also of course let everybody nearby know that someone is up to no good.
Xena has updated this model to address their users' common complaint. That is, this lock was just a little too trigger happy and would go off with a slight breeze.
With this update, it should no longer be the case, while still maintaining great detection of movement and tampering. The siren also has an auto arm/disarm function so you only have to remember to attach it and remove it.
The larger XX15 is also available if you need the extra disc clearance. Both are also available with a chain adapter which is sold separately. The idea here is that you can then attach a security chain to your disc lock and then onto something else like a lamp post (or even better, a ground anchor) for added protection.
The XX14 weighs 1.63 lbs (0.74 kg) and will fit under most seats.
2. Heavy-Duty Option – Abus GRANIT Detecto X Plus 8008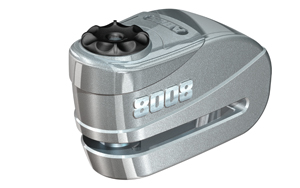 Abus GRANIT Detecto X Plus 8008
With a hardened steel body that features a 16mm locking bolt.
Abus' newest entry onto the market is nothing short of HUGE in every sense of the word.
Abus GRANIT Detecto X Plus 8008 has a hardened steel body that features a 16mm locking bolt, the same size you would find on some of the strongest D locks and padlocks on the market.
Due to its size, this is going to clamp over the radius of the disc instead of through one of the many drilled holes present.
Abus have included what they call an automatic brake disc recognition system which means that when in transport, it will never accidentally trigger and sound its siren.
And it's a good job too, as the minimum sound level of this lock is 100 decibels. Now that could potentially get YOU in trouble if it went off by accident. A great thing that they decided to prevent it!
You've also got a 3D detection system which means that ANY type of movement at all whilst armed is going to result in the siren sounding, including vertical lifts off the ground.
In the case of an accidental ride off attempt, the lock will let you know it's still attached with audible beeps, giving you just enough time to disarm and remove it.
The device weighs 2.64 lbs (1.2 kg). That's heavy alright, but it is still portable and should fit under most seats. Abus have a template on their website. So make sure to check and see that this one will fit (due to its large bolt) before making your purchase.
3. Best Budget Option – MYSBIKER Disc Brake Lock Alarm
MYSBIKER Brake Disc Lock Alarm
A neat alarm lock with a reminder cable, suitable for any motorcycle with rotor holes larger than 6mm.
Who says you have to splurge a lot of cash on a bike lock alarm? MYSBIKER Brake Disc Lock Alarm is insanely popular among bikers for a reason.
Apart from being dirt cheap, it's also effective. ANY kind of shock or vibration can trigger it to release noise up to 110db.
Unlike some fancier options on our list, it doesn't have a sophisticated recognition system that would prevent accidental triggering.
Instead, it has a coiled reminder cable long enough for you to stretch it out from the disc lock body to your handlebar or brake lever. That way, it's literally impossible to forget to remove it before you go for a ride.
I don't know about you, but that sounds fair enough to me! There's no need to pay extra for smarter alarms when a humble reminder cable would do.
Also, the fact that this motorcycle lock is inexpensive doesn't mean its materials are inferior. The body is stainless steel that won't go bad due to rain, heat, or any other element.
And it's also sturdy enough to take a beating. The 6mm locking pin is thin enough to succumb to an angle grinder or bolt croppers very quickly.
But you'll have to worry about that only if you forget to set the alarm.
As for compatibility, just make sure the holes on your wheel are 6mm (quarter-inch) or larger. The locking pin won't fit into smaller holes. Still, this should do for almost any motorcycle or scooter.
We've seen more powerful or sturdier options, but this one definitely offers great value for the money.
4. Abus Granit Detecto X Plus 8077
Abus Granit Detecto X Plus 8077
Secured by a 13.5mm bolt of hardened steel with the same steel used for the body.
Back over to Abus and we have another GRANIT Detecto model. Using a similar design to the non-alarmed Sledg 77, the 8077 looks and feels familiar.
Security is brought to you by a 13.5mm bolt of hardened steel with the same steel used for the body. All of Abus' motion detection technology has gone into this model as well as the 100+ decibel siren.
As with the 8008, no false alarms were experienced under testing.
We also liked the LED light on this one, capable of displaying a range of colors to show activation, alarm, and battery status without having to take the unit apart. As always, check to see if it will fit your disc setup. 1.94 lbs (0.88 kg).
5. Xena XX10
Next in the Xena range is the XX10. This time you've got a 10mm locking pin which is still respectable and trumps a number of other products on the market.
The all stainless steel body is of the same construction as the XX14 and still features the double locking mechanism making it tamper-proof and insusceptible to being picked.
Siren volume is the same at 120 decibels which is nice to see. Usually, manufacturers will attempt to cut costs with lesser models in their product range but that isn't the case with this lineup. This one weighs in at 1.34 (0.61 kg).
6. Xena XX6
Finally, we have a lock for the smaller motorcycles out there. The XX6 is the smallest and lightest on test with 0.92 lbs (0.42 kg). It still features a 6mm locking pin giving you a decent level of protection, while still giving you a few options on how to mount it (across the entire lip of the disc or through a drilled hole).
Once again, 120 decibels are supplied on a triggering event, lasting 15 seconds before rearming and repeating if necessary. You only get pushdown locking here and not the double mechanism on the more expensive models so weigh that up with the risk present wherever you frequently park.
7. Tchipie Disc Brake Lock Alarm
Tchipie Disc Brake Lock Alarm is another option that offers everything you need at a very reasonable price.
You'll get a powerful, audible alarm of 110db that is triggered by sudden movements, vibrations or shock, a relatively heavy-duty unit made of aluminum alloy, and a reminder cable 5 feet long.
Even though it's available in multiple colors, we strongly suggest getting the bright red, yellow or orange unit.
Not that we're into flashy colors! The thing is, a bright unit paired with the orange cable is impossible to ignore and will do its share in deterring motorcycle thieves.
It's also easy to set up and operate. All it takes is a single press to lock it up, and the alarm activates automatically.
Bonus! WSDCam Bike Alarm
WSDCam Bike Alarm
A very compact handlebar lock alarm that's easy to set up, remove, and carry in your pocket.
This article focuses on disc brake lock alarms. But we still decided to include the WSDCam Motorbike Alarm as an honorable mention, even though it's not a brake lock alarm.
(Strictly speaking, it's not a dedicated motorbike alarm either. It's a versatile tool made for bicycles that you can use on motorbikes, trailers, etc.)
Still, some bikers might want a simpler solution than a thing that has all kinds of bells and whistles.
And it hardly gets any simpler than that. Just tie it anywhere on your motorbike and leave it be. You'll get a remote control which you can use to arm, disarm, change tune, or search for your cycle.
The remote reacts within range of up to 66 feet, so it's perfect for when you need a quick visit to a convenience store. Much less so if you ride your bike to work in a high rise building.
What's more, you can tweak the sensitivity so that it doesn't react to just about ANY motion out there. With seven sensitivity levels, you can set it to react to anything, from the gentlest touch to the firm push.
I personally would have been able to live with two to three sensitivity levels, but that's just me. Such as it is, it kind of baffles me as to which level I should choose.
Things to Consider When Buying an Alarmed Motorcycle Lock
Ease of Use
Even if you have the most efficient alarmed motorcycle lock in the universe, it won't amount to much if it isn't easy to (de)activate. If you have to spend 10 minutes tinkering with it every time you need to park, it will be a burden, and you'll end up hating it.
Choose simple devices that lock and unlock with a single press of the key. It already takes long enough to set up your chain lock (if you have one). You don't need an extra waste of time 20 times each day you spend on the road.
Sensitivity
Getting a super sensitive alarm might sound like a good idea.
Until you realize it's NOT. You don't want to get alerted that a dog decided your motorcycle would be a perfect object to rub its back against.
Some alarmed disc locks have various sensitivity levels, so that a motorcycle owner can decide which kind of motion or shock it should detect.
Decibels
Most alarmed disc locks will blare out at up to 110 decibels, which is very annoying and even painful.
However, some of the more high-end devices will go even higher, to 120 db. Now that's equivalent to a siren so loud that it can cause ear injury!
Not that your aim is to hurt anyone. But it will definitely compel them to run away, and teach them a lesson or two while at it.
Safety
No, I am NOT Captain Obvious with this one.
Alarmed disc locks should beef up your motorcycle security, but they won't stand up to the task if they are easy to bust or disarm.
Batteries tend to run out of juice when you need them the most, and not all alarms will warn you when they're about to die. So, you should mind the mechanical aspects of your device too.
First of all, the locking pin shouldn't be exposed enough that a pair of bolt cutters can reach it.
Or, if it is exposed, choose one that is at least 10mm so that it isn't very easy to snap.
Second, a reminder cable doesn't only serve to remind YOU to unlock the device before you go for a ride. It also serves to remind a would-be thief that this particular motorcycle is not an ideal candidate for theft.
Frequently Asked Questions
Are motorcycle alarms worth it?
They are, as much as anything is.
Truth be told, the most important role of any and ALL security devices is deterrent. That's why they are usually very prominent and robust – to make sure the thieves see them BEFORE they do the deed.
An alarm will also lower your insurance a bit. And even if your bike DOES get stolen despite all of your measures, the alarm will be another reason for you to get an insurance discount.
So it boils down to the usual: prepare for the worst, hope for the best.
How do I protect my motorcycle or scooter from theft?
One thing is certain: the best anti theft device is NOT your steering lock.
Steering locks may stop a motorcycle theft or two, but a determined thief will simply break it if the circumstances are favorable.
To protect your ride, you'll need a combination of devices. Motorcycle chain locks with an alarm are great when parking in populated city areas.
When you're at home, chain your motorcycle or scooter to a ground anchor as an added precaution.
Add a bike cover into the equation, and your ride will be as secure as any ride can ever be.
Of course, that does not mean it will be 100% theft-proof. But nothing ever is, eh?
What is the best motorcycle alarm system?
What's the best bike in the world?
Exactly!
There's no way to tell. It just depends on too many variables, including but not limited to your personal taste and habits.
Same goes for motorcycle alarms.
Whether you're looking for an alarmed or non-alarmed motorcycle disc lock, the best one will depend on your specific needs as much as its own features and quality.
In Conclusion
We hope you found this review and roundup useful. There are numbers of products out there but we feel these represent the best motorcycle disc lock alarms available. As always, feel free to send us a message with your experiences.