Best Degreaser for Motorcycle [Top 4 in 2023]
Whether your bike is brand new off the showroom floor or a classic from the '60s, it needs to be looked after properly. This means every once and a while, we find ourselves crawling around, covered in grease wondering how we ever let our pride and joy get into such a state.
Some people enjoy motorcycle maintenance more than others, but when it comes to degreasing, we can all admit it's one of our least favorite jobs. Lucky for us, we have advanced from using straight kerosine and a toothbrush to spray and walk away degreasers.
There are hundreds of products out there claiming to be exactly what you need. It can be challenging to filter out the good from the bad. We have reviewed some of the favorite degreasers and found that Oil Eater Original Cleaner/Degreaser is the best motorcycle degreaser overall. Keep reading to see a detailed review of each degreaser and some things to consider before choosing which is the best fit for you.
Welcome to our round-up and review of the best motorcycle degreasers of 2023!
Our Top Picks for Best Motorcycle Degreasers 2023
IMAGE
PRODUCT
DETAILS 

Best overall

Oil Eater Original Cleaner/Degreaser

Water-based, biodegradable, extremely versatile degreaser that won't break the bank.

Best for Motorcycle Chains

WD-40 Specialist Fast Acting Degreaser

A solvent-based, fast-acting and residue-free degreaser with a smart straw for hard-to-reach areas.

Budget Option

Gunk Super Concentrate Degreaser

Highly concentrated, easy to use, all with a very attractive price tag.
Best Overall – Oil Eater Original Cleaner/Degreaser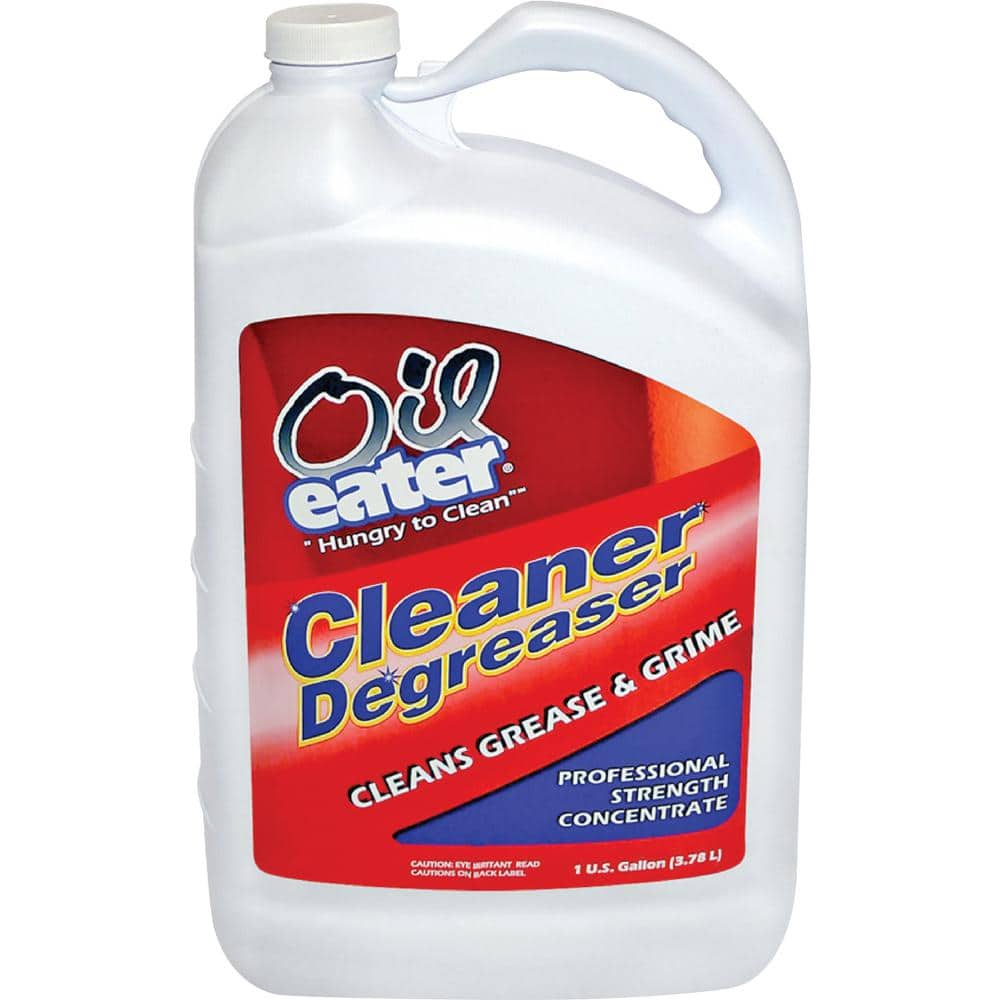 Oil Eater Original Cleaner/Degreaser
A highly concentrated, acid-free, water-based, non-abrasive, and non-toxic degreaser.
The Oil Eater Original Cleaner/Degreaser could be considered a jack of all trades when it comes to degreasing. It is a high concentrate allowing you to dilute it and use it for almost anything from cleaning the bathroom to the BBQ while still being tough enough to tackle your chain when you need it to be. It comes in 1 gallon (3.7 liters for the poms) containers and is very budget-friendly while managing not to skimp on quality.
 The product comes with a dilution chart on the back, which is very useful, while the toll-free helpline, on the other hand, might be a bit of an overkill, we can appreciate the effort. It doesn't come with a spray attachment, so something to bear in mind is how you will apply the thing. Once you've got it on, some elbow grease is recommended to get the best results, and after, rinse it off with your hose before stepping back to admire your handy work.
All in all, this is a great product. It's versatile, quality, budget-friendly, and should be able to meet your needs.
Best for Motorcycle Chains – WD-40 Degreaser with PowerSolve Technology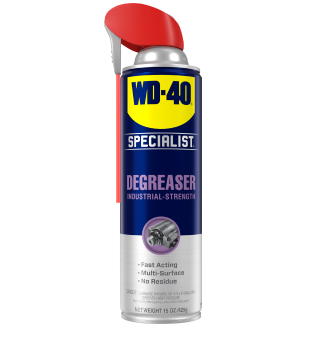 WD-40 Degreaser with PowerSolve Technology
A solvent-based, fast-acting, residue-free degreaser that comes with a smart straw making it easy to get into all the hard to reach spots.
WD-40 is a brand well known and trusted by many a motorcycle owner. They have an extensive range of products that don't disappoint. The WD-40 Specialist Fast Acting Degreaser is no different, which is why we have named it our best degreaser for motorcycle chains.
It is a fast-acting solvent-based degreaser, so it only needs to be left on for a few minutes before removing it. They come equipped with a smart straw and 15oz of product. They are safe to use on most metals, plastics, glass, and rubber, as well as leaving no residue. This is industrial strength stuff, so out of all the products reviewed here today, we feel this is the best motorcycle chain degreaser. The smart straw is excellent to use and makes it a lot easier to get into all the tight spots leaving no excuses for a dirty bike once you've finished.
The only major downside we see is the cost factor, WD-40 just isn't within everyone's budget.
That being said, this product is highly recommended by most people who have used it and the company even offers a money-back guarantee (given you can meet the requirements) if you are unsatisfied.
Best Budget Option – Gunk Super Concentrate Degreaser
Gunk Super Concentrate Degreaser
Makes up to 10 gallons of degreaser when diluted.
Gunk is another well-known brand in the motorcycle world. The family business has a range of degreasers, but our pick is the Super Concentrated Degreaser as we feel it is the best motorcycle degreaser.
This degreaser comes in 1 gallon and must be diluted before use. This is a good budget alternative to the spray bottles, but be sure to read the directions and warnings before using this Gunk degreaser.  
It targets tough oil and grime build-ups with no messing around. The Gunk degreaser is very versatile in its applications. You have the option to spray it on like the most degreasers or simply dilute it in a bucket and submerge the parts for a deeper clean.
One negative is this degreaser doesn't come ready to apply and needs to be diluted. This adds time to the task at hand, but bear in mind that you will also be saving some cash for your effort.
Best for Motorcycle Engines – Chemical Guys Signature Series Orange Degreaser
While it may be designed with cars in mind, don't look past the Signature Series Orange Degreaser as an option for your motorcycle as well.  This degreaser has a unique formula which comes highly concentrated in a 16oz spray can. The secret to this degreaser is it emulsifies the oil, dirt, and grime, making it a lot easier to wash away.
The spray can is easy to use on larger areas, this is why it is better used as an engine degreaser than a chain degreaser. This is another easy to use a product that claims not to require any scrubbing to get great results. It can be diluted to different strengths and used on almost anything in your garage from not only your motorcycle but tools and the floor as well adding a bit more bang for your buck.
While being reality cheap, it is important to keep in mind the fact that you are only getting 16oz of the product here, so it will add up for bigger jobs.
What To Consider When Buying A Degreaser
A strong degreaser is part of every motorcyclist's maintenance kit. With so many options on the market today, here are some things to keep in mind when choosing one that's right for you.
Think about what you will be using it for, is it going to be solely used on your motorcycle or do you want something that will do it all. If it is going to be reserved for your pride and joy, then go ahead and look at something tailored toward motorcycles. Otherwise, maybe look at something with a concentrated formula that will allow you to dilute it and use it on more than one surface.
How much will you need? 15oz bottles are good because they are easily maneuverable and often come with a spray attachment, meaning they are ready to be used straight off the shelf. This is practical, however, they tend to run out after a couple of uses depending on how generous you are. Consider getting yourself a gallon refill if you know you will be needing a lot and often.
Don't be afraid to try a new brand once your old reliable runs out. These formulas are continually being improved, and you might end up finding a new favorite.
Frequently Asked Questions
Can I degrease my engine while it's hot?
A warm engine is okay, but a hot engine is more likely to warp or crack. This is because spraying cold water on a hot engine causes it to rapidly cool and stresses the metal. It is best to wait until you can safely touch your engine for a few seconds before starting any cleaning procedures.
How often should I degrease my chain?
The short answer is to degrease your chain every 150 miles (240km). The long answer is it depends on the conditions you are riding in, the season, how often you ride, etc. Regular degreasing and lubing of your chain will help you get the best lifespan.
Can I make my own engine degreaser?
Yes, you can. There are a lot of people who make their own engine degreaser. Most people use a dilution of vinegar or some other acidic base to help dissolve the grease.