The Ultimate Guide to Best Motorcycle Helmets of 2023 – Top Picks Reviewed
The best motorcycle helmet is the one that fits you properly. Absolutely nothing else matters as much – neither the price of the helmet or the materials it is made from.
And when you consider what a motorcycle crash helmet is designed to do, it makes perfect sense. While on your head, your helmet effectively acts as a suspended cushion, keeping your head near to but not directly touching the outer shell.
Now imagine what would happen if your head were able to move around inside your helmet, or if it was that tight your head was constantly in contact with the shell.
A helmet needs to do what it can to mitigate the risk of head injury to motorcycle riders.
To be perfectly honest, it can't do miracles. But many times, what it can do is good enough to save a life. According to CDC (Center for Disease Control), helmets reduce the risk of death by 37%, and the risk of head injury by nearly 70%.
It is often said that most people buy a helmet that is at least one size too large for them and we would tend to agree. For this reason, we've put together this guide in conjunction with our helmet reviews, helping you to get it right first time and assisting you in choosing the best motorcycle helmets for your needs.
What Should I Look for When Buying a Motorcycle Helmet?
The Helmet Size and Measuring Process
The first step is to find a flexible tape measure that you probably have lying around the house. It only needs to be around 30 inches in length for this task.
Next, you want to measure the circumference of your head at its widest point, making sure you include any areas that stick out a little.
The tape should be flat against your head and sit roughly an inch above your eyebrows. This measurement in either centimetres or inches is going to form the basis of your buying decision.
What you're also going to want to figure out is the shape of your head. The three most common shapes are;
Round – As the name suggests, round heads are (almost) as wide as they are long.
Intermediate Oval – The most common head shape in North America and Europe. An intermediate oval head is slightly longer than it is wide.
Long Oval – An extension of the intermediate oval. Significantly longer front to back.
Each helmet manufacturer will recommend a specific head shape for each model they produce, so bear this is mind.
Some lids such as a half helmet will also offer a little more flexibility in terms of fitting.
The Style of Motorbike Helmet
We all ride different types of motorcycles and for different purposes. Some of us ride our bikes for pleasure and some of us ride out of necessity.
This means that those riding off-road on the weekend would be far better suited to a full face than an open face helmet. Full face helmets with a chin bar will always offer the best protection, so bear this in mind.
This is not to say that open face helmets are without any virtue, though. As a rule, they are much lighter, comfortable, and provide better view. Like with anything in the world, there's a trade-off between safety and convenience, and it's up to you to make a choice.
If you do opt for an open-face or 3/4 helmet, make sure to also get goggles for eye protection from dust, insects and other potential distractors.
Those who commute to work in all weather may feel far more comfortable in a modular helmet or dual sport helmets rather than a full-face helmet due to their flexibility in use.
A modular motorcycle helmet is essentially a good compromise between the two and is far more practical. Whether a full-face racing helmet or an off road helmet, make sure that you use a face shield or sun shield.
Due to safety, we won't include any open face motorcycle helmet or motorcycle half helmet in our list of products. However, that doesn't mean no motorcyclist should ever consider them.
After all, no motorcycle helmet law will require you to wear a particular helmet type.
The Helmet Material, Construction and Weight
Most helmets are made out of a polycarbonate, fibreglass composite or carbon fibre material. There is no right or wrong choice here, but a carbon fiber helmet will likely be much more expensive than a basic polycarbonate one.
It will also be much lighter, which can be worthwhile if you ride for long periods of time at speed. The difference between the heaviest and lightest helmets can be up to 700g or just under 2 lbs so choose wisely!
Some models will also include cut outs for speakers (speaker pockets) and Bluetooth headsets that can be placed internally. If you're a motovlogger, make sure you buy the right head protection. A popular choice for motovloggers is the Shoei RF-1200 or NXR (as it's known in Europe). Arai helmets are also very popular.
Another very important aspect is to ensure there are adequate vent systems. These usually take the form of a set of air vents which you can open and close at will. Sufficient airflow is important, so don't overlook the importance of your helmet's aeration system.
Once you've decided, it's time to put together a shortlist of 5-10 models that you're going to try on. Remember to make note of the internal head shape recommended for each individual model. Scroll down to check our motorcycle helmet review guide to see if we have reviewed it.
Safety Ratings
One of the most important factors to consider when choosing the perfect motorbike helmet is to ensure that they have been independently crash tested. Some models will pass these tests with flying colors, but some will score poorly.
Depending on where you live, you're going to want to buy a helmet that is legal in your country or state. The three most common safety certifications are;
DOT – United States Department of Transportation. The bare minimum required for use in North America.
Snell – They are a charitable non-profit organisation who were founded to raise awareness of motorcycle safety standards. The current rating is M2015 and means your helmet has passed a greater level of testing that the DOT certification.
ECE 22.05 – The Economic Commission for Europe. Every helmet sold there needs to meet this standard to be road legal.
The UK is also home to another independent agency which is known as SHARP. Some say that SHARP test helmets far more vigorously than even Snell with their test procedures being far more representative of a motorcycle crash.
SHARP have tested most models of helmet so check out their website to see if the model you want is there. A 4 or 5 star rating is the one to aim for and will possess the most safety features.
Fitment Process
Once you've found your local motorbike gear and accessories shop, locate each model you shortlisted and try them on.
Make sure to remember your head's circumference measurement and start with the size that best corresponds. For example, a 59-60cm measurement usually equates to a size L in a Shoei helmet. If you are between sizes, always size down.
Each helmet should take some effort to slide over your head and once on, should feel snug and tight around the neck, chin and cheeks but still comfortable. Wear each helmet for a few minutes to make sure no uncomfortable hotspots develop.
You can also try the tilt and rotate test. Physically attempt to remove the helmet from your head by rotating it up and down and from left to right. If it moves at all, it's too big so try the next size down. You can also look into changing the cheek pads for a better fit and a more comfortable helmet.
Rider comfort is paramount, so make sure to get this part right.
Helmet Wind Noise
Most motorcycle riders will be all too aware of just how loud some helmets can be when it comes to wind noise. This wind noise is present for several reasons but usually due to a combination of helmet design and fitment.
If you purchase a loud helmet, be sure to wear earplugs to protect your hearing.
Which Brand Helmet is Best?
Some motorcyclists spend far too much time on this factor when choosing their new head protection. As long as you're buying a reputable brand, there will be little difference in terms of safety.
What you will find is that some brands include a greater level of options with their products which are otherwise missing on cheaper models.
Removable cheek pads are one example as is the latest in bluetooth compatible technology.
I'm personally a big fan of Shoei helmets, but if you prefer AGV, Bell, or Arai helmets, that is fine by us.
Should I Buy a Used Motorcycle Helmet?
The answer is is a loud and decisive NO.
True, most newbie bikers are scrambling to buy everything they need to get started. But basic security is not something you should save on.
The Importance Of Buying The Safest Motorcycle Helmet
You should now have chosen the helmet that is best for you. Once you've got it home and start using it, don't be surprised if the internal liner loosens up a little. This is completely normal and another reason why it needs to be tight in the store.
With the right care and maintenance, your new helmet should last you for years to come with the recommended lifespan before replacement being around 5 years.
This will, of course, vary with usage patterns but do remember that all headgear should be replaced immediately in the event of a crash. Also remember to always bring your helmet with you, or at least secure it against theft with a helmet lock!
Even if it doesn't look damaged, a hidden crack might result in malfunctioning when you need it the most.
Top 5 Motorcycle Helmets Reviewed
Best Overall – Shoei RF-1200
Shoei RF-1200
Has a visor system that accepts pin lock inserts to assist in defogging and keeps the visor clear from condensation in rain.
The RF-1200 has been around for just a few years, having replaced the previous RF-1100.
Despite that, we can tell you it's still the king of the hill in its price bracket, delivering a world class performance of low weight, good ventilation, high-quality construction and finish as well as DOT and Snell safety certifications.
All of that comes at a price, but we believe it's well justified.
If you have what they call an intermediate oval head shape, this is the helmet for you. It will work well on both a naked and sports bike due to its great aerodynamic profile.
Four different shell sizes are available depending on the size of your head so make sure you consult their own size chart to ensure the right fit. We found fit to be on the smaller side so you might find yourself sizing up.
The visor system accepts pin lock inserts to assist in defogging and keeping it clear from condensation in rain. This model will come with a clear visor but you can easily swap it out for another of your choosing. I've gone for the dark smoke which means I don't have to wear sunglasses, with the shield still letting enough light in during low light conditions.
Available in pretty much every color under the sun as well as some great custom graphics options, you'll be sure to find something that suits you.
This manufacturer produces more expensive helmets but you're not necessarily getting that much more over and above what the RF-1200 provides. Just for reference, this model is known as the NXR on the European market.
Best Round Head Helmet – Arai Quantum-X
Arai Quantum-X
Equipped with a speaker or headset recess panel located within the internal liner.
If you have a round head (and deeper pockets), and want a helmet to rival the Shoei and HJC, look no further than Quantum-X.
It's often said that you either have an Arai head or you don't, and I fit into the latter category. I've never been able to get one to fit properly and I must confess, I'm not a fan of the styling or overall shape of the shells that Arai produces.
Which is not to say the Quantum-X isn't any good because it is. If you've had an Arai before and you know it fits, this is the helmet you should be looking at.
DOT and Snell certifications are applicable to the outer shell made of what Arai calls a Super Complex Laminate Construction.
The idea is that multiple layers of materials are bonded together for increased rigidity and tensile strength. What we can say is that the Quantum-X is light at just over the 3lbs mark, similar to the Shoei and HJC.
Noise is a little on the high side again but you can toggle between the brow and chin vents which go some way to addressing the problem. There is also a speaker or headset recess panel located within the internal liner which is covered by 5mm of foam padding.
If it fits and you don't mind looking like Astronaut then this is the model for you.
Best Budget Option – Bell Qualifier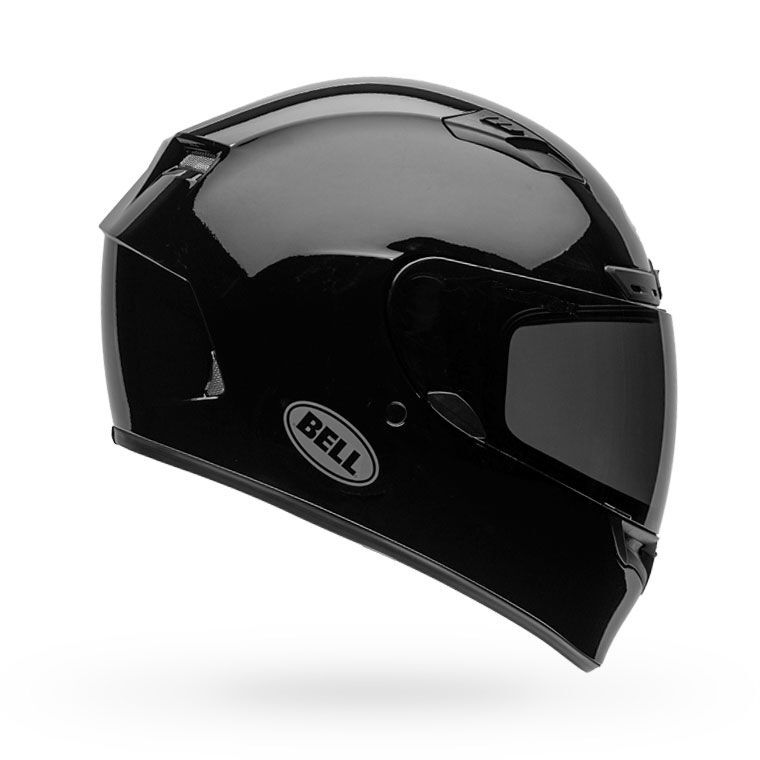 Bell Qualifier
Has DOT safety certifications and has Bell's renowned quick release visor system.
The Qualifier has been in Bell's lineup since around 2010, which they've been slowly improving every year.
It's also one of the best motorcycle helmets for oval heads out there.
It's important to note that this review covers the standard model and not the Deluxe (DLX) or MIPS version. Although they are very similar, the price points are different as the other models come with upgraded features such as transition lenses.
This model is the cheapest on test but provides a low cost solution that will perform for years to come. You're going to be sacrificing some of that low weight enjoyed with more expensive models and the Qualifier only comes in three shell sizes, unlike some of the others.
Still, you're getting the common intermediate oval head shape and DOT safety certifications as well as Bell's renowned quick release shield system. If you haven't played with one of these before then give it a go. You can change the visor on one of these in less than 5 seconds.
You are probably going to need earplugs as the cheaper helmets in the Bell range are very loud once at speed.
For what it costs, I would be happy to have one of these on my head. If you don't like the matte black, choose from a dozen variations.
Best Full Face Helmet – HJC RPHA 11 Pro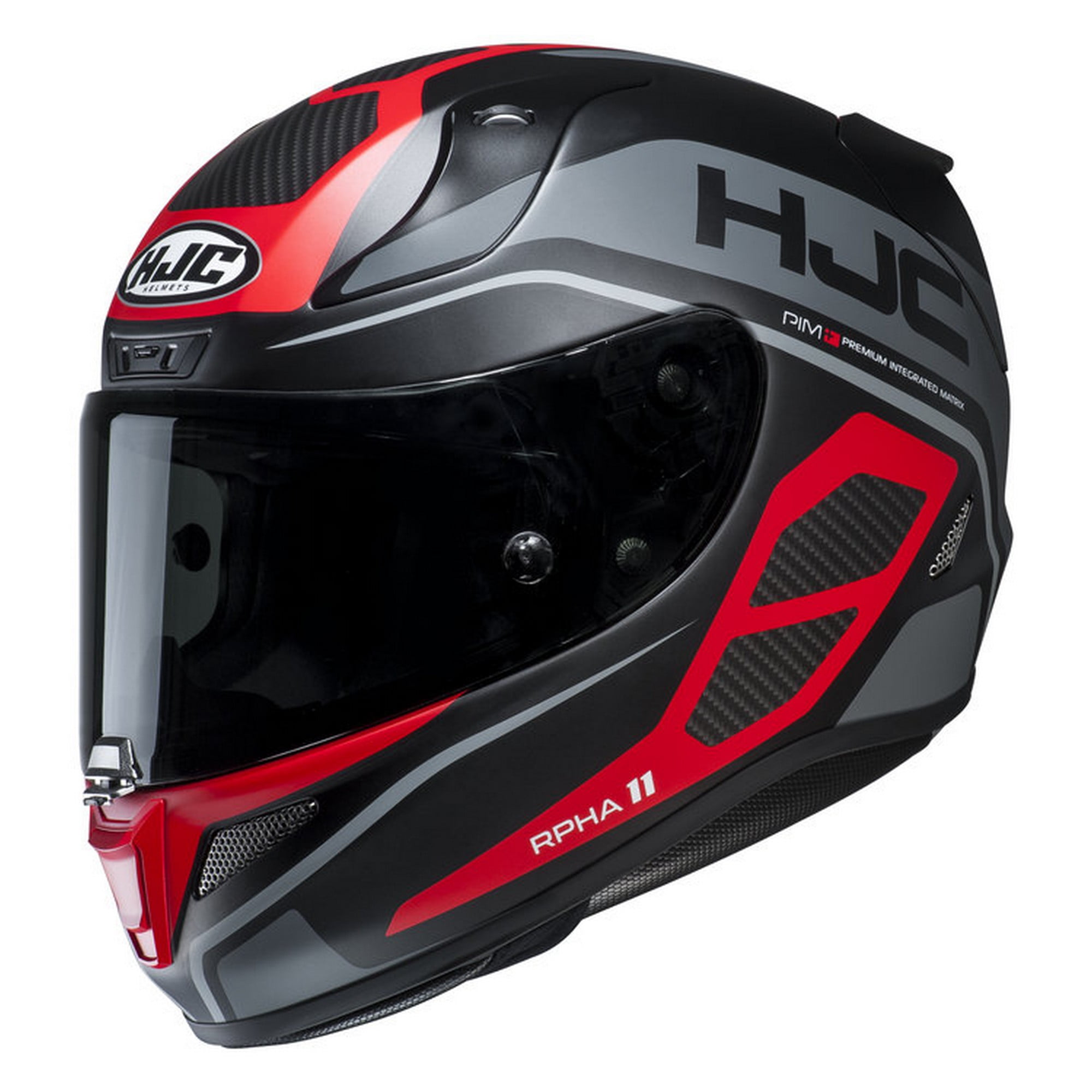 HJC RPHA 11 Pro
The shell is made from a composite fiberglass construction featuring an advanced blend of carbon fiber and aramid.
Coming in a close second for the best overall motorcycle helmet is HJC RPHA 11 Pro.
This manufacturer has a reputation for making great value high quality helmets with a lot of their range coming under the $200, £200 mark. The RPHA 11 is a step up from that, offering pretty much everything the above RF-1200 does at a somewhat more favorable price.
There honestly isn't that much that separates the two, so you're going to have to decide which one is just right for you.
This time you're getting DOT and ECE safety certifications, which is great at this price point. The shell is made from a composite fiberglass construction featuring an advanced blend of carbon fiber and aramid. This helps to increase the rigidity of the shell as well as reduce overall weight.
One thing we didn't like is the noise levels experienced at speed. This may be due to the helmet's ventilation system which does a great job of keeping your head cool. Not a big issue as it's a good idea to wear earplugs anyway.
This model comes with both a clear and tinted shield, meaning you shouldn't need to buy another one. From a sizing point of viewing, it's a little narrower than the Shoei. So bear that in mind if you have a wider head. The overall shape is still intermediate oval.
Best for Street Riding – HJC FG-17
HJC FG-17
A motorcycle helmet designed for riders with intermediate oval head.
HJC comes out on top again with their budget friendly line up. We actually find it hard to believe that HJC is able to offer the quality they do with this helmet for an affordable price. You need to see it to believe it, the quality of finish and materials are brilliant and aren't too far behind the more expensive helmets on test.
Designed for an intermediate oval head, HJC FG-17 takes design cues from its pricier RPHA cousin. The aerodynamic profile is good and the construction is great with an advanced fiberglass composite shell used. Unfortunately, the chin vent doesn't work as well as it could and the top vents are a little noisy.
DOT and Snell certifications have been achieved but note that it is the older M2010 Snell and not the more recent M2015 specification. This won't make much difference but it's something to bear in mind if cutting edge is important to you.
The visor has an anti-fog, anti-scratch coating but you'll have to buy the pin lock inserts separately. You're also missing the chin curtain which is sold as an accessory. With all that said, if you're on a budget, look no further than the FG-17.