7+ Best Motorcycle Lift Tables: Stand Up and Be Counted
Featured Image: Motorrad-67 / Attribution
If it's time to work on your motorcycle, but your knees are screaming 'NO'.
That means you need to get one of our top picks for best motorcycle lift table. From our list, we've whittled the playing field down and come up with a winner. The coveted title goes to the BIG RED Torin Lift Jack – a lift which not only has excellent features but also won't break the bank.
IMAGE
PRODUCT
DETAILS 

Best overall

BIG RED Torin Lift Jack

Despite the name, it's not THAT big. But powerful it is, being able to lift up to 1,500 lb!

Best Premium Choice

Black Widow BW-1500AO-V2-MC

This lift is a monster, not only in terms of features but also with an all-up weight of 440-lbs means it's going to be as solid as a rock in your workshop.

Budget Option

Orion Motor Tech Motorcycle Lift

If you need an inexpensive but reliable motorcycle lift, then this device could be just what you're looking for.
Related post: Deals On Wheels – Get Your Motorcycle off the Ground with the Best Paddock Stands
Best Motorcycle Lift Table
Best Overall – BIG RED T64017 Torin Lift Jack
BIG RED Torin Lift Jack
Despite the name, it's not THAT big. But powerful it is, lifting up to 1,500 lb!
If you're looking for a great combination of features and price, the Big Red is the best bang for your buck. Besides, it's versatile and can be used for snowmobiles, ATVs, and UTVs. 
This hydraulic motorcycle lift has an impressive lifting capacity of 1500 pounds and a range of safety features. The lifting range is between 5-⅛ inches and 16-⅛ inches and there are five locking positions.
If you want a sleek and lightweight lift, this may not appeal to you. Being a hydraulic system, the mechanism needs more space. However, operating it through the foot pedal is easy.
But make no mistake about it, the hydraulic lifting mechanism is super smooth and reliable. And if you are working on a lighter motorcycle, this bad boy will lift it up like a feather.
Since it's shipped mostly assembled, the final assembly is super simple. Besides, the load-bearing platforms are wide enough to support heavier motorcycles. The overall quality of fit and finish is top-grade.
However, at around 36 inches, the size of the lift is on the longer side. So, make sure you have sufficient floor space in your workshop.
The lift is made from high-quality steel and the top surface has a powder-coated finish for additional durability. In addition, such a surface also reduces oil and grease deposition.
At over 70 pounds, this isn't a lightweight lift. But there are four small but sturdy wheels for easy maneuvering around the workshop. Two casters also come with a locking mechanism for added safety.
Considering the price, we feel that the Torin lift jack offers excellent value. Go for it If you need a simple but effective jack.
Best Premium Choice – Black Widow Lift BW-1500AO-V2-MC Hydraulic Motorcycle Lift Table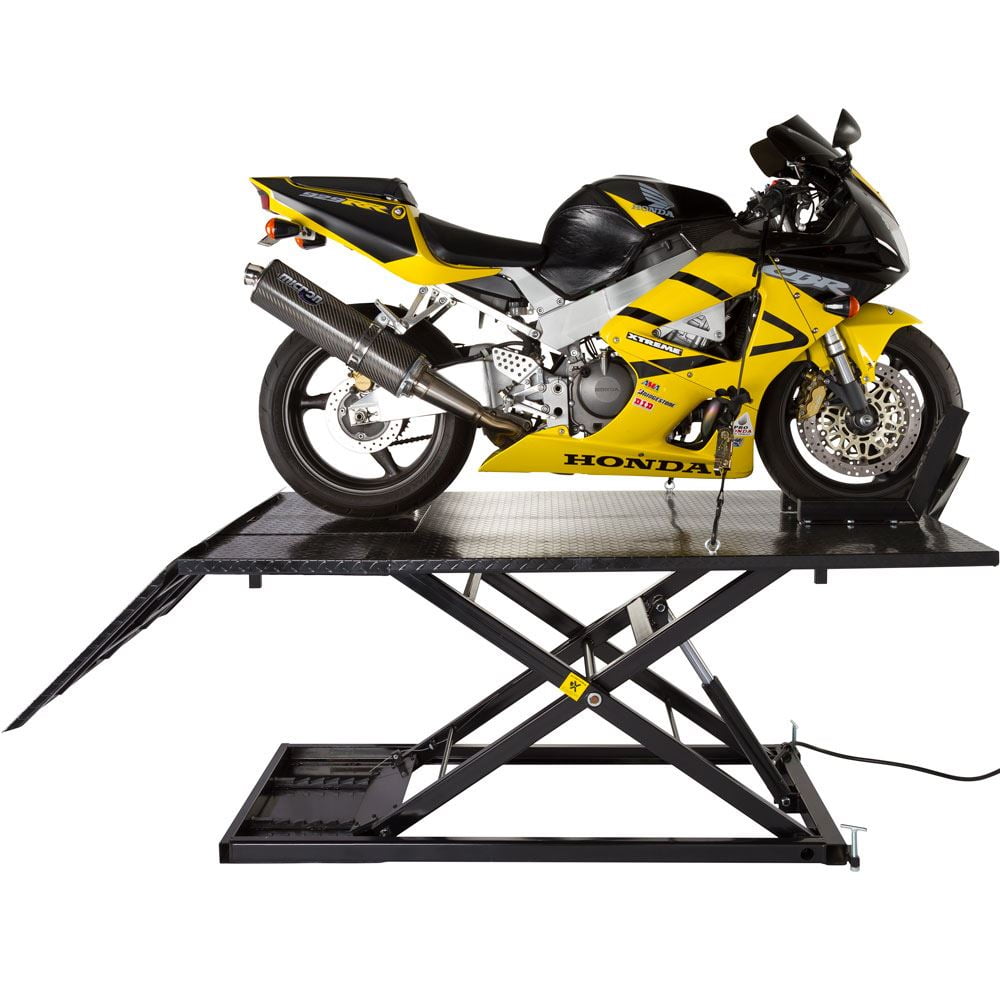 Black Widow BW-1500AO-V2-MC
This lift is a monster, not only in terms of features but also with an all-up weight of 440-lbs means it's going to be as solid as a rock in your workshop.
Weight can be a reassuring thing. Just ask the chunky guy at the bottom of any acrobatic pyramid! And when it comes to stability, they don't get any more solid than the Black Widow BW-1500AO-V2-MC.
Although not the longest of our lift tables the Black Widow makes up for its 78" length in two significant areas. Firstly, the table is an impressive 47" wide, giving you plenty of space to keep tools on hand when your bike is on the table.
The extra width also comes into its own when unbolting larger parts of your bike. The extra space means you can rest parts on the surface of the table while you ensure you account for all the related nuts, bolts, and fasteners.
The second important bonus concerns the Black Widow's lift capacity. We're talking Olympic grade weight lifting here, with a colossal 1500-lbs limit. This weight is equal to that of three Suzuki 650cc V-Stroms!
You will notice that this lift does not have any wheels fitted underneath the frame. Once the lift is in place in your workshop, that's where it's going to stay. Although this detracts from its maneuverability, the Black Widow is all about stability. And in this department, it's rock solid.
As with all table lifts, the quality of the workshop floor you have in terms of a flat surface counts. This lift, however, features small adjustable legs on the front of the table. These screw adjusters let you take up the slack for any slight discrepancies in the floor.
Using a foot pedal to pump up 1500-lbs would take some serious leg muscles, which is why the Black Widow's hydraulic jack uses compressed air. You will need a compressor capable of pushing out a minimum of 90-psi, which connects to the foot pedal for hands-free operation.
Once again, safety features are high on the agenda with eye bolts for tie downs on either side of the table. A stepped floor plate at the rear prevents the table from lowering unexpectedly, and with a collapsed height of 6¾" wheeling your bike up, the 24" steel ramp should be a one-person job.
The Black Widow Lift Table's powder-coated finish looks tough. Also, included is an adjustable wheel vise with an integrated stop and an 18'' by 20'' drop out panel to make rear-wheel removal a piece of cake.
Best Budget Option – Orion Motor Tech Motorcycle Lift
Orion Motor Tech Motorcycle Lift
If you need an inexpensive but reliable motorcycle lift, then this device could be just what you're looking for.
The fact is, cheap motorcycle lifts are not something that we recommend using. Risking an accident due to a failed lifting mechanism isn't something you want while changing the wheels.
However, that doesn't mean you need to break the bank to find a reliable lifting table. This unit from Orion Motor tech is specially designed for motorcycles and has a carbon steel construction with a powder-coated red finish. 
The top platform measures 15.8 inches x 9.8 inches and has a striped rubber coating to prevent skids. It also prevents the accumulation of grease and dirt.
The base has the same dimensions as the platform and even with high loads, the lift feels rock steady. The X-frame bars are specially thickened to offer solid support for heavy loads. As a bonus, Orion also includes protective rubber gloves for additional safety.
The lifting capacity stands at 1100 pounds and the lifting range is between 3-3/4 inches and 13 ⅖ inches. At 28.6 pounds, portability is good enough for small spaces. It doesn't come with wheels though.
The mechanism works through a removable T handle. All you need to do is insert the crank handle into one end of the platform and rotate. It's a super easy process and the scissor-lifting mechanism feels effortless when compared to hand-pumped devices. 
As they say- 'you get what you pay for'. This isn't a premium-grade lift that is ready for heavy-duty use. But for budget buyers, it offers excellent value.
Best for Heavyweights – Powerbuilt Triple Lift Floor Jack
Powerbuilt Triple Lift Floor Jack
This is a "take no prisoners" lift that is going to be as solid as a rock in your workshop.
Not many floor jacks come with a patented design. This product from Powerbuilt does, and that makes it a champion powerlifter.
Forget motorcycles, ATVs, and snowmobiles. With a massive 4000 pounds capacity, this beast can even lift cars and small trucks too. It can also be used for replacing transmissions or differentials. By using the locking safety bar, you can also use it as a jack stand.
What makes the patented design special is a removable lift saddle and padded lift rails. That gives it sufficient flexibility to lift a wide range of vehicles. The lifting range is between 5-1/2 inches and 17-1/2 inches- one of the best in the market.
The jack comes with a removable saddle for lifting cars. For lifting motorcycles, remove the saddle and use the padded rails
To accommodate heavy loads, stability is a must. So, the wheelbase of the jack has been widened to prevent any wobbles.
There are robust wheels that allow you to move it around in your garage. Still, at 79.2 pounds it's not a lightweight product. Even so, Powerbuilt has managed to keep the design sleek and compact. 
There's a locking safety bar that keeps the jack in place. In addition, there are built-in tie-down loops to secure the motorcycle while lifting.
Most users mentioned that the lifting handle works smoothly to deliver power. On the downside, some users mentioned that it drops too fast. Also, we wish there was a storage option for the locking bar.
In terms of quality, this is a robust floor jack that is designed to provide decades of service. Powerbuilt products are built to meet the ASME and PALD standards. The product also comes with a one-year warranty.
Even though it's not the cheapest on my list, it's amazing that such a powerful beast doesn't cost double or triple what it does.
Best for Longer Wheelbase – OTC 1545 Ultra Low Profile Motorcycle Lift
If you are looking for a lift that's ideal for the largest cruisers, check out this product from OTC. With 17-inch skids and a 1500-pound capacity, this lift is a solid option. It works perfectly well With Harley Davidson models like the Road King or the Sportster.
Admittedly, the overall quality is top-notch. The assembly is super easy and once the lift is ready to operate, you'll find that it's built like a tank. The overall fit and finish, including the welding quality, are first-rate.
The lifting range is between 3-1/2 inches to 16-3/4 inches. Besides, since it has a low profile, it can be easily placed under most motorcycles.
Made from alloy steel, this jack is a hulking device weighing 93 pounds. Thankfully, it comes with wheels for easy movement. The rear casters also come with a locking mechanism that adds to overall safety. The large T-handle design adds to the overall maneuverability.
There are tie-down points on the base plate for strapping the motorcycle. Two tie-down straps are also included in the package.
After strapping the motorcycle down, you need to use the foot paddle for lifting. There's an automatic safety lock to prevent toppling. A separate foot pedal is used for release. 
Once loaded and locked, the lift feels steady as a rock. In short, you can depend on it for raising larger motorcycles. The release mechanism works smoothly too. That said, some buyers mentioned that a control mechanism for lowering the bike would have been better.
Note, OTC also offers a two-year limited warranty on this lift. Another plus is its customer service, which, as many users mentioned, is excellent.
Overall, this is a great left when you want to combine ease of use and safety.
Best Value – Titan Ramps Hydraulic Motorcycle Lift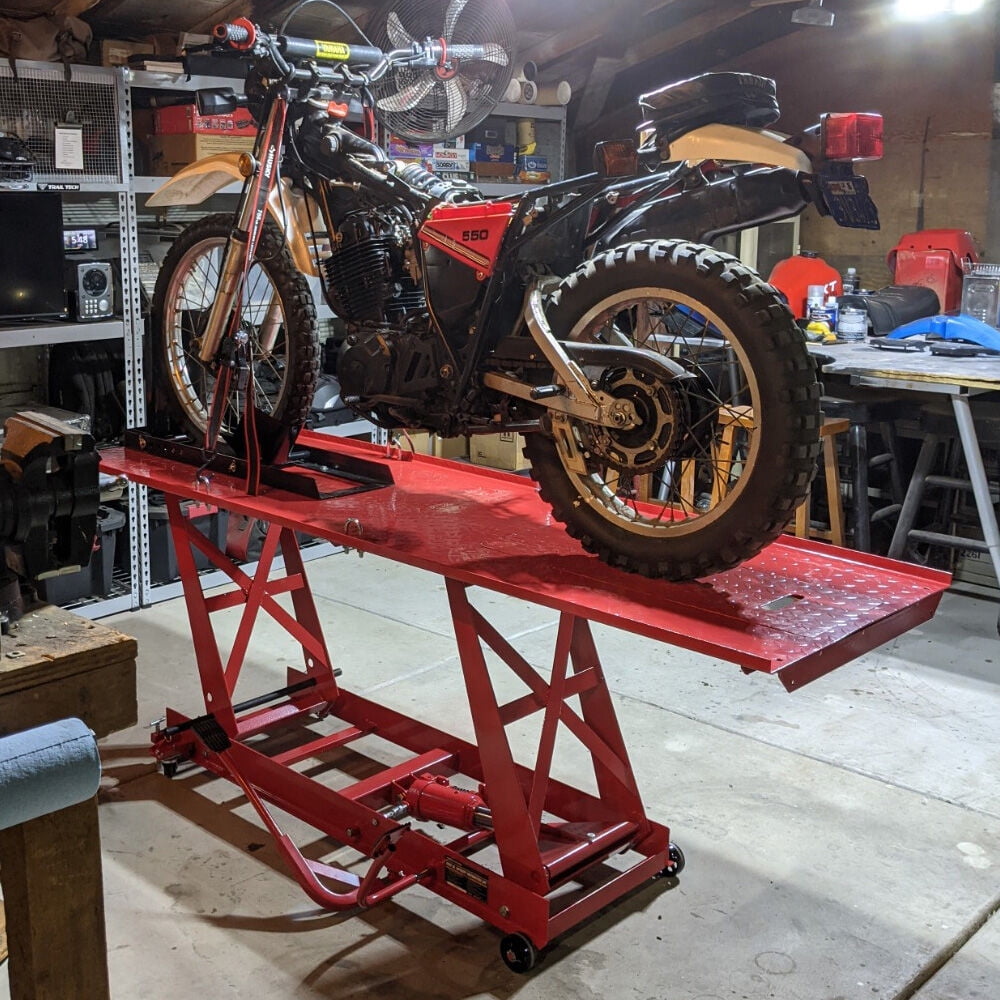 Titan Ramps Hydraulic Motorcycle Lift
A great choice for motorcyclists who wants to turn to home maintenance.
So if you're looking for a great combination of features and price points, the Titan is the best bang for your buck. The Titan Ramps Hydraulic Motorcycle Lift gets your bike off the floor without breaking your back or your wallet. The lift has an impressive safe lifting capacity of 1000-lbs. To put this into perspective, the average big-bore touring hog with all the bells and whistles bends the scales at a whopping 889-lbs so you're well within its lifting limit.
To make sure your bike stays in place while you're working on it, both the tabletop and the ramp have a deep diamond plate pattern. This design will help to prevent the tires from slipping. The Titan also comes with a tire vise and an angled plate right at the end of the table. This feature will prevent you from rolling straight off the end.
The vise is adjustable for width, so once the motorcycle is in position, it can be tightened to secure the wheel. Another helpful feature is the addition of a locking nut on the adjuster which ensures your front wheel stays put.
Safety is paramount when working on any bike using a lift, never mind a 900-lbs monster, and for peace of mind, this model comes with two strap mounting points. The strap mounts consist of raised U-bolts secured to the bed of the table. These are large enough to hook the beefiest of cargo straps.
Running on four small but sturdy wheels for easy maneuvering around the workshop, the two wheels mounted at the front are fitted with screw locks. These prevent movement once the table is in the right position.
As for dimensions, the Titan ramp is 81¼'' long by 21¾'' wide. Using Harley-Davidson's top of the range cruise liner as an example, the Ultra Glide Classic has a wheelbase of 61½," so there's plenty of room to spare, even as a motorcycle lift for a large Harley.
Be aware that the approach ramp adds another 25¾" to the overall length, so when you're considering the Titan or any of our other top choices, make sure you have enough workshop room.
When folded flat, the lift table comes in at just 8¼" deep and can be pumped up to a maximum of 33 ¾" high. A foot-operated hydraulic jack lifts the ramp and is part of a two-pedal system (one for up, one for down). With the shipping weight coming in a smidge under 300-lbs, you'll be glad of the free shipping, too. Check first though, to make sure this applies to your Zip code.
Best for Small Motorcycles – Extreme Max 5001.5083 Hydraulic Motorcycle Lift Table
As our best small motorcycle lift, the hydraulically operated Extreme Max 5001.5083 Hydraulic scissor lift table is so easy to use. You'll probably keep your bike on it full time, just for the hell of it! Its non-slip rubber pad covers a lifting platform that measures an impressive 16.¼" by 13 ¼" so stability shouldn't be an issue.
It has the lowest weight capacity lift with its 300-lbs rating. To put this rating into context, a Honda CB 250 tips the scales at around 295-lbs. Compared to our other table lifts, the Extreme Max 5001.5083 may appear diminutive, but it sure is big on safety features.
With a maximum 34.½" height, the two supplied J-hook threaded bolts attach to your motorcycle's footpegs. These locate in fixed U-bolts on either side of the table. You can also use these U-bolts with conventional straps. A heavy-duty steel bar with a supplied circlip can also be inserted through the frame at three different height settings. This acts as a safety lock in the unlikely event of table losing height.
It's mounted on a heavy-duty steel box section frame with four sturdy wheels. This feature means you can secure your bike to the platform and move it around your workshop with ease. When in position, use the wheel locks to keep things right where you want them.
You will find two foot-operated pedals for smooth up and down motion. As previously mentioned, the safety bar will prevent any unscheduled lowering of the platform should you hit the wrong pedal by mistake.
A cut out in the platform means you can access the underneath of the engine for oil changes etc and the whole deal is powder-coated fire engine red.
As feature-laden and inexpensive as it is, this hydraulic table still has its limitations. As mentioned, its lifting capacity of 300-lbs dictates whether or not it's the lifting table for you, but there are other factors at play regarding its suitability.
The most important of which is its lifting platform where it goes underneath the center of the motorcycle. It is best suited to a bike with a semi or double-cradle frame and nothing in the way to prevent the frame sitting squarely on the platform.
Bonus Product – Donext 1200 LB Motorcycle Lift Scissor Jack
Donext 1200 LB Motorcycle Lift Scissor Jack
A compact and easy to use motorcycle lift that will perfectly suit buyers on a budget.
When it comes to scissor jacks, the biggest advantage is the lightweight design and great portability. This motorcycle scissor lift from Donext is no exception. It comes in a compact boxy shape and weighs 30.8 pounds. 
While kept folded, the device is less than 4 inches thick and 14.57 inches in length. That makes it one of the most compact motorcycle lifts in the market.
But don't let the compact shape misguide you. Open up the box profile and you will find a solid steel body that can loft a maximum weight of 1200 pounds. The black powder coated finish adds makes the surfaces corrosion-resistant.
The top platform comes with a larger area of 9.06 inches x 14.57 inches to maximize contact with the motorcycle. As expected, the top deck is covered by a layer of high-quality rubber to prevent slippage.
The platform is lifted by rotating a special crank handle. Additionally, a ⅞-inch socket has also been provided and can be used with a wrench.
Although it's compact, the overall stability of the lift is top-notch. Some users mentioned a slight wobble with larger bikes. But the overall stability was solid even with heavier motorcycles like the CVO Road Glide which weighs around 866 pounds.
Note, it doesn't come with a handle, which can be an issue for some users.  There are no tie-down points either.
But at this price, there really isn't much to complain about this reliable motorcycle lift. We consider it a solid option for budget buyers.
What to Consider When Buying a Motorcycle Lift Table
Weight Capacity
The old saying, 'horses for courses,' is 100-percent relevant when it comes to buying a motorcycle lift. Here, the most critical question you have to answer is, how much weight do I need to lift?
Find out your bike's 'wet' weight, as this is the overall weight, including oil, coolant, and gas. Although all good quality motorcycle lifts will give a maximum lift load, this will have a built-in safety factor. However, don't guess at this safety factor or take it for granted. Look for a lift that can safely handle your bike.
Stability
Make sure you look closely at the lift table's specifications and photos to check its potential stability. If it has wheels, do they have a mechanism to prevent them from moving? Can the legs be locked in place? If a hydraulic jack lifts the table, is there a locking mechanism or shut-off valve that prevents the table from lowering?
Once you have satisfied yourself with this safety aspect, consider the physical dimensions of the table. Make sure the lift will comfortably accommodate the wheelbase and width of your motorcycle.
Ease of Use
What you are looking at here is how easy it is to get your motorcycle on to the lift. Some lifts have a built-in ramp, while others need you to supply your own. In contrast, some require maneuvering the lift underneath the bike.
These factors will also dictate whether getting the bike on the table is a single or two-handed job.
Features
An excellent feature to look out for here is a front-wheel vise. The vise is needed to keep the bike locked in position while on the table. If one isn't part of the deal, find out if it is available as an optional extra and, if so, the cost.
Does your lifting table have a non-slip surface and strap hooks or holes? Keeping your bike well anchored is extremely important when it is on the lift. To do this, you will have to strap it down, hence the need for anchoring points.
Some tables also come with drop out rear panels, which are useful when removing the back wheel. Finally, as some motorcycle lifting tables weigh over 300-lbs checking to see if they have free delivery is a useful feature.
Frequently Asked Questions
How do motorcycle lift tables work?
Most table lifts work with a scissor movement, which extends a steel frame via a hydraulic or pneumatic jack, raising or lowering the table. Lifts can be oil or air operated with a foot pedal or foot-operated control box.
How do you get your motorcycle on to the table lift?
Not all table lifts are created equal. The ease of rolling your bike up the ramp and onto the table generally depends on the ramp's length and the table's height when fully collapsed. It is these factors that dictate the angle of climb.
To ensure the bike and lifting table are balanced this procedure can be a one-person or three-person operation. In all cases, always read the manufacturer's instructions.
How do I secure my motorcycle when it's on the lift table?
Safety should always be your prime concern when you have a motorcycle on a table. To make sure the bike is solidly attached, use good quality tie-down straps that can be adjusted for length and are fitted to the table's anchor points.
Most lift tables will also come fitted with an adjustable front wheel vise or offer one as an optional extra.
How can I tell if the table is strong enough to lift my bike?
The first thing to do is to find your motorcycle's wet weight. This information is available in the owner's manual, or a simple web search will provide the answer. Finding the 'wet' weight value is essential as this includes engine oil and gasoline.
Manufacturers love to give dry weight which is a bit misleading. A gallon of engine oil weighs in at around 7-lbs and a gallon of unleaded gas tips the scales at around 6-lbs, so you can add 20 or 30-lbs to your bike's weight without even realizing it.
The next thing to do is shortlist your pick of the best motorcycle lifts and look in the specifications to see their safe lifting weight limit. When it comes to your bike's weight, resist the temptation to buy a lift table that teeters on the borderline.
All good manufacturers build in a safety factor when it comes to weight limits. Still, they are there for a reason, and overloading a lift table can affect the overall stability when raised to its maximum height.
Last update on 2023-06-29 / Affiliate links / Images from Amazon Product Advertising API