Deals On Wheels – Get Your Motorcycle off the Ground with the Best Paddock Stands
If you need to get your motorcycle off the ground for maintenance or to remove the front or rear wheel, and your bike doesn't have a main stand, what can you do? Simple; use a paddock stand. After searching long and hard, we reveal the Oxford SP821 Big Black Motorcycle Rear Stand as the best overall paddock stand in terms of price and flexibility. 
When it comes to motorcycles, it's not always a case of one size fits all, though, so read on and find the best paddock stands that might suit your needs.
Related post: Best Motorcycle Dolly
Best Paddock Stands
Best Overall – Oxford SP821 Rear Stand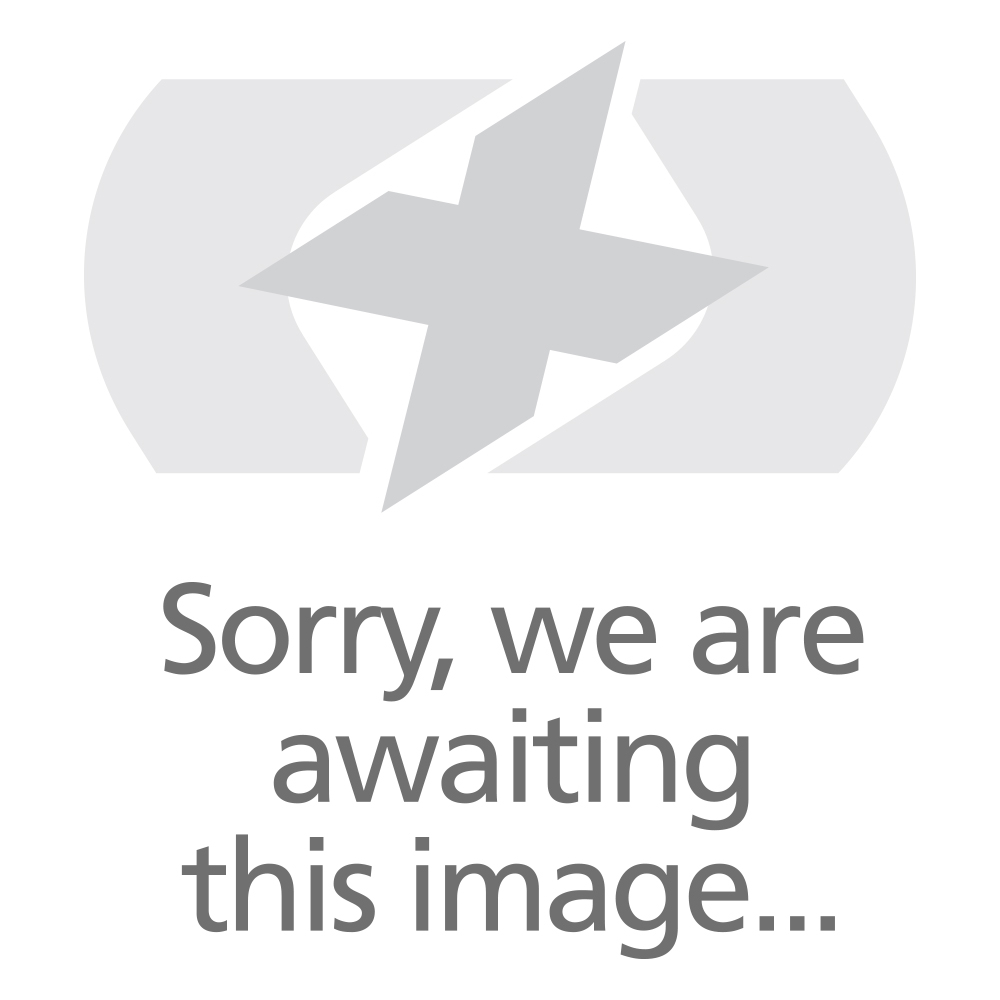 Oxford Motorcycle Rear Stand
The reasonably priced stand arrives in three large pieces, and when assembled, provides a stable, robust, and flexible stand.
The Oxford SP821's black powder-coated steel tubing ranges between 32-mm and 35-mm in diameter and feels robust while weighing in at 10.5-lbs. When guiding the stand under your bike, its four chunky wheels add to its maneuverability. The wheels also spread the load and provide stability when lifting your motorcycle off the ground.
Similar to a lot of paddock stands, the manufacturer suggests it's best operated by two people. In the real world, though, it's more than likely to be just you and your two-wheeled buddy. Thankfully, a one-person operation is not a problem for the Oxford SP821.
The trick is to find the right place along the swingarm to make the lift easy. You can achieve this as the SP821 isn't reliant on spools, which need to be bolted securely in a fixed position. On some motorcycles, they often hinder the process of tightening the chain or removing the wheel, which is one of the main reasons for using a paddock stand.
The padded lifting shoulders on the Oxford SP821 have right-angled brackets that adjust slightly for width. This design leaves you free to move the stand to any point along your swingarm. This flexibility, added to the low cost and robust design, makes the Oxford SP821 our Best Overall winner. 
Best Front and Rear Combo Kit – Extreme Max Sport Bike Lift Stand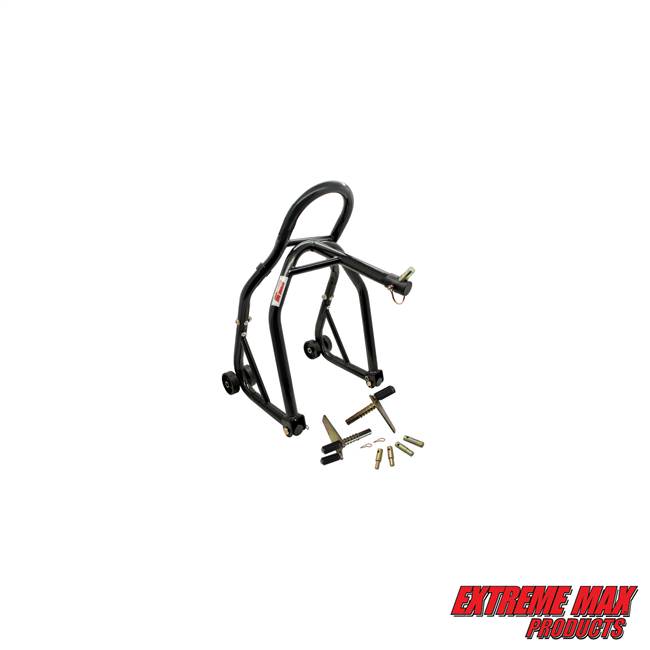 Extreme Max Front & Rear Stand Combo
Primarily aimed at sportbikes, this front and rear paddock stand combo features a triple tree attachment.
If you need to get both wheels off the floor, but a hydraulic lift is out of the question, then the Extreme Max Stand Combo is perfect for you. It's a comprehensive kit that can use the front and rear stands independently. Sportbikes, however, as a rule, have fairings or under-frame exhausts, making it impossible to jack-up. In these circumstances, the Extreme Max is precisely what you need. 
The stainless steel tubing on both stands is solid and robust enough for the job, while the rear stand works in conjunction with the left and right spools. At 28-ins high (32-ins high for the front stand), both stands are high enough to provide ample leverage for lifting.
A great feature of the Extreme Max can be seen on the front stand. As with conventional forklifts, the stand cradles the underneath of the fork legs, but the Max also comes with a triple tree attachment. Slide out the cradles,  secure the triple tree lifter, and locate one of the five lift pins in the triple tree hole. 
The pins in the kit are 13-19-mm, but 20-27-mm diameter pins are also available. 
Best Budget Option – BikeMaster Liftstick
BikeMaster Liftstick
Ideal for routine maintenance jobs, and can also be used to remove a wheel on small to mid-size motorcycles.
This versatile tool is a must if you run a dirt, adventure, or naked street bike. The Liftstick is ideal for routine maintenance jobs, and it's also possible to use it to remove a wheel on small to mid-size motorcycles. 
The 13th-century philosopher, William of Ockham, must have had the BikeMaster Liftstick in mind when he said 'the simplest is often the best.' And if you need to get a wheel off the floor, stands don't get much easier to use than the BikeMaster Liftstick. Made from heavy-duty steel, the Liftstick has one moving part and is an indispensable addition to anyone's garage or adventure tool kit.
Used in conjunction with your bike's side stand, the Liftstick can be located under a swingarm to raise the back wheel or under the frame or bash-plate to raise the front. At its most compact, the simple jackscrew tool is a mere 12½-ins long and is extendable up to a maximum of 18-ins.
Powder coating on the Liftstick appears to be chip-proof, and with a carrying weight of a mere 2-lbs, it can safely lift 220-lbs. Before you say, 'that's no good for me, my KLR 650 is almost 400-lbs', remember you are only lifting one end of the bike at a time, and the Liftstick shares the weight with the side-stand.
With one end covered in a non-slip rubber boot and the other offering heavy-duty claws, this versatile, inexpensive tool is as much at home on the pavement as it is on the dirt.
Best for Cruisers – K&L Center Jack
Made using quality steel, the K&L Center Jack is well-built. When completely flat, the jack is 3.5-ins deep, enabling you to slide it underneath even the lowest of low-riders. 
Fully extended, your bike will be 13-ins off the floor, which is more than enough to carry out all your essential maintenance and drop a wheel. At 16-ins long, 5.5-ins wide, and 6-lbs in weight, the K&L Center Jack is portable, but not practical to accompany you on a two-wheeled trip. This jack is most at home in the workshop or garage with a level floor.
The K&L also has flat brackets on either side of the base, which add to its stability. Although I've mentioned it's perfect for cruisers, you can also use the Center Jack on any double or semi-cradle frame where the sump or exhaust does not protrude below the frame rail.  
In case you're wondering what the K&L Jack is capable of lifting, it's got a safe workload rating of 1100-lbs. To put that into perspective, a Harley-Davidson Ultra Glide Classic with all the bells and whistles tops the scales at 889-lbs wet.
Even at these kinds of weight, using a socket wrench to adjust the height is an easy process, which is always a good measure of how well a jack has been designed and built. 
Best for Form and Function – BikeMaster Universal Aluminium Front Stand
BikeMaster Universal Front Stand
The BM front stand is not only strong and reliable, but its box girder design also makes it stylish and effective.
For some motorcycle owners, garage equipment needs to be as aesthetically pleasing as it is brutally functional. The BikeMaster Universal Aluminium Front Stand is both. 
The BM Universal front stand has a pro-race team vibe thanks to the polished aircraft grade aluminum used in its construction. The paddock stand is for front use only and, as with most stands, comes flat packed for shipping. Don't let this put you off, though; it's easy to assemble. 
All joints are welded, and all screws have lock nuts, meaning sturdiness is not an issue. Thanks to its girder-style construction, the BM Front Stand can handle any front motorcycle wheel you care to lift. 
There are limitations here, as the stand is aimed predominantly at sports and street bikes. Cruisers with wide fork widths or dual-sport bikes with long travel forks and large diameter wheels may not be compatible. Make sure to check the paddock stand's dimensions before ordering. 
Sturdy rubber boots protect the bottom of your motorcycle's fork legs, and the stand rolls on heavy-duty wheels. The lifting handle is also ergonomically designed to give the maximum amount of leverage. 
One of the main advantages of this stand's aluminum construction is its sheer lack of weight. Tipping the scales at a featherlike 1-lb, not only does it make the stand highly maneuverable, but it will also retain its looks thanks to being rust-free. For such a cool-looking front wheel paddock stand, you may even be surprised at the extremely reasonable price point.   
What to Consider When Buying a Paddock Stand

The Demise Of The Main Stand
Once upon a time, every motorcycle rolling off the assembly line came fitted with a side stand and main stand. Today, with motorcycle manufacturers shaving off costs whenever possible to remain competitive, the main stand in most cases is an 'optional extra.'
This situation is not ideal, especially when there are maintenance jobs, such as chain lubrication or adjustment and tire replacement, when the wheel must be off the ground. For these specific times, this is where the paddock stand comes into its own. 
Not only are paddock stands practical and easy to use, but even top-shelf models that hover around the $100 price point are around half the cost of an OEM main stand.
Paddock stands fall into two categories; front and rear. Front paddock stands lift from the bottom of the fork legs, or as seen in our Best Combo pick, have a pin option that locates underneath the triple tree.
Spool or Universal?
As for the rear paddock stand, once again, there are two basic types. The first, like the Oxford SP821, is a general-purpose stand. Being a general-purpose stand means it is suitable for most motorcycles as it can be located at the exact position along the swingarm that gives the best lifting point. 
The second is the type of paddock stand that needs spools to function. Spools are small bobbin-shaped brackets that bolt directly onto the frame and, in most cases, bolt into the rear axle. 
As you can imagine, if a rear paddock stand is supporting the weight of your bike on spools attached to the rear axle, wheel removal, and chain adjustment is impossible.
If the whole point of buying a paddock stand is for maintenance rather than storage, it makes sense to check out the fitments for your particular motorcycle before buying.
Does One Size Fit All?
The majority of sports and street bikes will be compatible with one or more of our top pick paddock stands. However,  there are some instances where one size does not fit all. For these motorcycles, such as dual-sport or cruisers, we have chosen two wild card picks that perfectly fit the job. 
The Liftstick is a brilliant piece of equipment suitable for home use or as part of a travel essential tool kit. The K&L Jack, however, is happier at home in the garage. It earns its place here because there are some bikes where you still need to raise the wheels (Harleys in particular) and a paddock stand just isn't suitable for the job. 
Frequently Asked Questions
What are paddock stands used for?
A paddock stand's purpose is to get front, rear, or both wheels off the ground, especially if there is no main stand. They are ideal for working on your bike and are invaluable for maintenance, cleaning, or tire replacement. 
Some motorcycle owners also use paddock stands if they intend to store their bike, which prevents applying prolonged pressure to one area of the tire.
What is the best paddock stand?
That depends entirely on the make and model of the motorcycle. Because if there's one thing that the diversity of our top picks proves, it's that one size does not fit all. The best paddock stand is the one that fits your bike, ticks all your boxes, and is easy to operate.
Are paddock stands universal?
Yes and No. If a stand advertisement says it's universal, it's suitable for use on a number of different motorcycles instead of being made to lift one specific make or model of motorcycle. 
A good case in point is the Ducati Panigale. Here is a bike with a large diameter hole in the rear axle that takes a specific type of single-sided paddock stand. On the flip side,  bikes like Suzuki Bandits, Honda Hornets, and Kawasaki Z750's can all successfully use the same 'universal' style paddock stand.