Reach for the Sky with 8 of the Best Ape Hangers in 2022
Ape hangers alter the look and feel of your motorcycle. Finding the right bars is trickier than you think. To find the simple yet perfect fit for your bike, reach for the sky with the best 8 ape hanger handlebars.
When it comes to the best ape hangers, one size doesn't fit all, which is why we've found eight of the best for you to choose from. If you want to cut straight to the chase, our Best Overall title goes to the 16" Burly Gorilla. To find out why, read on!
Related post: Best Motorcycle Gloves Of 2022 (Reviews) – Protect Your Hands
What's the Big Deal with Ape Hangers Anyway?
A new exhaust may make your bike sound better and a new seat alters the comfort level. Yet, nothing makes your bike look and feel as different as a set of ape hangers. Apart from offering varying degrees of comfort, there is something liberating about riding with your armpits in the wind.
Of course, ape hangers aren't without their downsides. Unless you have a decent sissy bar, your pillion may find themselves with even less space. Depending on their height and the weather conditions, you may also find yourself acting as a sail.
Fitting ape hangers on baggers is common practice. Better still, with a windshield or fairing to take the brunt of the windblast, they may be more practical than you realize. Love 'em or hate 'em though, you sure can't ignore them.
Best Ape Hangers in 2022
Best Overall – Burly Gorilla Ape Hangers – One Size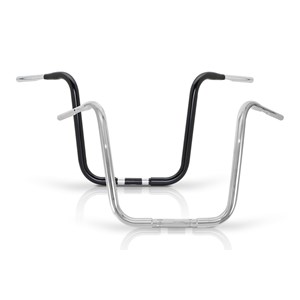 Burly Gorilla Ape Hangers
Burly Brand may be the new kids on the block, but they've gained a reputation for good quality, well-made gear, and the Burly Gorilla ape hangers tick all the boxes.
As the name suggests, these Burly Brand 16-ins Gorilla Ape Hanger handlebars have a 16-ins rise and a 10-ins pullback. From tip to tip, they are almost 40-ins wide, so you're not going to get that hunched shoulder feel.
The tube diameter is 1.25-ins reducing down to a 1-ins clamp diameter. These specs are a stock clamp size for Harley Davidson, some Triumphs and Japanese cruisers, and custom bike applications.
At the control end, the bars have been swaged (squeezed in a mandril to the correct diameter). This process makes it easier to rotate handlebar controls and hydraulic reservoirs, to get the exact positioning you need.
The Burly Gorillas also come with dimples and holes. The dimples allow for your external wiring harness to sit in the recess, so the controls bolt flush to the bar. Alternatively, if you want to run internal wiring, the Burly's have you covered with pre-drilled holes.
The American-made high quality ape hangers come in chrome or powder coat black and according to Burly are ideal for Harley Davidson Road Kings and Softails.
Best Premium Option – Hill Country Custom Cycles Chrome Narrow Bar – Complete Kit
Hill Country Customs Chrome Narrow Bar
If you're after a complete swap over kit with everything you need, then these are the best ape hangers for you.
Although the Hill Country Customs Chrome Narrow Bar is for specific touring Harley Davidsons, the Road Glide and Road King are both popular models, so HCC is going to have a lot of happy customers on their hands. As for offering a comprehensive kit, the quality ape hangers come with everything you need for a total bar swap, except for brake fluid.
One of the biggest plus points for buying complete new handlebars is the fact that the brake and clutch cables are supplied to the exact length and specification. All the quality fittings are chrome and the braided stainless steel outers are covered in transparent armor-coat to keep them looking sharp.
The wiring harness extensions are color-coded to match the factory harness. What's more, the factory is happy to take inquiries to ensure you get the exact fit. Handlebars are 16-ins high x 34-ins wide with a 7.5-ins pullback.
Best Budget Option – Green.L 1.25-ins Adjustable Ape Hangers
If you've ever fitted a set of handlebars and found the height and width perfect, but the pullback leaving your wrists at a painful angle, then the Green. L Adjustable Ape Hangers are an easy choice.
Thanks to the knurled fittings, it's possible to move the top half of the handlebars to the correct position, then bolt them in place before inserting the protective cover. This design provides a custom fit for the rider. Better yet, if you ride a custom Harley Davidson Road King or Electra Glide, you won't have to worry about the bars snagging the screen or fairing. Just check the fitting information for applicable years.
The bars are available in a scratch-resistant black finish, are drilled for internal wiring, and have an 8-ins rise. Outside diameter is 1.25-ins reducing to 1-ins, so it will fit the entire Harley Davidson range with standard risers, some Japanese and European cruisers, and custom applications.
Demon's Cycle Mayhem Ape Hangers
Demon's Cycle Mayhem Ape Hangers
If you want to give your bike that devilish look, then Demon's apes could be what you're looking for.
Creating a set of handlebars like the Demon's Cycle Mayhem Ape Hangers, with so many bends, twists, and points isn't easy, but Demon's Cycles have managed to pull it off.
The bars are offered in chrome or gloss black powder-coat and in a variety of heights. Demon's also offers an impressive BYOB (build your own bars) option.
The quality and finish of the bars are good, considering their reasonable price point. According to the specifications, they are made in one piece, which means they should be strong. As with the majority of our selection, these bars have 1.25-ins outers reducing to 1-ins and are pre-drilled for internal wiring.
With so many twists and bends, internally wiring the bars could be a tricky DIY job unless you have some experience. However, Demon's offer their own range of controls as well as a complete pre-assembled handlebar kit. The bars have an 11-ins rise, with a 35.25-ins width and a 7-ins pullback. Four height options of 11, 14, 16, and 18 inches are available.
Mototeks, Inc. 1½-ins Monster Bars
Mototeks, Inc. Monster Bars
The Mototek Inc bars aren't just fat, they're monsters, and with a 1½-ins diameter, maybe the biggest bars on the street.
Due to the Mototeks, Inc. Monster Bars 90 degree bends and the reduction from 1½ to 1-ins, it's not easy to manufacture the bars as one piece. In which case, the right angles are welded. Having said that, the joins are undetectable and with the meaty tube, the joint should be strong.
The Monster Bars are offered in two finishes, black and chrome. Some product reviews do suggest though, that the black is easily scratched. The chrome option is triple-plated so it will be harder wearing, but it all comes down to how careful you are during installation.
Available in three heights of 12, 14, and 18 inches, the ape hangers are 23-ins wide with a 6-ins pull-back. They are drilled for internal wiring and the throttle side is notched for throttle by wire applications. Looking at the fitment chart, the Monsters will fit Harley Davidson Road King and Road Glide baggers, as well as Sportsters, Softails, and Dyna. But there are exceptions in certain years, so check out the chart to be sure.
LA Choppers Bagger Bars
LA Choppers Bagger Bars
Custom bars that retain stock cables, sounds like an easy win-win.
Available in six heights, these 8-ins LA Choppers, Twin Peaks Bagger Bars will, according to product reviews, fit with the stock wiring and control cables. The vertical bends in the bars mean they're specifically designed for Harley Davidson's with batwing fairings.
The bars will fit Harley Davidson Electra Glides, Ultra Classic, Street Glide, etc., but as always, check the fitment chart for specific years. LA Choppers say they made the bars with comfort in mind and with an 8-ins rise, 33.5-ins width, and 5.25-ins pull-back, it appears they've got that just about right.
The reduction to 1-ins at the control end of the bars is tapered and drilled for internal wiring, the bars also come with some well thought out features too. Harley Davidson baggers with hydraulic clutches and electronic throttles are accommodated and unlike some bars, the Twin Peaks can also take the H-D OEM heated grips.
Demon's Cycle El Diablo 16-ins Ape Hangers
Demon's Cycle El Diablo's
If you have a batwing bagger these bars have your name on them.
Demon's Cycle El Diablo's are specifically made for the Harley Davidson batwing bagger market and have a 14, 16, or 18-ins rise. The 16-ins El Diablo's are 1.25-ins in diameter and the 90-degree welded bends at the control end have bullet-hole gussets.
Although pre-drilled for internal wiring, the right angle bends mean that threading the wires will be a chore. Either get a length of electric wire or paracord and send that through first, then tape the harness to the end and pull through…slowly.
Demon's Cycle also supplies optional controls that are pre-wired if you fancy a plug-in and go alternative. The bars are high and wide at 37.75-ins end to end with a 9-ins pull-back, so you'll never need to buy underarm deodorant again.
Dominator Industries Pre-Wired Monkey Bars
The good thing about being specific in the year, make, and model of these Dominator Industries Meathook Monkey Bars means that they've been made to fit. In theory, you're paying for plug and play.
Arriving pre-wired means that not only are the bars super clean but also come with block connectors making life a lot easier. The throttle side is also notched for throttle by wire compatibility. According to Dominator, OEM stock hydraulic lines may be used with their 14-ins Meathooks.
Looking at the bars, you will notice that although 1.25-ins in diameter, they are not reduced for the clamps. That's because the Harley Davidson Road King Special comes with OEM 1.25-ins handlebar clamps, hence the specific information on model and year. Yes, they may be used on other custom Harley models, but you will need 1.25-ins aftermarket clamps.
Frequently Asked Questions
Are ape hangers safe?
Yes: If the bars are well constructed, properly clamped, and the control cables and wiring are of the correct size. If you've never ridden with high apes before, they will take a little getting used to as you have a lot more mechanical advantage thanks to the extra height/width. Maneuvering your bike will therefore take less effort.
Are ape hangers comfortable?
Yes and no: The degree of comfort will depend entirely on your rider triangle. In other words, the relationship between the seat, footrests, and handlebars. There is one other thing that applies to ape hangers more than any other type of handlebars, and that is, the way they make your bike look and feel. I had 18-ins high apes on my custom Harley Davidson Fatboy and a long ride into a headwind left me feeling like I'd had a pillow fight with Mike Tyson. But man, they looked cool.
Are ape hangers legal?
Again, yes and No. Legality depends on the height of the bars and your location. Some states dictate the maximum height of the bars either in relation to the seat or even the rider's shoulder height. Always check with relevant state traffic laws as these can vary. In Ohio for instance, bars must not be higher than 15 inches above the seat, while in Nebraska, the maximum is 15 inches above the handlebar clamp.
What do I need to consider when buying ape hangers?
Depending on the height of the bars and the bike you're fitting them to, you will need a longer throttle, clutch, and brake cables. You may also have to extend the wiring from your controls. Some of the lower ape hangers in our feature need nothing extra. However, you could always buy the whole lot as a pre-assembled kit and save yourself a lot of time and effort. Last but not least, make sure you can reach them and operate your bike safely and in comfort.
Are ape hangers just for custom Harley Davidson motorcycles?
No. You can use ape hangers on any bike you like as long as your handlebar clamps are a compatible size. The reason they are most commonly associated with Harley Davidson is that along with the exhaust, handlebars are the first thing that new owners change.