Best Motorcycle Gloves of 2023 – Arm Your Hands [In-Depth Buying Guide]
Like it or not – crashes and accidents do happen in motorcycle riding.
And unless you find yourself involved in an unfortunate series of acrobatics once you've departed your bike in a crash, your hands are likely to hit the ground first.
So why do so many of us choose NOT to wear motorcycle gloves when riding?
It isn't as if there isn't plenty of choices. You could go for a short cuff summer glove with ventilation for hot weather, or you could go for a full gauntlet glove for the best protection. You could even try a fur lined glove for winter. As long as your motorcycle gloves are made of leather, your hands will be well protected.
As we always say, the best motorcycle gloves are the ones you wear. So make sure to buy a pair you're happy to ride in, all the time.
Since we're fervent advocates of wearing protective gear, we've put together the best options for various uses and ALL seasons and climates.
These are all things you need to keep in mind BEFORE you buy. Scroll down for an FAQ section too!
IMAGE
PRODUCT
DETAILS 

Best overall

Alpinestar SP-2 Leather Gloves

Designed with reinforced leather impact zones on the palms as well as a hard plastic knuckle protector for the back of your hands.

Best for Versatility

BMW Airflow Glove

Features a liner which makes them warmer than other similar gloves.

Budget Option

ILM Air Flow Touchscreen Gloves

Designed with an air scoop above the knuckles to ensure there's no hand movement restriction.
Things to Consider When Getting Motorcycle Glove
Nimble and Flexible
You won't exactly knit while riding your bike, but you still need a flexible bike glove that won't obstruct your movements and full access to the handlebar and controls.
Biker gloves are often very rugged, which is understandable. Their role is, after all, to prevent your hands from going numb from all the vibration, and protect them in case of an accident.
On the flip side, all this armor can feel as if you wore a pair of metal medieval gauntlets that makes maneuvering really hard. You need to feel the grip and be able to control the bike, not just protect yourself from frost or injury.
This also means you need to choose the right size. Don't size up "just in case" or your gloves will soon start acting like a baseball glove. Even premium leather will stretch from use!
Also, make sure to adjust the wrist strap properly, for a nice and snug fit.
What's your riding style?
It might all look the same to a beginner, but there are insane differences between various types of riding – and therefore various types of motorcycle gear.
After all, riding the highway at high speeds isn't the same as riding through dirt and mud.
A cruiser glove will probably be the best all-rounder type for most riders. It's a decent performer in most mild to moderate weather conditions, keeping your hands warm and protected while also letting them breathe and ventilate when it gets too hot.
Plus it looks awesome (which can be an important consideration when you're having a motorcycle date).
Adventure motorcycle gloves or touring gloves should serve you in mixed conditions – and mixed roads. The chassis may be cowhide leather or similar heavy-duty material, with optional goatskin leather on the palms, but they may also have some textile or mesh parts for better ventilation. If you need a super versatile performer (and can splurge a lot of cash, to be honest), this type of motorbike glove will NEVER disappoint.
If you're into racing or just want to up your safety, get a heavily armed pair of racing gloves. These gauntlet-style, long gloves have knuckle armor, but they will also protect your palms, wrists and the entire forearm.
On the other hand, a dirt bike glove (similar to the motocross glove) will be much lighter in armor, since you risk falling on surfaces that are much softer than asphalt.
Leather or Textile?
Both materials have their pros and cons.
If safety is your top concern, reinforced leather gloves will be a must. There's nothing more efficient than a fine piece of heavy-duty leather in preventing your skin getting shredded to pieces. (Same goes for jackets and boots.)
Of course, it also needs armor for the knuckles and wrists, as well as foam padding for comfort and palm protection.
The main downside of full leather is, of course, all the sweating and breathability.
That's where textile gloves will excel. However, they won't protect you nearly as much.
As with all things in life, there has to be a trade-off.
Watch Out For The Seasons
Have you ever been on a bike in winter?
Cold wind can act like a razor on your hands. So, if you ride in winter, you should either opt for heated gloves (and other heated gear, even grips), or specially designed, extra warm winter gloves.
Having a waterproof glove is also important here. You don't want your hands sticky and slippery at 80 mph.
Conversely, your hands need a breathable material in summer so that they don't sweat too much. If you only ride in summer or live in tropical climate, you may even opt for fingerless gloves.
Maintenance
This is one of those concerns that hardly anyone will think about when buying gloves.
After wearing a pair for the first time, you'll learn a painful truth: your hands will STINK to the point of making you want to puke.
(Yes, who could have known that human hands can have such foul odors.)
To add injury to insult, you can't just toss them in your washing machine. So, you'll have to either use your grandma's household maintenance tricks (like baking soda) or get a glove dryer.
6 Top Motorcycle Gloves Tested and Reviewed
Best Overall – Alpinestars SP-2
We're kicking off this review with a great entry from Alpinestars. They're a company known for making premium gear and these gloves are no exception.
They've secured the top spot because they are one of few pairs on the market that offer gauntlet protection for your wrists and forearms.
We know a lot of people who prefer to get a little wind up their sleeves, but you really notice how vulnerable your hands and arms are when you've tried these on after wearing a short and lightweight glove.
With Alpinestars SP-2 you've got reinforced leather impact zones on the palms as well as a hard plastic knuckle protector for the back of your hands. All of this tech is going to add up to great abrasion resistance, leaving you without the worry of your skin coming into contact with the road.
We found that these fit really well due to their anatomical design which makes use of pre-curved sections of material.
We do suggest you measure your hands and consult a size chart first to get the right fit though!
Best for Versatility – BMW Genuine Motorcycle Airflow Glove
BMW Airflow Glove
Features a liner which makes them warmer than other similar gloves.
These are our top pick for those of you who have more than one bike and need a versatile glove or those of you who don't engage in anything too hardcore like track riding but need a good protective glove.
A 3-season glove, these are going to be perfect for spring and fall as well as mild summers and winter.
BMW Airflow Glove features a liner which makes them warmer than other similar gloves but the AirTex material on the wrists will provide plenty of airflow when those temperatures begin to rise.
The attention to detail and the quality of these are up there with the best. We've only had ours for a few weeks but we have heard reports of them lasting for 8 years of regular use.
These gloves fit well and offer great protection so we would not hesitate to recommend that you take a look.
Best Budget Option – ILM Air Flow Leather Motorcycle Touchscreen Gloves
ILM Air Flow Touchscreen Gloves
Designed with an air scoop above the knuckles to ensure there's no hand movement restriction.
This list wouldn't be complete without a glove for those of you who want protection but aren't prepared to pay the earth for it.
ILM isn't a manufacturer which we have had many dealings with but these gloves are actually fairly well designed if you can look past some of the shortcomings in construction quality.
ILM Air Flow has an air scoop sitting just above the knuckles which provides a little airflow and doesn't compromise hand movement. There is also a lot of hard plastic that should provide enough protection to allow you to walk away from a crash.
We did find the fit to be a little inconsistent across the fingers as well as being tighter than we would expect for the size, but in all honesty, they were one of the best affordable motorcycle gloves we could find in this price range.
Best Short Cuff Motorcycle Gloves – Alpinestars GPX Leather Short Gloves
Alpinestars GPX Leather Motorcycle Glove
Specially designed to protect the knuckles and padded inserts for the palms.
We have a feeling this next entry is going to be a favorite. Available in black and white mix, the GPX is sort of a halfway house between a full gauntlet race glove and short cuff street riding glove.
What you get is a well built leather shell with reinforcement in all of the vital areas.
Knuckle protection and padded inserts for your palms are present which will serve you well if you ever come off your bike. You're also getting a hard plastic palm slider which is going to mitigate some of the impact forces as you put your hands down in front of you.
Adequate perforation is provided which is going to flow a ton of air, making these great summer motorcycle gloves. If you can't bear the thought of a full length glove, these are for you.
The fit on these runs a little tight so you might find yourself sizing up.
Best for Winter – Cortech Scarab 2.0 Winter Motorcycle Gloves
Cortech Scarab 2.0 Winter Motorcycle Gloves
Designed with Thinsulate insulation to help with temperatures as low as 30 degrees Fahrenheit.
The glove for all of you bravest cold weather riders is here! Cortech doesn't really have the branding profile that some of the other manufacturers enjoy but their gear is up there with the best.
Wind chill is a major issue when the mercury starts to fall which is why a lot of people look for a specialist winter glove.
We found that the lining and Thinsulate insulation on Cortech Scarab 2.0 was warm enough to endure temperatures as low as 30 degrees Fahrenheit. And at that temperature, most of us will have given up and gone home.
Of course, these are waterproof motorcycle gloves that should keep your hands dry in the heaviest of downpours. The liner we mentioned earlier is also breathable so you shouldn't have an issue with sweaty hands.
With a winter or heated glove and heated grips, you could honestly ride to the North Pole. You're getting a sturdy, well built protective glove, and for the money, these are hard to beat.
Best for Touring – Gerbing T5 Hybrid Heated Gloves Kit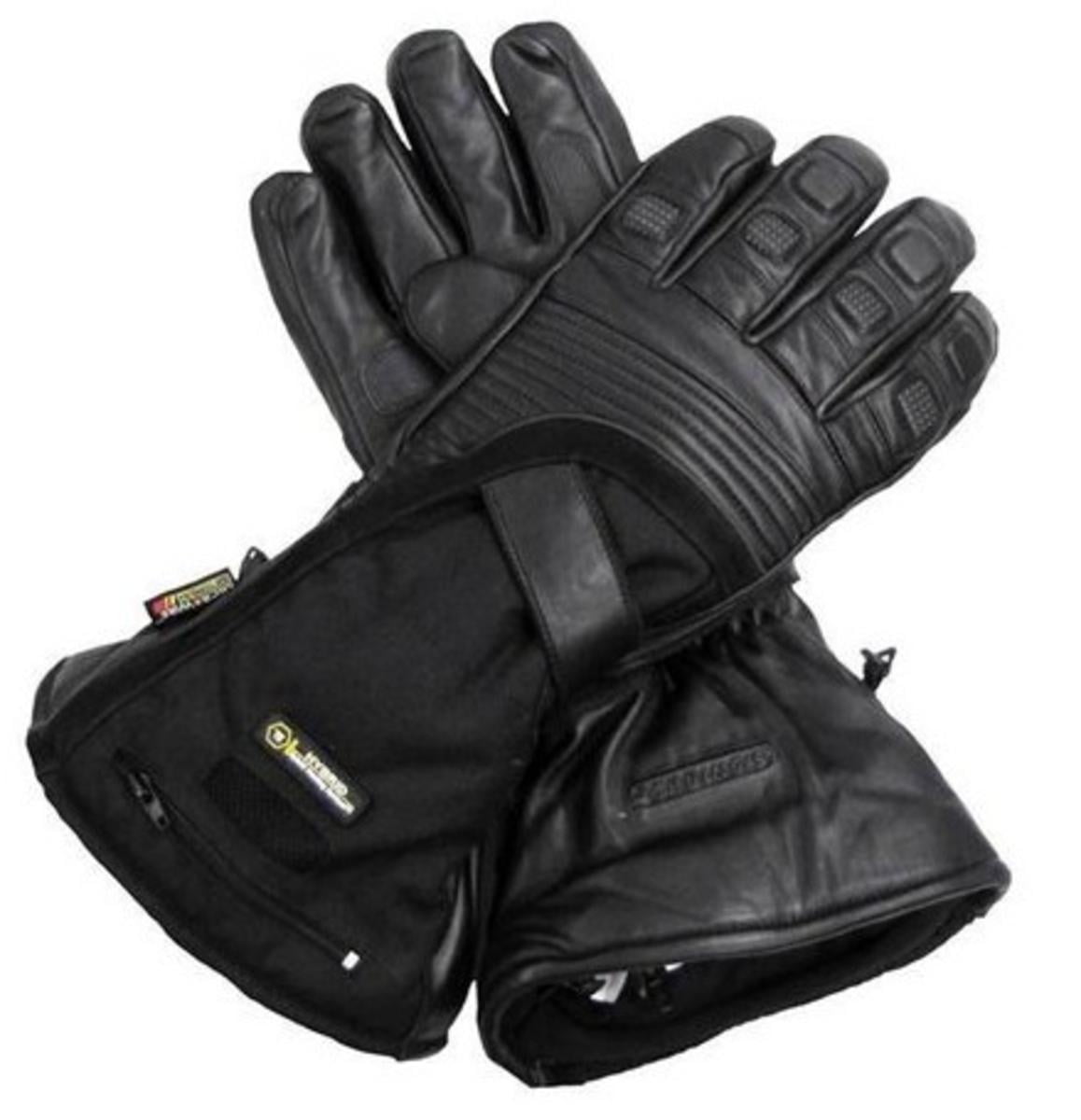 Gerbing 12v T5 Heated Gloves
Wide enough to fit over a heavy touring jacket, making the design of these gloves simple yet effective.
Heated motorcycle glove you say? Yes indeed!
You might be wondering why these didn't make it into the best winter gloves category.
Well, to provide power to these gloves you're going to need an appropriate power supply, which you're only going to find on a large touring bike without making any modifications.
If you can make use of these gloves, they are incredible. We haven't been able to test them in extreme conditions but have it on good authority that they work BELOW freezing. Some users have even said that they find them too hot above 35 degrees which we can understand.
Of course, with a glove positioned at this price point, it is also going to be as protective as some of the best on the market. With Gerbing 12v T5 Hybrid Heated Gloves, you'll get a full gauntlet that is wide enough to fit over a heavy touring jacket, making the design of these gloves simple yet effective.
In case you're wondering, you can power these gloves directly from your battery or you could hook them up to a Gebring rechargeable 12v battery, stored somewhere on your bike.
The choice is up to you but either way, you won't be disappointed.
Frequently Asked Questions
What are the warmest motorcycle gloves?
The answer is simple: best heated motorcycle gloves are hands down the warmest there are.
However, as I said above, the problem is that you need power supply on your bike so you could use them to their full capacity.
So the second best option would be dedicated winter motorcycle gloves. Leather and knuckle reinforcements will prevent the freezing wind's impact on your hands, while rich padding will keep them warm inside.
How long do motorcycle gloves last?
Premium quality leather gloves may last for years.
However, if they get damaged during an accident, there's only one thing you should do.
Tell them "thank you" and tuck them in to retirement.
As with all motorcycle riding gear, gloves are only effective as long as they are intact.
Should motorcycle gloves be tight?
They should be snug but not too tight so as to restrict movement.
The thing is, leather gloves will start stretching as you keep using them. So you need to factor that in when choosing your perfect size.
Choosing Your Motorcycle Gloves – Bottom Line
Hopefully, you found this review useful. There are many other purposes made motorbike gloves on the market but we think that the ones reviewed here offer the most in terms of price, quality, and functionality. If you've tried any of the products on review, feel free to drop us a line with your thoughts and experiences.