Best Women's Motorcycle Gloves [Our Top 6 Picks for 2023]
The motorbike glove… a piece of kit that is far too often left at home or forgotten on sunny days. Motorcycle gloves should be a standard part of everyone's kit. It only takes one fall, even at low speeds, to make you remember how important your hands are.
Now I'm not going to generalize and talk about how it will protect your freshly painted nails. Let's be real, if you crash, it's your hands that go down first and breaking a nail is the last thing on your mind. Our pick for the best overall motorcycle gloves for women is the Highway 21 Black Rose Gloves since it has an adjustable wrist cuff, has a waterproof liner, and is made of genuine leather palm. Even a basic pair of summer weight leather gloves could be the difference between a week in the hospital, while you await a skin graft vs a quick trip to the doctor for some pain killers.
There are different styles of gloves coming out all the time for women, so gone are the days when we could use the fact that men's gloves didn't fit as an excuse. We have pulled together a list of the top motorcycle gloves for women, so now everything you need is all in one place.
IMAGE
PRODUCT
DETAILS 

Best overall

Highway 21 Black Rose Gloves

A great waterproof gauntlet style glove with protection in all the right places and a stylish black denim finish.

Best All-Rounder

Dainese Tempest D-Dry Gloves

CE certified, with reinforced knuckles and palm areas. The material is a mix of fabric and suede with a breathable waterproof D-Dry membrane.

Budget Option

Joe Rocket Velocity Gloves

These are ultra-affordable summer gloves that combine style, function, and budget to give the best bang for your buck.
Related post: Best Motorcycle Gloves of 2023 (for men)
[toc]
Best Motorcycle Gloves for Women
Best Overall – Highway 21 Black Rose Glove
Highway 21 Balck Rose Glove
A waterproof gauntlet style glove with good level of protection.
The Highway Black Rose Women's Motorcycle Gloves is packed with features at an affordable price tag. It's a waterproof gauntlet style motorcycle glove with protection in all the right places and a stylish black denim finish.
They have a black denim outer shell making them stand out in a crowd. A genuine leather palm provides natural abrasion resistance in the event of an accident, and armored knuckles add protection. Throw in the fact that they are waterproof, breathable, touch screen compatible, and you will find yourself with an excellent glove for all riding conditions.
These gloves are made to last and come with pre-curved fingers, which, in our opinion, should be a must. This reduces finger fatigue and just adds to overall comfort. One thing to keep in mind is the fact that these are gauntlet gloves, so you will be getting the best protection, but during summer, you might find these gloves a little too hot for comfort.
Best All-Rounder – Dainese Tempest D-Dry Glove
Dainese Tempest D-Dry Glove
Motorcycle gloves made of fabric and suede with a breathable waterproof D-Dry membrane.
The Dainese Tempest D-Dry Gloves is CE certified, with reinforced knuckles and palm areas. The material is a mix of fabric and suede with a breathable waterproof D-Dry membrane to keep your hands warm and dry in winter and not too hot in summer.
The fingers are pre-curved, making them more comfortable for longer trips, and offer thermal insulation for winter months. The reflective strips aren't obnoxious and fit with the style of the glove. They also come with touch screen compatibility and a visor wipe on the left thumb, which is a pretty nifty feature.
Overall, these motorcycle gloves offer a very high level of protection and can be worn all year round. They are a short glove that doesn't offer as much protection in the wrist area but with a suitable jacket shouldn't be an issue. They come packed with features and will make a great addition to every woman's kit. 
*Also comes in long Gauntlet style.
Best Budget Option – Joe Rocket Velocity Gloves
Joe Rocket Velocity Gloves
A budget-friendly motorcycle gloves best suited for the summer months.
The Joe Rocket Velocity Gloves is an ultra-affordable option that combines style, function, and budget to give the best bang for your buck. They come packed with a surprising amount of features. The gloves themselves are lightweight, with reinforced fingers and knuckles for extra protection, a synthetic padded palm, and they are also touch screen compatible, which is a bonus.
The main downside of these gloves is they are not suitable for all weather conditions, but they would be perfect for "fine weather riders" or people that don't plan on taking their bike out much over winter.
Best for Track Riders – Dainese Carbon 3 Women's Glove
Dainese Carbon 3 Women's Glove
A durable glove designed with full gauntlet cut that comes up your forearm.
Dainese Carbon 3 Women's Gloves have it all and are our pick for those of us who like to go fast, whether it be on a track or not. These riding gloves have a full gauntlet cut that comes up your forearm over the jacket, providing the best protection for your hands and wrists. Goatskin is mainly used with inserts from sheepskin on the palm area, meaning they are very comfortable and long-lasting.
In terms of protection, they have carbon fiber knuckle guards hence the name. Polyurethane sliders and inserts are also used in the impact zones for the very best protection. They are CE certified, and the list goes on.
These motorcycle gloves are made to be worn; unlike some of our other lightweight options, these gloves should keep your hands protected even if your jacket starts to ride up. The leather makes them ideal for all seasons; however, they are not waterproof, which is something to keep in mind.
Overall if you are looking at doing some track days or any other go-fast activities, then these are the gloves for you. With so much protection and added features, you can confidently go for a ride knowing that you are wearing quality gear that will last and will also keep you safe.
Best for Around Town – First MFG Women Lined Gloves
These First MFG Women's Lined Gloves are the epitome of style. They have a sleek classic design that would compliment any motorcycle and its rider. These gloves are made with cowhide leather, which is naturally abrasion resistant and looks great while the elastic cuff makes them easy to put on and take off.
Our favorite feature is the gel palm. Gel palms are a newer technology and are designed to help damped vibrations coming through the handlebars from the road. They also are great for longer rides, keeping your hands from getting too sore and stiff.
The downside of these gloves is the lack of reinforcement. There is no padding or reinforcement in the knuckles and only a small amount on the palms. Overall these are great looking gloves for a reasonable price. Still, they are best suited to around the town use, where you are less likely to have an accident at higher speeds.
Best for Hot Weather – Dainese Blackjack Gloves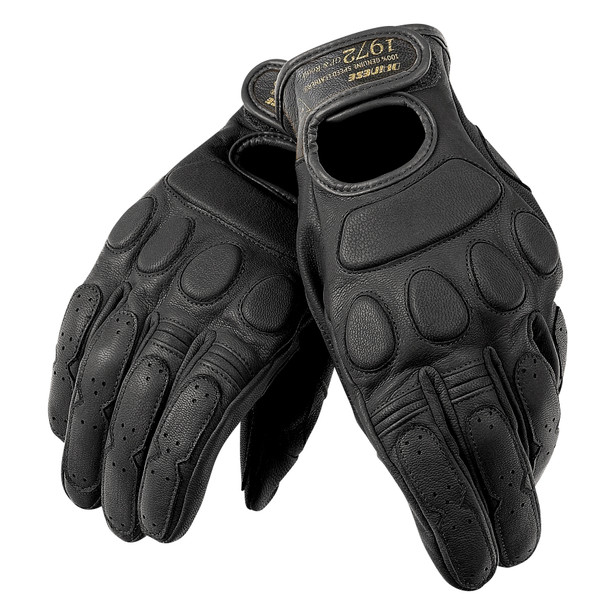 Dainese Blackjack Gloves
An elegant gloves made with goatskin leather with additional padding on knuckles for extra protection.
The Dainese Blackjack Gloves are one step up from the women's lined gloves. They scream elegance with a tinge of retro. Made with goatskin leather and a reinforced palm, they are perfect for around town as well as some highway cruising in the summer sun.
There is extra padding on the knuckles, and the fingers come pre-curved, which is another great feature. No one can deny these gloves look the part. Overall this is the perfect glove for hot weather and is sure to turn heads. One negative is that the shorter cut offers a lot less protection, but on the flip side will help keep your hands cooler in hot weather. The price may be a sticking point for some people as these are not four season gloves, but when looking at them as an investment, it is hard to say no.
What to Consider When Buying Women's Motorcycle Gloves
Size
I always find buying gloves difficult, my hands don't seem to fit with the glove maker's idea of a standard size for women. The best way around this is to always make sure you check the size guide before choosing a size. If it is possible, go into your local store and try them on or some similar from the same brand to get a better idea.
Sizes can vary between brands and even sometimes between seasons, so even if you have bought gloves before, it's better to check the size chart to be sure. If you find that you are between sizes, it's generally better to size up to stay on the safe side.
Material
Motorcycle gloves generally fall into three categories when it comes to materials: leather, textiles, and of course, the leather textiles hybrid.
Leather is the pinnacle of all things motorcycle. Leather motorcycle gloves go hand and hand with any style of bike, so make the perfect material. There are two main types of leather used in motorcycle gloves: Cowhide is durable and is used for other types of gear too because it is tough but also comfortable. Goatskin is also very resistant and, for this reason, is often found in the palm area which usually hits the ground first.
Overall, leather gloves are a great versatile option that offers a certain level of protection without needed reinforcement.
Textiles are man-made fabrics that have been engineered for a specific purpose. They often have vents incorporated and are less stiff from the get-go compared to leather gloves that need to be broken in. They usually have a higher level of water resistance and a lower price tag.
Leather Textile Hybrides is the best of both worlds. You will usually find leather being used in the palm area providing natural protection and the rest of the glove made from a particular textile. This accommodates more weather conditions and may have added protection.
Style
There are a lot of styles of riding gloves, a different type for every season, sport, and activity, depending on the rider's needs. The style of glove determines the basic level of protection, and they all can be condensed down into three main styles.
Short cuff motorcycle gloves are great for summer or warmer weather. There is a lot of variation within the short cuff style in terms of protection and intended use. Generally speaking, these gloves don't offer as much protection as the gauntlet, purely because they don't cover as much of your wrist area. However, they are still a great motorcycle glove style and can be used in all seasons, depending on the lining and material.
Gauntlet gloves generally offer the most protection of the three. They get their name because they come halfway up your forearm and sit over the top of your jacket covering the most area. The name is taken from a style of gloves used in Europe for combat in the early 14th century, which tells us they have stood the test of time. They are often worn in colder weather, but once again, this depends on the lining and design.
Waterproof gloves are a must if you ride in the rain. Soggy cold fingers are enough to ruin anyone's perfect ride. You can find both short and gauntlet cuts that come with either a waterproof membrane or have been waterproofed so you should be able to find something you like.
There are many sub-categories such as gloves for track riders, summer riders, and even heated gloves, but they all fall into one of the three categories listed above.
Frequently Asked Questions
How often do I need to replace my gloves?
There are a lot of factors that go into how quickly you will need to replace your gloves so there is no general rule of thumb. Good quality gloves that are being used every day in all conditions may need to be replaced more than once a year however cheaper gloves that are only used in summer will last a lot longer. If you notice any serious fading or rubbing and feel that it is impacting the glove's protection level then it is probably time to start thinking about some new gloves.
Can I wear men's gloves?
Generally, the only difference between male and female gloves is how it fits. Us women have been blessed with smaller palms and slender fingers… or at least that's what everyone seems to think. Personally, I wear male gloves because they fit me better. If you are going with guys gloves, it is better to try them on beforehand because the fit is a bit different.